By Lambert Strether of Corrente
Ebola
CDC adopts Médecins Sans Frontières PPE and supervision model [USA Today]. About time.
The Nigerian infrastructure that defeated ebola [Economist].
Lancet study: Fewer than three people a month infected with ebola will try flying out from West Africa [Guardian].
Measuring the "economic fear factor" in West Africa using, among other techniques, GIS information from cell phones [WSJ].
Sierra Leone residents note that ebola spreads around the same routes that the 1991 civil war did [ABC].
Hong Kong
To me, it's quite remarkable to see talks between student leaders and the Hong Kong government broadcast on big screens to thousands occupying Admiralty, no matter the outcome of the talks [Reuters]. What happens if (when) the Mainland takes this in?
Reaction quotes from all sides after talks end [South China Morning Post]. This is the first round; there will be more [BBC].
CY Leung's problem with democracy: If the public nominates candidates, the population that earns less than the median could dominate the process [WSJ].
[LEUNG:] If it's entirely a numbers game and numeric representation, then obviously you'd be talking to the half of the people in Hong Kong who earn less than US$1,800 a month.
Obviously, we in the United States have much to teach China, if only they would allow it.
Corporate entities suing Occupiers also have votes in Hong Kong elections, under the system of "functional constituencies" [Hong Wrong].
Anti-Occupy protesters besiege Jimmy Lai's newspaper, Apple Daily [The Diplomat].
Ferguson
Former FBI official believes leaks could be "strategic" [CNN], and former St. Louis County Police Chief Tim Fitch believes leaks from Darren Wilson grand jury are efforts to let some people down slowly [KSDK]. Good luck with that.
Governor Nixon to announce efforts to redress Ferguson issues [St Louis American].
State legislator spends an hour getting herself arrested in Ferguson, igniting WikiPedia war [Wikipedia]. D midterms outreach? 
Three arrested in smashing pumpkins protest [St Louis Post-Dispatch]. Pumpkins being a reference to the #pumpkinfest in Keene, NH, a terrifying example of white-on-white crime.
Cops give state legislators crash course in basic police training [St Louis Post-Dispatch]. Check the picture. Pulling out all the stops, aren't they?
A compilation of Cointelpro-like incidents in Ferguson [Daily Kos].
Occupation at St Louis University ends [Fox].
2014
Hotline's Race Tracker [National Journal]. Political races.
Sleazy private equity "No Labels" D mole Greg Orman and R silverback Pat Roberts are pencil neck and pencil neck [WaPo]. Meanwhile, the Orman campaign seems to have gone, if not dark, quiet [Business Insider].
Ds cave on Ebola both to counter R bedwetting and separate themselves from Obama [WaPo].
Six Senate races too close to call, according to Real Clear Politics poll aggregation: Kansas, Georgia, North Carolina, Iowa, New Hampshire, and Colorado [US News].
Obama campaigns in gubernatorial, not Senate, races [Bloomberg].
One right-wing trope that's true: Ds take Blacks for granted [Philadelphia Inquirer].
America the Petrostate
$80 a barrel oil could pop fracking bubble [Bloomberg].
Duke researchers describe geochemical fingerprinting technology to trace fracking fluids [Charlotte News Observer]. Better make the fingerprints trade secrets, then!
Big Oil funds astroturf operations against local local drilling regulations [HuffPo]. Enter Josh Penry and Kristin Strohm. Ka-ching!
Fracking ban in San Benito County, California fought by Big Oil, while Jerry Brown does nothing [San Jose Mercury News].
Political Economy
"The central bank put lives on"; Yves had explained here  [Bloomberg]. $200 billion a quarter. So where's my cut?
Fed has no numbers on how many jobs have been crapified [Bloomberg]. Odd!
Where Grosse Point begins, and Detroit ends [Daily Mail].
Stats Watch
McDonald's Q3 profit down 30% on U.S. sales slump, which is odd when you remember that hospitality was a bright spot for September's retail sales. I guess the market for food-like products isn't what it was….
Redbook, week of October 18: Retail sales in stores up year-on-year, but not month on month, despite cool weather apparel sales and Halloween on Friday [Bloomberg].
Rapture Index: Unchanged [Rapture Ready].
News of the Weird
* * *
Readers, feel free to contact me with (a) links, and even better (b) sources I should curate regularly, and (c) to find out how to send me images of plants. Vegetables are fine! Fungi are deemed to be honorary plants! See the previous Water Cooler (with plant) here. And here's today's plant (Amos):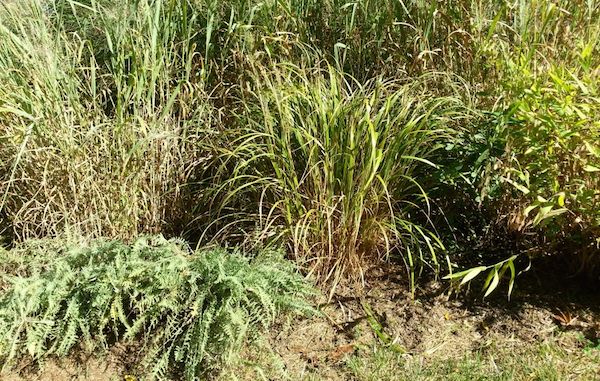 I only hate grass in the form of lawns.
Talk amongst yourselves!