By Lambert Strether of Corrente
Shootings in Ottawa
Shooter's mother in statement: "You write that our son was vulnerable, we don't know, we (he) was lost and did not fit in" [HuffPo].
Shooter acted alone, say Canadian officials [New York Times].
Shooter acted alone [Globe and Mail].
Which won't prevent Harper's government from deploying long-prepared legislation destroying Canadian liberties in Parliament [The Intercept], because terrorists (Harper) [Foreign Policy], re-running the PATRIOT Act play that worked so well for us. Prompting "Why does Glenn Greenwald hate democracy?" response from Heritage "scholar" Brookings "fellow" [WaPo]. 
Which won't prevent our famously free press from deploying the usual framing: "Terrorist ideology blamed in Canada car attack" [WaPo]. I know the battle to avoid a crapfest of Orwellian language on this topic is long lost, but "terrorism" is a tactic, not an ideology. "Drone strike ideology blamed in wedding party splatterfest" would be just as solid, analytically.
More elite framing: "In the West, a Growing List of Attacks Linked to Extremism" [New York Times]. Whatever "extremism" might be.
Hong Kong
What is the Hong Kong government waiting for? [Asian Correspondent]. It's quiet. Too quiet.
Protest banner on Lion Rock [WSJ]. More pushback; police filming Occupation sites.
Chinese tourists take protest selfies [Daily Beast]. "Sun and his wife took turns taking pictures of each other in front of Lennon Wall."
On translating "umbrella" [Asian Review of Books].
UN Human Rights Committee gives Hong Kong grade of C1 (of A through E) [France24].
Media critique of Hong Kong pro- and anti-protest coverage, with chart of investment on mainland by Hong Kong media moguls [WSJ]. The lead: "Hong Kong lumbers through its fourth week of pro-democracy protests." "Lumbers?" I'd say our own media is gettting bored. Poor babies!
"New reports confirm US role in HK politics" [China Daily]. But check the (hilarious) sourcing.
Stats Watch
Jobless claims, week of October 18: "Trends remain favorable though initial jobless claims did rise" [Bloomberg]. Subtext: Permanently higher disemployment is the new normal. Those who are out of the labor force will never return.
Consumer sentiment, week of October 19: Highest in seven years. Confidence in < $50,000 earners increased by the most since November, but fell among > $100,000 after rising for five weeks [Bloomberg].
Leading Indicators, September 2014: Up by an "outsized" 0.8 percent. "Low interest rates were the major factor contributing to the strength" [Bloomberg].
Kansas City Fed Manufacturing Index: Up modestly  [Bloomberg]. "Firms continued to note difficulties in attracting and retaining certain key workers, particularly machinists and welders." If only there were some market-based solution for this! What could it be?
Ebola
West divides aid to West Africa along colonial lines [Bloomberg]. "Médecins sans frontières," people. Get it?
A fraction of the money spent on the Afghanistan and Iraq wars would prevent ebola, and epidemics like it [Asia Times]. So simple a child of six can see it. So somebody get me a child of six.
Patients avoiding Texas Presbyterian [ABC]. Any managers fired yet? [I crack myself up sometimes!]
Ukraine
Timeline and explainer on Ukraine's "unfinished" 'revolution" [Reuters].
"New breed" of Ukrainian politicians in upcoming elections [Bloomberg]. Hunter's runninng?
2016
Elizabeth Warren's Unsherman Statement becomes even more Unsherman-like [Salon].
Warren on Clinton: "We have talked. It's not much more than that. Not much more" [WaPo].
Krugman floats Clinton-Warren trial balloon [HuffPo].
"Warren's silence was Fidelity's gain" [Boston Globe]. Let the oppo begin!
2014
Democrats start blaming Obama for anticipated mid-terms disaster [Bloomberg]. C'mon, let's be fair. They've got to blame someone.
Cuomodammerüng
Siena poll: Cuomo overwhelming favorite, but may do worse than 2010 if Green's Hawkins does well [New York Daily News]. Greens could also win the coveted "Row C" on the ballot, knocking down the Conservative Party [Syracuse Post-Standard].
Preet Bharara on Moreland probe: "We have the files, we have some of the smartest people in law enforcement continuing what was begun and that's what we care about" [New York Post]. Asked when the probe might be finished: "You're assuming there's one investigation" [Buffalo News].
Cuomo's doorstop sells 945 copies so far [HuffPo]. Some PAC must have dropped the ball on the bulk sales. Can't anybody here play this game?
In actual TV debate with Republican, Libertarian, and Green candidates in Buffalo, Cuomo says his fracking review will be conveniently finished after the election [Democrat and Chronicle].
Imperial Collapse Watch
Shocker: Many negative findings stripped from public versions of USAID audits [WaPo].
Shocker: CIA successfully evades oversight from toothless Senate yet again [HuffPo].
Shocker: Dead civilians ignored as Obama quietly closes the books on the lost war in Iraq [WaPo]. Of course, the war was "won" in the sense of creating a massive self-licking ice cream cone of profitable chaos for private enterprise in the years to come. So there's that. Perhaps, in the era of the market state, that's what passes for grand strategy.
Former NSA chief Keith Alexander speculated in commodities [Foreign Policy].
Why he was engaged in commodities trades, including trades in one market that experts describe as being run by an opaque "cartel" that can befuddle even experienced professionals, remains unclear.
What's unclear about it? And how "opaque" would the cartel have been to NSA surveillance? I've long speculated that information arbitrage would feed the black budget billions; and so much safer and more profitable than drug-running!
News of the Weird
"Twitter will never, and should never, have any credibility with developers again"

 

[Marco.org].
"Facebook launches Rooms to anonymously share common interests" [USA Today]. Sure. I totally trust Facebook on that.
Have we reached peak Google? [Stratechery]. Gawd, I hope so.
Fake classes for athletes at the "University" of North Carolina pervasive. Ugly [Business Week].
Chinese province to shut down 881 sites involving excavation, demolition, waste transportation, and other activities that generate dust, so APEC attendees in Beijing will be able to breath [China Daily].
Observations of daily life on the ground inside North Korea [Asia-Pacific Journal].
"A pink slip for the Progress Fairy" [Archdruid Report].
* * *
Readers, feel free to contact me with (a) links, and even better (b) sources I should curate regularly, and (c) to find out how to send me images of plants. Vegetables are fine! Fungi are deemed to be honorary plants! See the previous Water Cooler (with plant) here. And here's today's plant (Bleeding Heartland):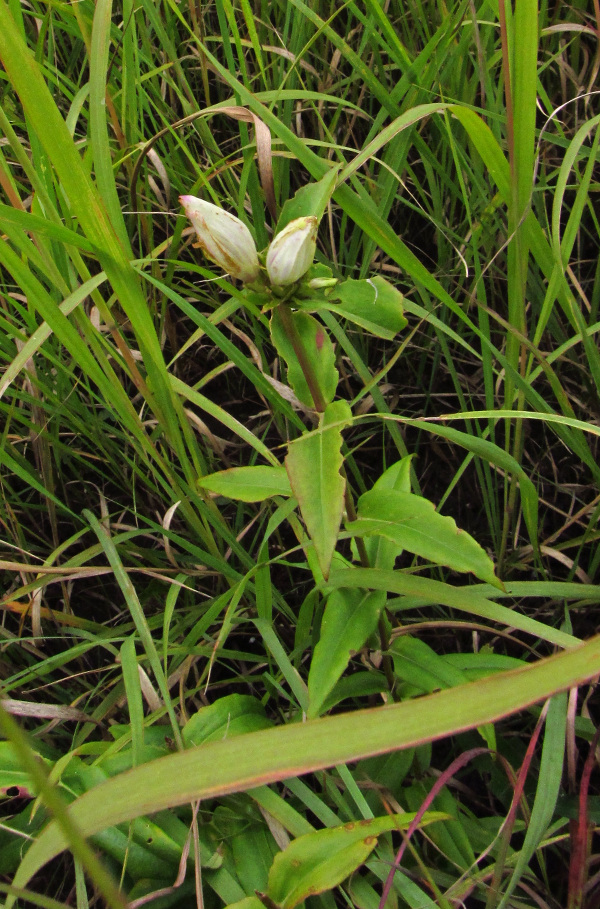 White prairie gentian in a prairie patch at Whiterock Conservancy in Iowa last month.
Talk amongst yourselves!