By Lambert Strether of Corrente
Readers: Water Cooler is going to be a bit light today; I had multiple simultaneous infrastructural issues ("Winter is coming").
Quantitative easing
All eyez on the FOMC [Bloomberg]. No press conference scheduled?
Analysts expect the taper to end on schedule [Business Insider].
Janet Yellen is not a partisan hack [Brookings].
2014
Senate, South Dakota: National parties turn off the money spigot, meaning R Rounds has the race in the bag [Argus-Leader].
Senate, Kentucky: McConnell says nobody thinks ObamaCare can be repealed. "It takes 60 votes in the Senate" (ha) [Talking Points Memo]. OK, so even in the majority the Rs aren't going to use the nuclear option to abolish the filibuster either. A clearer signal of kayfabe in action would be hard to find.
Senate, Georgia: Could "the Ferguson effect" tip the balance? [Think Progress]. With no civil rights investigation from Holder? Not likely. The Feds can't even get the Ferguson police chief to spend more time with his family!
Independents favor Rs by twenty points [Washington Monthly].
2016
States ranked by political engagement, which correlates to education, wealth, and "fairer tax systems" [WaPo].
Stats Watch
Retail shoppers demanding discounts from brick-and-mortar chains [Bloomberg].
EIA Petroleum Status Report, week of October 24: Inventories rise for the fourth week as switch to winter fuels winds down [Bloomberg].
Hong Kong
Informal survey says 90% of protesters would keep on for a year [Reuters].
James Tien Pei-chun, leader of Hong Kong's Liberal Party, resigns hours after China's top parliamentary advisory body expelled him for calling on Leung to step down [Straits Times].
Ferguson
CNN reports Ferguson police chief will step down, citing "government officials familiar with the ongoing discussions between local, state and federal officials." Chief says "Nobody in my chain of command has asked me to resign, nor have I been terminated" [CNN]. Both statements could be true!
Ferguson PD spends $172,669 on tear gas and "less lethal" ammo and riot gear [Guardian]. So, since Ferguson treats "law enforcement," in good neo-liberal fashion, as a revenue source, let's do the math: At an average fine per Fergusonian in guilty cases of $275, that would mean 627.88 arrests would pay for the gear. Except that's just the gross, so I guess I'd better guesstimate 1200 guilty pleas; with an 80% conviction rate, that would mean 1500 arrests. Good to know. 
Big Brother Is Watching You Watch
Pre-Snowden Jewel v. NSA case on NSA tapping fibre optic cables based on information from AT&T technician and whistleblower Mark Klein still moving forward [TechDirt]. From the EFF brief:
[T]he act of copying entire communications streams passing through splitters at AT&T facilities is an unconstitutional seizure of individuals' "papers" and "effects." This should be obvious—our "papers" today often travel over the Internet in digital form rather than being stored in our homes—but the government contends that unless it physically interferes with individuals' possession of some tangible property, it cannot "seize" anything. This is not so. If it were true that conversations could not be "seized" except by taking possession of physical objects, all warrantless wiretapping (where "recording" is a form of "copying" communications) would be constitutional.
That's not a bug. It's a feature. Still, I'm glad to see the EFF making the obvious and unobfuscated point that the Fourth Amendment's "papers and effects" clearly includes, say, email, even under the narrowest possible construction of the Framers' original intent. 
Oh, and Obama's "Justice" Department is now claiming state secret privilege for legal arguments, as opposed to factual information. Secret law is not law, of course, as the Bourbons found out the hard way in 1789 with the letter de cachet. Here's the plaintiff's brief.
Feds now say that (alleged) Marathon Bomber Tamerlan Tsarnaev was never involved in that unsolved triple murder in Waltham. Except remember that guy Ibragim Todashev, who got whacked by an FBI agent in an interrogation room, when the other FBI agents left the two of them alone? For some reason? Yes, Todashev was supposed to have been involved in that robbery, too [PrivacySOS]. But there's a "bloodstained confession"!
How much access does the NSA have to census data? As much as it wants, I assume, but EFF is suing to find out [Courthouse News].
Imperial Collapse Watch
"Contrary to all myths the most deadly place on the American political spectrum is in the center" [Undernews]. Do the math.
News of the Wired
Cool tweet:


Photo of the Day: The 8000 lighted balloons tracing the path of the Berlin Wall on the 25th anniversary of its fall pic.twitter.com/okHD8rXiYi

— Urbanphoto (@urbanphoto_blog) October 28, 2014

Nice tactic, too. Notice how it scales.

AT&T sells consumers unlimited data plans, then throttles them, Feds to sue [Reuters]. Just the sort of monopolistic provider we want determining Internet policy!
Facebook developer lies to Times reporter's face on algorithmic news feed [Pressthink]. Note this is the tech guy lying, so it looks like public relations and software engineering have merged in Silicon Valley. Good to know.
Is this the best tech video of all-time? [YouTube]. SQL and NoSQL bears go several rounds. Guess who wins?
DropBox and AirBnB tech dudes violating Rule #1, as Silicon Valley financializes every public space it can get its dripping, greed-stained mitts on because "sharing economy" [New Yorker].
How to use Twitter over SMS if your Internet connection should fail, for some reason [WaPo].
Give 'em a chart, and they'll follow you anywhere [Businessweek]. Even moreso for people who "believe in science."
Walmart apologizes for selling "fat girl costumes" on its website [Independent].
3D printing is cool, but also petroleum-based, and who needs so many tsotchkes? [Medium].
The power that comes from (women's) clothing [New York Times]. Was Janet Yellen wearing Nina McElmore?
* * *
Readers, feel free to contact me with (a) links, and even better (b) sources I should curate regularly, and (c) to find out how to send me images of plants. Vegetables are fine! Fungi are deemed to be honorary plants! See the previous Water Cooler (with plant) here. And here's today's plant: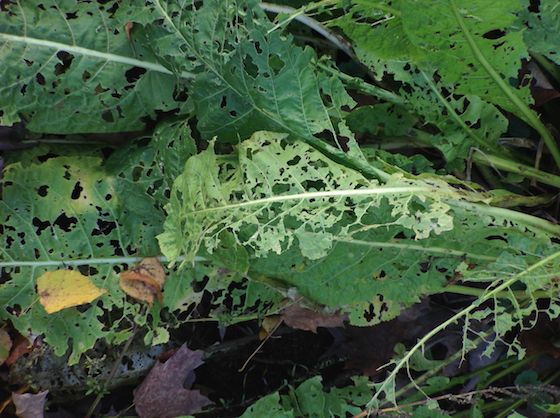 Something got at my horseradish!
Talk amongst yourselves!