By Lambert Strether of Corrente
2014
Senate: Run-off possibilities in Louisiana and Georgia, and independent candidates in tight races in Kansas and Georgia mean mid-terms may not be decided on election day [Reuters].
"And then the 2016 primary begins! Huzzah" [Eschaton]. If the electoral process has lost Atrios…
Nate Silver on the Senate race: Rs ahead, but scrappy Ds are still hanging around [FiveThirtyEight].
Senate: Key races too close to call [McClatchy]. North Carolina, Arkansas, Colorado, Iowa, Kansas.
Two biggest Kentucky papers endorse McConnell's opponent, Alison Grimes [Politics USA].
Will Latinos turn out? The only state where that question matters: Colorado [McClatchy]. At least one good reason for kicking the can down the road on immigration.
Democrats might pick up some governor's seats, affecting "wave election" framing, or not [Times].
Colorless D functionary poised to lose Maine gubernatorial race, again [Corrente].
Shootings in Ottawa
Headline: "Michael Zehaf-Bibeau and Martin Couture-Rouleau: How Canada tracks homegrown radicals." Subhead: "Parliament Hill, Quebec attacks renew concerns about home-grown extremists" [CBC]. Less scaremongering than in U.S. headlines, but note the conflation of extremely capacious categories — "radicals," and "extremists" — in the context of justification for surveillance, and from the heart of the Canadian establishment, the CBC. 
Harper's assault on the Charter of Rights and Freedoms betrays the values Corporal Cirillo died for [Boing Boing, Cory Doctorow]. Never let a crisis go to waste!
Hong Kong
Protesters halt plans for electronic vote on continuing occupation [Los Angeles Times].
Specifically, Li said plans to record voters' Hong Kong identity card numbers as a bulwark against fraud could have backfired and put those who participated in danger.
Yikes! E-voting?! Bad, bad, bad idea! If that was the plan, the protesters were quite right to call a halt and rethink. I mean, not that electronic votes can be hacked, or anything…
Police use Draconian computer law to crack down on occupiers [Quartz].
Hong Kong celebrity Chow Yun-fat  supports the protest, among other celebrities [Shanghaist (Jeff W)].
"Emotional" Secretary for Security, Lai Tung-kwok, says protests have turned to "hatred and violence" from "love and peace," shows video to Legco [RTHK]. Two words: Tear gas.
Protest leader Benny Tai: Time to formulate an end game [South China Morning Post].
Activists share secrets at Oslo Freedom Forum [BBC]. Perhaps "tricks of the trade" might be a better word than "secrets." Anyhow, in the era of Twitter, BBC? I remember seeing a tweet of the lock-ties Hong Protesters used to tie barriers together, with a subtweet from a Gezi protester: "Why didn't we think of that?"
Ferguson
PEN America cites 52 accusations of press freedom violations in Ferguson, calls for investigation [New York Times].
Solidarity protest in Northwest Arkansas [Arkansas Matters Daily].
Solidarity protest on Newberry Street, Boston [Daily Free Press].
The leaked police autopsy report: "Just read new Mike Brown autopsy. Beware passive language in govt docs, like 'during the struggle the officer's weapon was unholstered,' tweeted TV Legal Analyst @LisaBloom" [Latin Post]. +1000. Always, always look for lack of agency. Such a tell!
Yet another more commission…. [Quartz].
Cuomodammerüng
Gloria Steinem endorses Cuomo, based on the WEP, which is not the WFP, although on the ballot line, the names of the two parties are confusingly similar. For some reason [New York Times].
Cuomo panders on ebola quarantine, then buckles to White House pressure [Capital New York].
Stats Watch
Pending home sales index, September 2014: Small gains hint at growth [Bloomberg].
ObamaCare
Interactive wrap-up of ObamaCare's modest gains [Times]. Increased numbers insured, no data on health gains.
Robert Laszewski: If ObamaCare's so good, why hide it? [USA Today]. 
Classic: "New, improved Obamacare program released on 35 floppy disks" [The Onion].
News of the Wired
New Asimov essay discovered: "On Creativity" [MIT Technology Review].
Wearing a Wikileaks T shirt to Eric Schrnidt's book release in London [Muck (Jill)].
Private equity repositions Popular Woodworking as an e-commerce platform [Folio]. Any woodworkers with thoughts on this?
Naomi Klein's grandfather was a Disney animator [New Statesman]. Hardly the point of this interview with Klein, but fascinating if you know anything about Uncle Walt.
Kidney trafficking between Cambodia and Thailand [Straits Times]. A solution for debt…
Mississippi imprisons more per capita than China and Russia [Clarion-Ledger].
Occupiers arrested for touching "sleeping structures." Green MP arrested for giving occupiers food [FT, "Occupy protesters to leave London's Parliament Square"]. Police suppression no longer considered news [Guardian, David Graeber].
Imagine a wish come true, then imagine the obstacles to it. That's "mental contrasting," as opposed to "positive thinking" [Times]. We New Englanders have never fallen prey to the "positive thinking" fad. Winter is coming.
Evil clowns spark wave of panic in France [Agence France Presse].
* * *
Readers, feel free to contact me with (a) links, and even better (b) sources I should curate regularly, and (c) to find out how to send me images of plants. Vegetables are fine! Fungi are deemed to be honorary plants! See the previous Water Cooler (with plant) here. And here's today's plant (Petra):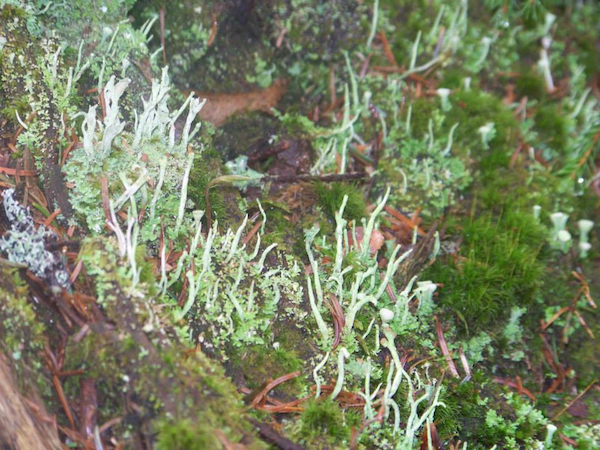 I was going to say moss is deemed to be an honorary plant, but it's lichen that is so deemed. My "I took it back in time" bad.
Talk amongst yourselves!