By Lambert Strether of Corrente
2014
Iowa House: Clinton backs Braley, who supported Edwards and then Clinton in 2008 [Bloomberg]. If the Clintons aren't holding a grudge, things are desperate indeed.
Steve Israel: Climate is worst "since 2010" [AP]. Forgive the lengthy quote, but since few state the obvious, see Down with Tyranny:
The Steve Israel Effect is when his grotesquely corrupt DCCC targets the wrong districts with awful conservative recruits, gets them to alienate grassroots Democrats with mealy-mouthed mystery meat positions by promising huge independent expenditures in their races— and then leaves them high and dry at the end of the campaign by withdrawing all the financial support and transferring it to even worse and more conservative (and corrupt) candidates. One of over a dozen examples in the last few weeks: Steve Israel just withdrew $2.8 million in support for moderate John Foust and gave the money to wretched Nebraska Blue Dog Brad Ashford and the shady little bank lobbyist Pete Aguilar.

One of the corollaries of the Steve Israel Effect is that it depresses Democratic turn-out. Grassroots progressives, who differ markedly and across-the-board from the corrupt Beltway Establishment, are not usually enthused by the horrifyingly low calibre of candidates Israel and other DCCC hucksters recruit. Garbage candidates like Jennifer Garrison— anti-Choice, virulently anti-gay, pro-NRA, pro-fracking… she'd be perfect as a Republican— do not draw informed Democratic voters. Conservative incumbents (Blue Dogs and New Dems)— encouraged all cycle by Israel and Hoyer to vote with the GOP on crucial matters— are now all in trouble and struggling to survive. It's no wonder why. Conservative voters already have their candidates, i.e., Republicans. When grassroots Dems don't see a choice, they stay home. And, sure enough, yesterday's Hill broke the news that Israel and the other lame brains in the DC Democratic Establishment are panicking as they "suddenly" realize that many of their base voters won't be showing up in 3 weeks.
Why anyone would think of Israel and his ilk as "the lesser evil" is beyond me. Dante put murderers in the Seventh Circle of Hell. But he put fraudsters and betrayers, like Israel, in the Ninth. People who vote for real Rs instead of Israel's fake ones are taking a perfectly defensible ethical position.
Maine Governor: Independent Senator Angus King switches endorsement from Independent Eliot Cutler (19.3%) to D Mike Michaud (33.6%), after Cutler stays in race against R LePage (39.3%) [Talking Points Memo]. Cutler voters do seem to be shifting to Michaud [Bangor Daily News].
One-third of voters will vote early by mail [FT, "US election will be won at the letterbox"]. In the Maine 2010 election, ballots already cast by mail damped a late Cutler surge, one factor behind the LePage victory.
2016
Doug Henwood: Clinton's policies "won't change the material or social well-being of women and children in any significant way" [Salon]. Wait, let me guess; Clinton's words are "performative."
Chris Cilizza: Clinton should announce now to prove she's not a conventional thinker and to combat the forces already arrayed against here [WaPo]. Beltway scribes running out of things to write about?
Jebbie reels in trial balloon, says his son didn't talk to him before saying he was "more than likely" to run [WaPo].
Elite R Executive Roundtable hooks up $25,000+ donors with members of Republican Governor's Association, headed by Fred Malek. Malek: "Businesspeople like to get a return on investment" [WaPo]. You remember Fred Malek; the guy who, while drunk in college, was arrested as part of a group that killed, barbecued, and ate a dog?
Internal R report: Married women without a college degree are the only women who reliably prefer Rs to Ds [WaPo]. Hence, Sarah Palin.
Telephone surveys that overweight landlines and underweight some demographics based on out-of-date Census data undercount Democrats [Times]. Maybe, but this story crops up every election, and surely the pros are adjusting for these things?
TV ads can now target individuals [Bloomberg]. One more reason to unplug.
Stats Watch
Jobless claims, week of October 25, 2014: Higher but at "recovery" lows. "[U]nderscores yesterday's upbeat assessment of the jobs market by the FOMC" [Bloomberg]. Translation: The labor force is now smaller, wages are lower, and jobs are more crapified. Mission accomplished! The only task that remains is cooling the marks.
Hong Kong
Mainland ratchets up the "outside influences" talking point [CCTV]; crude. At least in foreign policy, Putin was right: "Anything US touches turns into Libya or Iraq" [RT]. That this has not happened in Hong Kong is the surest sign U.S. influence isn't in any way dominant. So far, no clusterfuck of epic proportions!
Christians play prominent roles in the leadership of pro- and anti-occupiers; Carrie Lam, for example [Bloomberg].
Poems on the protests [Asian Review of Books].
Dan Garrett must be the world's worst spy [New York Times].
Ernst & Young, PricewaterhouseCoopers, Deloitte and KPMG place ads against Hong Kong unrest [WSJ].
Ferguson
Holder says need for "wholesale change" in Ferguson PD is "pretty clear" [MSNBC], as we implied yesterday. And please, let's get it done before the mid-terms!
St. Louis County prosecutor McCulloch says leaks on Darren Wilson Grand Jury investigation came from hacked twitter account [Free Press].
Where's Kanye? [HuffPo]. Same place as Beyoncé. Et cetera. Why would that be?
Visitor to Ferguson: "It isn't until the police show up that I feel unsafe" [Beacon Reader].
Cuomodammerüng
Corrupt D goon and control freak Cuomo gutted a second Moreland Act-based Commmission he himself set up: The one to investigate how one million Long Islanders lost power in Hurricane Sandy [The Albany Project].
Cuomo of Preet Bharara on FOX: "Prosecutors are a lot better at starting investigations" [Capital New York]. Wagons successfully circled?
Cuomo calls public schools a "monopoly" he wants to "bust up" in favor of "real performance measures with some competition, which is why I like charter schools" [Daily News]. The real "performance measure" for charters is — ka-ching! —  looting and corruption, so Cuomo's views are not surprising.
Zephyr Teachout will not endorse Cuomo [New York Observer]. What remains to be understood is how anyone could.
"Sharing" [cough] "Economy"
I had no idea the highly principled and liberal David Plouffe, former top advisor to Barack Obama, was now Senior Vice President of Policy and Strategy at gliberatarian cesspit Uber [Bloomberg].
Uber PR sock puppet impersonates driver, tries to scam LA Weekly into placing puff piece [Pando Daily]. Plouffe's strategy?
Uber PR flacks lie about how much money their drivers are making [Business Insider]. Plouffe's strategy?
News of the Wired
* * *
Readers, feel free to contact me with (a) links, and even better (b) sources I should curate regularly, and (c) to find out how to send me images of plants. Vegetables are fine! Fungi are deemed to be honorary plants! See the previous Water Cooler (with plant) here. And here's today's plant (Kurt Sperry):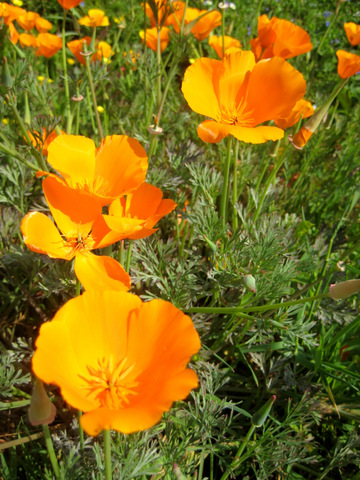 Poppies from Le Jardin de Plantes, Paris. As readers now, I have a soft spot for botanical gardens.
Again, I'm running just a bit short. Fall foliage would be nice!
Talk amongst yourselves!