This is Naked Capitalism fundraising week. 959 donors have already invested in our efforts to shed light on the dark and seamy corners of finance. Please join us and participate via our Tip Jar, which shows how to give via credit card, debit card, PayPal, or check. Read about why we're doing this fundraiser, what we've accomplished in the last year, and our current target.
Lambert here: "Bad-ass." Yes, that's totally the word. Help Yves become even more bad-ass! The PayPal button is to your right.
Hong Kong
Talks between government and students are postponed, students call for rally at Admiralty [SCMP]; transcript of Chief Secretary for Administration Carrie Lam's remarks [info.gov.hk].
Handy map of barricades still up in Hong Kong [Barricades in Hong Kong]. So the troops, as it were, have dispersed, but the materiel is still pre-positioned.
The fences of Hong Kong [Times]. Nice atmospheric piece.
The letter that shows what C.Y. Leung got those £4 million in secret fees for [Quartz]. I like the way that "provided that such assistance does not create any conflict of interest" is a handwritten addition to the typescript. Leung has a good lawyer!
Mainlanders snapping up Hong Kong condos with bags of cash [NPR]. One can only wonder what's going on with the mainland that they're so afraid of, and whether what's happening in Hong Kong will increase their fear.
Stats Watch
Jobless Claims, week of October 4: "Initial claims edged 1,000 lower to a lower-than-expected 287,000 in the October 4 week while the 4-week average fell a very sharp 7,250 in the week to 287,750. The average is also at a new recovery [sic] low, its lowest level since February 2006" [Bloomberg]. (No mention of labor force participation rate, the permanently lousy new normal). These crocodile tears let, as it were, the cat out of the bag:
Layoffs may be down but that doesn't always spell a corresponding increase in hiring which may still be lagging
The lack of hiring (IMNSHO) is the flip side of the dead parrot labor force participation rate: Jobs offered and jobs taken have been steadily diverging for some time, and why not? The money's lousy, the work is crapified, and benefits are being steadily cut. Better to muddle through with System D, or follow the example of executives, and loot what you can, while you can. YOLO, and a "silent strike" could be the rational choice!
Consumer Confidence, week of October 5: Climbs to 36.8 from a four-month low of 34.8, probably driven by lower gas prices [Blooomberg].
Rapture Index: Steady [Rapture Ready].
Annals of Financial Probity
The operational definition of "audacity" in elite banking circles [Guardian].
America the Petrostate
Port of Albany New York key rail distribution point for tar sands crude [Times Union].
EU drops plan to label Canadian tar sands as "dirty" (have you ever seen them?) because Russia [CBC]. So maybe Ukraine was Obama's reach-around for Harper and a make-good for Keystone. Pure speculation!
Water Wars
Documents reveal billions of gallons of oil industry wastewater illegally injected Into Central Valley aquifer [Center for Biological Diversity]. Good thing the Central Valley aquifer is sinking so fast, otherwise we might be drinking that stuff!
Coca Cola sucking up Uttar Pradesh groundwater [Bloomberg]. Just like Poland Springs in Maine.
2014 and 2016
UPDATE Crack White House campaign team introduces new generation after so-called Millenials [wait for it]: "The Homeland Generation" [WaPo].
Words fail me. OK, they don't. As of now, anybody who uses generational identification as a serious analytical tool should be… spoken to severely, because all these other so-called generations are just as solidly based as "Homeland Generation," which the White House just made up out of whole cloth, for marketing purposes.
Another Presidential travel reimbursement flap [WaPo]. Yawn.
Cartagena flap from 2012 rears ugly head again [The Hill]. Cue moral panic. It looks like an intern (granted, the son of a big Democratic donor and top lobbyist for Wal-Mart) is being measured for the drop.
I'm leaving out the personal names deliberately, because I think the story is systemic: How White House advance teams organize "party space" as a general practice, across administrations ("wheels up," as they say). Naturally, the political class will keep the focus as narrow as possible, just as they did in 2012. Anyhow, the NSA has it all, so why don't we just ask them?
Cuomodammerüng
81 percent of Cuomo's campaign war chest comes from people who gave him $10,000 or more, and 50% gave $40,000 or more [Politics on the Hudson].
Cuomo will emit bio next Tuesday [WSJ]. "Progressives must now demonstrate that we can do what we preach; that we can deliver the product we presold." Awesome.
I had no idea Cuomo had created a "Women's Equality Party" to give himself another line on the ballot [New York Daily News].
Cuomo tees up $500 million public-private partnership for broadband [Press and Sun Bulletin]. Ka-ching.
News of the Wired
* * *
Readers, feel free to contact me with (a) links, and even better (b) sources I should curate regularly, and (c) to find out how to send me images of plants. Vegetables are fine! Fungi are deemed to be honorary plants! See the previous Water Cooler (with plant) here. And here's today's plant (Mitzi Muffin):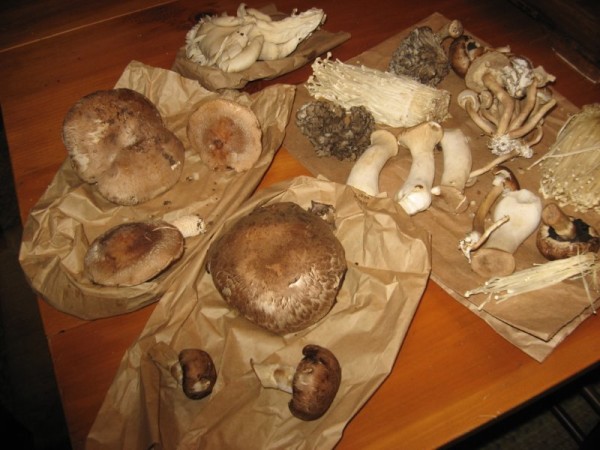 OK,OK, I know this isn't seasonal, and I know this isn't plants in any sort of habit, but just to make the point that fungi are deemed to be honorary plants….
Talk amongst yourselves!