This is Naked Capitalism fundraising week. 277 donors have already invested in our efforts to shed light on the dark and seamy corners of finance. Join us and participate via our Tip Jar, which shows how to give via credit card, debit card, PayPal, or check. Read about why we're doing this fundraiser, what we've accomplished in the last year, and our current target.
By Lambert Strether of Corrente.
Hong Kong
The demand was for Hong Kong Chief Executive C.Y. Leung to step down; that has not happened, as China National Day (October 1) celebrations continued [Asian Correspondent, live blog].
Leung: "It is my fundamental and constitutional duty to work towards the goal of electing the chief executive by universal suffrage within that legal framework" of the Basic Law [CNN].
Explainer from country risk firm: With patience, the protests will fizzle. But there are far worse scenarios, listed [Asia Sentinel].
Hong Kong police chief to force on tear gas: "I just want to tell everyone that you did no wrong" [Channel News Asia].
Mainland media on protests: No story here, illegal, instigated by foreigners, bad for business, and "extreme" [ABC].
"It doesn't matter if a cat is black or white, as long as it catches mice" [HBR]. What mice is Hong Kong catching for the PRC, and will it continue to do so? For example, a viral post from a popular Weibo user: "Treat Hong Kong a little better. Everyone still wants to go there and buy the iPhone6" [Bloomberg].
UPDATE "'Occupy Central; will have bad consequences for Hong Kong and all its people. If it continues, these consequences will be unimaginable" [People's Daily, via Quartz]. More from [Quartz].
Hong Kong protesters recommend p2p technology, since cells are jammed: @telegram or @Firechatapp (and not WeChat Qq Skyp) [Reddit]. FireChat (San Francisco) does not have encryption [The Week]. Telegram (Berlin), however, does [GigaOm]. Telegram was recently hit with a DDOS attack [TechWorm]. And protesters' Apple devices have been hit by malware [PCWorld].
Note: It seems that there's a real, almost explosive, demand these days for social media apps that are less compromised than the majors; Ello and ProtonMail are other example. So stop whining about lack of investment opportunities, wouldja, squillionaires? Sheesh.
2014 and 2016
ObamaWar demotivates the Democratic base. 2010, here we come? [The Week]. Interestingly, Ryan Coole shifts focus at the end to this conclusion:
But let's face facts: expecting our jalopy institutions to successfully navigate the rapidly shifting tangle of alliances in Syria is ludicrous. America is a country where the Secret Service doesn't notice the White House has been shot until four days after the fact, and is apparently unfamiliar with how door locks work.
It sounds like Cooper's been reading Naked Capitalism, or Golem XIV, or the Archdruid, all of whom would concur on our "jalopy institutions" ("corruption" is far too narrow a frame). Will institutional rot and demented and sclerotic elites become an issue in 2014 or 2016? Seems unlikely, but then what Ryan Cooper wrote above would have seemed unlikely too, until quite recently. It was also unlikely that Emperor Cuomo would have been challenged, but you can see Teachout and Wu working these same issues in their interviews with Naked Capitalism (the PayPal button is to your right), and they came out of nowhere to take 30% of the vote. So you never know! And remember that the legacy parties are jalopies, too, despite their fearsome appearance and noisy operation.
Hillary Clinton rolls out "evidence-based" talking point [WSJ]. NC readers know this phrase — this exact phrase, "evidence-based" — is a steaming load, at least in the Clintonian context.
Republican super-PAC America Rising: "Stop Hillary 2016, Obama's 3rd Term" [The Hill]. Unsurprising. Obama was Bush's third term.
And Ready for Hillary will probably stick around anyhow, even if Clinton declares in 2015 (they said they would disband) [MSNBC].
Ferguson
City of Ferguson makes record access hard in Mike Brown shooting with ginormous fees [AP]. In a way, this is not surprising; as Mark Ames has shown, lots of people have caught the brain bug propagated by libertarian Robert Poole that government should be funded by fees, not taxes, because freedom. Which is one reason Ferguson arrests so many of its inhabitants [Pando]. But the fees probably violate Missouri's sunshine law [Sunlight Foundation].
It's also not surprising Ferguson would make record access hard, given that the use-of-force record for the incident where the cops whacked Michael Brown and then left his body in the street, in the summer sun, for four hours, is missing or was never filed [VICE].
Officer Darren Wilson didn't show up to testify at a hearing into a drug bust in which he participated and for which he had been scheduled to testify [Chicago Tribune]. Odd, since he received an award for the bust [LA Times]. In the same article, according to the defense lawyer in the hearing: The smart money thinks that Wilson won't be indicted. This is looking more and more LA Confidential all the time, isn't it?
There have been town hall meetings [CNN]. But sparsely attended [KDSK]. The protests continue [WaPo]. And no wonder [MSNBC].
ObamaWar
If ISIS is not the successor of Al-Qaeda, then the 2001 Bush AUMF does not authorize the strikes in Syraqistan. In fact, ISIS is probably not; its organizational structure differs significantly from Al-Qaeda's [Just Security].
Stats Watch
ADP employment report, Septemer: Above consensus at 213,000 vs. 200,000 (USA Today says 207,000) (private payroll only) [Bloomberg]. Manufacturing: 35,000. Service sector: 155,000. Construction 20,000 [WSJ].
EIA Petroleum Status Report, for week pof 9/27: Inventories fall and refineries slow [Bloomberg]. Crude supplies essentially in line year-on-year [NASDAQ].
News of the Wired
* * *
Readers, feel free to contact me with (a) links, and even better (b) sources I should curate regularly, and (c) to find out how to send me images of plants. Vegetables are fine! Fungi are deemed to be honorary plants! See the previous Water Cooler (with plant) here. And here's today's plant: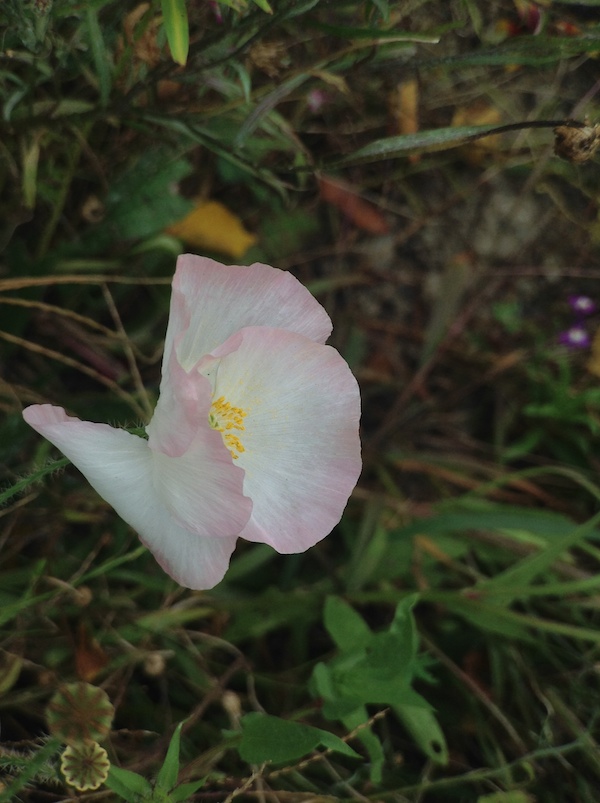 I'm indulging myself with this photo from my own garden, because I'm amazed that poppies are still blooming in October; we had a few hot days before the current chill.
Talk amongst yourselves!