By Lambert Strether of Corrente.
I know, I know. Criticizing Bill McKibben is like kicking a puppy. I like what I've read of him, I like the civil disobedience, the organization he founded, 350.org, isn't headquartered on K Street, but has offices all over, including Brookyn and Oakland in the United States, and 350.org has succeeded (so far) in preventing the Keystone pipeline from being permitted, thereby leaving a lot of petroleum in the ground where, as a ritual object of hatred and disgust, it should remain. (Canadian energy interests might still be able to export their tar sands oil to Europe via the Energy East pipeline, however, assuming the business case is still there.) And then, of course, there was the People's Climate March recently, in New York City.
Anyhow, McKibben parachuted in to speak at the local university, and so I went to see him, along with some other local landfill activists. I did take notes, but I don't think I could add anything to other descriptions of the same road trip, so I won't try. McKibben is a tall, spare, and impressively fluent and unnervingly understated speaker: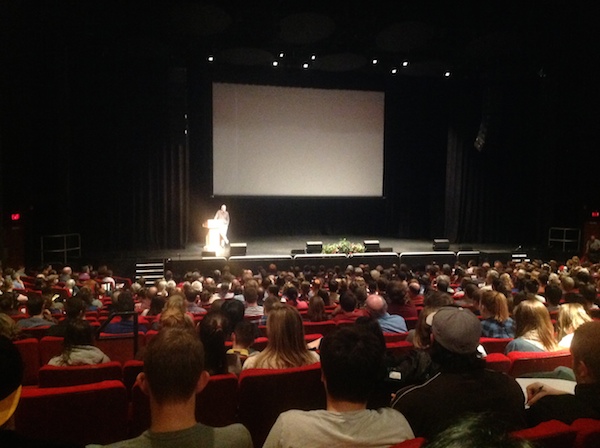 Most of his presentation was devoted to showing "Family of Man"-style pictures like this, and drawing out their implications:
Or this. ("350" because "350 ppm is the 'safe' level of carbon dioxide" in the atmosphere.) "[N]umbers trip lightly over linguistic barriers," says McKibben, and so they do, given the myriad of photos all featuring "350."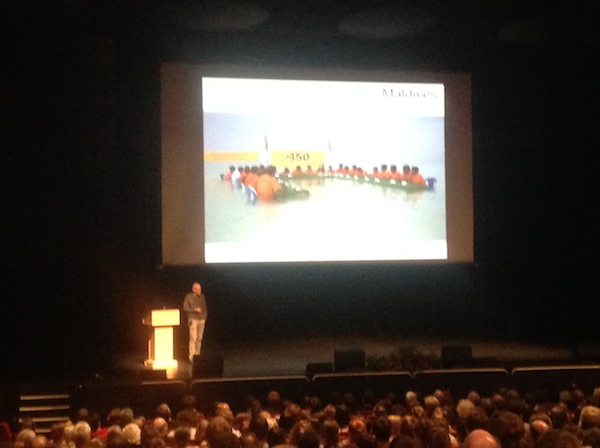 And here's the march in New York: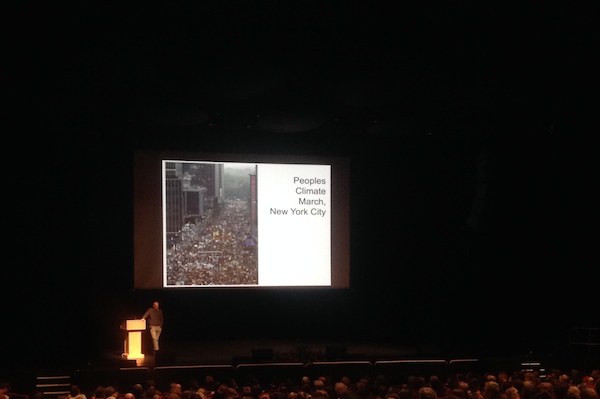 One reaction to the presentation:
A few of us from Unity College[1] went up today to hear Bill McKibben talk. As it happened, we were walking into the auditorium at the same time as Mr. McKibben. We stopped and introduced ourselves as affiliated with Unity. To see his eyes light up with mention of UC and hear him say "I'm always glad to check in with Unity" was a moment of pride for my new place of work. I asked if it was okay to snap a picture and he was more than happy to indulge our group selfie.

One analogy and one positive idea of potential change stick with me. The analogy is this: If I take my garbage to the city dump and have to pay $2 or $3 per bag to dispose of it, that is an expense I would rather not pay. I could just toss my garbage out on the sidewalk for free. But what happens? After a while I have a big stinking pile of garbage affecting my family, neighbors, and the neighborhood. Oil and gas companies could also pay to deal with their garbage (i.e. toxic pollutants in the air and water). But they effectively dump it into the atmosphere like so much garbage on the sidewalk – for free and with relative impunity. If the political will was there, as it is in some places (looking at you with a wink and a nod, British Columbia), governments could enact a system where polluters are held accountable – reversing long-term trend of Big Energy running roughshod over the already deteriorating life-path that future generations hope to tread. Political contributions from oil and gas companies strongly predict politician decision making. The system of big money in politics is a broken one and does not represent the interests of the people.
So, OK, externalities and British Columbia is the takeaway on a carbon tax. (I'm not so sure that the total solution for climate change is carbon taxation, or carbon pricing — because markets, wouldn't you know, though I'll freely confess I don't have a worked out solution. However, I have always liked the "wedge" approach outlined by Elizabeth Kolbert here.) 
Now, I've had issues with national environmental figures parachuting in to the Great State of Maine before, I confess it. In McKibben's case, I want to point out two flaws — and I felt, quite strongly, that they were flaws, and checked my reaction with less volatile members of the anti-landfill posse — in McKibben's presentation. I'm definitely in "little rift within the lute" mode here, emphasis "little," and it is up to you, readers, to determine if these rifts render McKibben's message mute, or not. Perhaps significantly, both rifts, or flaws, occurred after McKibben had finished his prepared remarks.
First, McKibben's sin of commission. During the Q&A, a young student got up and read the following highlighted passage[2] from Earrth, McKibben's latest book, and on the reading list for the Honors Program, which was sponsoring the talk: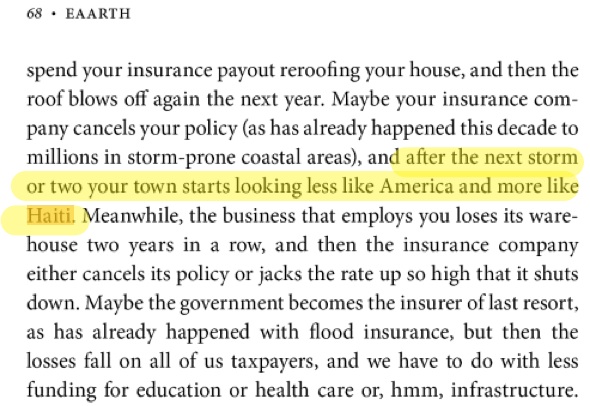 She was from Haiti, and found the passage offensive; I would have, too. (Imagine you lived in Sandy Hook and went through Hurricane Sandy. How would you feel if somebody said, of your community, "Do you want your town to look like Sandy Hook"?)
McKibben's response was interesting. First, he didn't offer even a non-apology apology; no big deal, but I would have thought that de rigeur. Second, he in essence filibustered; he explained what he really meant: That if you were an American, you had insurance, and insurance was infrastructure that Haiti lacked, and hence was unable to rebuild, and from there went off on North-South transfer, that resources should be transferred to Haiti, and that people should put aside nationality. 
And it was at this point that McKibben lost me. I'm an American, and insurance just isn't something I think of as a given. We all know the issues with ObamaCare and its crapified policies, and I personally really had to struggle to afford property insurance, and yes, I worry about losing the roof in a hurricane and never being able to fix it. So, what do you mean, "we," Mr. McKibben? I felt — and again checked my feeling with less volatile friends — that McKibben was very much operating from within a bubble of class privilege, a bubble so transparent that he couldn't see it, and yet so strong, he could not break it. Good NPR-listening, farmers' market-going members of America's professional and technical 10% have their blind spots just as much as anyone else, I think, and the Haitian student had zeroed right in on McKibben's. Of course, I don't want to commit the genetic fallacy here; McKibben's ideas could be excellent, blinders or not. But politics is about both values and interests; and although McKibben's values may in many ways align with mine, I felt strongly that I could not rely on him to defend my interests; he didn't understand them! And no, "saving the planet" isn't enough. You also have to ask what kind of planet is to be saved, and who pays for the saving of it.
Second, McKibben's sin of omission. Our landfill non-organization was having a potluck and victory dinner later that same evening, and one of our number was in line at the microphone, hoping to make a short announcement about it, inviting people to come. (Globally, landfills emit between 30 to 70 million tons of methane into the atmosphere annually, so it wasn't like we weren't doing McKibben's work.) Well, the show was to end at 5:00, and at 4:58 when our guy finally got his chance — being diffident, he'd been last in line — McKibben called a halt to the questions, and some administrator came up to hand him an award, and that was that. And so a golden opportunity to connect 350.org students to an on-point, local, and above all successful organization was lost. It's not so much that I'm miffed that our guy wasn't allowed to speak; it's what kind of organizer shuts down Q&A with one person left in line, in order to collect an award? Again, it's in my interest not to have more landfills in my watershed, and as it turned out McKibben lost a chance to defend me; but I'm not so sure what values were operating here, either.
* * *
Although I'd very much like to be mistaken, I think it's possible that the enbubbled McKibben and his movement are making a ginormous strategic error. In his 2012 Rolling Stone article McKibben writes:
A rapid, transformative change would require building a movement, and movements require enemies. As John F. Kennedy put it, "The civil rights movement should thank God for Bull Connor. He's helped it as much as Abraham Lincoln." And enemies are what climate change has lacked.

But what all these climate numbers make painfully, usefully clear is that the planet does indeed have an enemy – one far more committed to action than governments or individuals. Given this hard math, we need to view the fossil-fuel industry in a new light. It has become a rogue industry[4], reckless like no other force on Earth. It is Public Enemy Number One to the survival of our planetary civilization.
That's as may be. What I find remarkable is that while McKibben understands the need for some enemy[3], he offers no justification for any claim that the "fossil-fuel industry" is the right enemy. What about squillionaire Warren Buffet, whose BNSF transports coal from the Powder River Basin? How about squillionaire John Paulson, who owns a big chunk of Bakken? What about private equity firms like KKR, who fund the fracking bubble? And how about investment bankers like Goldman Sachs, who take a cut — even when there's an obvious conflict of interest, as with El Paso and Kinder Morgan — when energy firms restructure themselves? 
What I would propose is that the "enemy" is not an "industry," but a class of people who own that industry — among other things that they own. (For example, the squillionaire Walmart clan — and last I checked, retail wasn't part of "the fossil-fuel industry" — is fighting rooftop solar, despite successfully using solar themselves. "It's not that their vision of the future doesn't include some solar power. It's just solar power they own and control," says Stacy Mitchell of the Institute for Local Self-Reliance.)[5]
Simplifying, if you don't follow the money, and you don't track who owns what, you're going to pick your real enemy only by chance. That's not a winning strategy if you want to prevent the planet from cooking itself. And, if I am right, failure like this is exactly the sort of failure I would expect from a person who lives in the bubble I think McKibben lives in.[6]
NOTES
[1] We in the great state of Maine are proud of Unity College, too. When Reagan took over and removed Jimmy Carter's solar panels from the White House roof, they somehow ended up at Unity College. So after Obama got elected, some students from Unity took them down to the White House in 2010, and, just to ram home what Obama was, and what his administration would become, they couldn't even get a meeting, let alone install the panels. They were, however, given a brochure before being sent on their way.
[2] Because I was tapping notes into my iPad, I'm relying on memory and paraphrase throughout.
[3] And how convenient that McKibben's enemy, "the fossil fuel industry," overlaps so neatly with the bêtes noires of good Democrats everywhere, the Koch Brothers.
[4] To be fair, the fossil fuel isn't the only "rogue industry." It's the FIRE sector, for example, that practiced enormous accounting control frauds in the run-up to the 2008 crisis, crashed the world economy, and then orchestrated the largest upward transfer of wealth in world history, with the bailouts.
[5] And speaking of values and interests, these guys are running the world, but they don't care about things I care about — accumulating boat loads of capital strikes me as on a par, morally, with hoarding old newspapers or Kleenex boxes — and they aren't working in my interests (see, for the umpteenth time, Tcherneva's chart). In other words, I've got no confidence that the McKibbens of this world will take account of the values and interests of people who work at Walmart, as opposed to the people in his movement.
[6] As a prophylactic against any outraged 350.org public relations people, I haven't read all of McKibben's books. However, I can testify — and the material from the Unity attendees supports this — that if McKibben has followed the money and tracked the ownership elsewhere, he did not share his results in the version of his road show I saw. Hence, he does not view such analysis as central to his message or mission. It is true that a divestment campaign, to an extent, "follows the money" and addresses ownership, but consider: Suppose the Waltons, and the Buffetts, and the Kochs, and the Paulsons, and the KKRs, and the Golden Sachs of this world divested from fossil fuel tomorrow, and then turned right around and invested in nuclear power instead? What then? Although, again, I'd love to be mistaken…