Yves here. Apologies for the lack of my own posts; this is a terrible week for me, with a lot of personal admin and time required for an ongoing research project cutting into posting time. We do have a piece original to NC going live at 10:00 AM, so please check back then.
Police Pleasantly Surprised To Learn Man They Shot Was Armed Onion (EM)
Heartless Couple Sells Home, Throws in Son's Cat for an Extra $140,000 Gawker
Lifeform of the week: Owls EarthSky (furzy mouse)
Big Pic: The Sun Gives Off A Jack-O'-Lantern Leer Popular Science
Teens Love Brandy Melville, A Fashion Brand That Sells Only One Tiny Size Huffington Post. Chuck L: "As my daughter says, 'Boycott Brandy Melville.'"
This Man's Simple System Could Transform American Medicine Wired
Take note: Jazz and silence help reduce heart rate after surgery, study shows ScienceDaily (Chuck L)
Facebook, Apple pay to freeze employees' eggs CNN. EM: "On the surface this sounds very progressive – but I can't help wondering whether it's a childbirth analog of 'perks at the office to keep you working there insane hours per day'."
Hi-tech overload: First case of Google Glass addiction treated RT (EM)
Cyber-worm seeks home data stores BBC (David L)
Ebola
Texas nurses: 'There were no protocols' about Ebola CNN

Are the Ebola outbreaks in Nigeria and Senegal over? WHO (furzy mouse)
Hong Kong
China won't cede to HK protests, army used only as last resort-sources Reuters

Violent Clashes Between Police and Demonstrators Erupt in Hong Kong New York Times
Slowing China inflation fans concerns over global growth South China Morning Post
How to do better than the 'new mediocre' Martin Wolf, Financial Times (Swedish Lex)
Plutocrats tighten siege around Europe failed evolution
Merkel says Germany will not soften its strict budget stance Reuters. Swedish Lex:
Truly exasperating. The Germans appear to have retreated into a total bunker mentality that seems to be strengthening exponentially as the evidence of their policy folly becomes über-evident. I cannot understand how the German social democrats have become collaborators to this process, which historians will try to comprehend in tome after tome, pondering on the question how individually sane and rational people as a group could err so grossly.
BIS warns on 'violent' reversal of global markets Ambrose Evans-Pritchard, Telegraph
Stalled pay growth leaves average UK worker £5,000 a year worse off Guardian
How falling oil prices are squeezing Russia, Iran, and Saudi Arabia Vox
Winners and losers from oil price plunge Financial Times
Saudi Prince Alwaleed says falling oil prices 'catastrophic' Telegraph
OIL KEEPS CRASHING Business Insider
Tar Sands Trade: Kuwait Buys Stake in Alberta As It Opens Own Heavy Oil Spigot DeSmogBlog
Urkaine
Putin pulls back troops from Ukraine CNN
Syraqistan
Big Brother is Watching You Watch
Are Covert Ops Compatible With Democracy? Counterpunch

Top Level Telecommunications: The German operation Eikonal as part of NSA's RAMPART-A program Electrospaces
Highly respected conservative judge rips 'voter ID' laws—and the GOP—in blistering opinion Daily Kos
WSJ/NBC News Poll: Republicans Hold Advantage as Midterms Near Wall Street Journal
Missouri Official Meant 'No Ill Intent' When She Called For Military Coup TalkingPointsMemo
Syracuse land bank to get nearly $2 million more to fix up deliquent properties Syracuse. Bob: "The land bank is just another way to warehouse stock no one wants to hit the market. Who does that help? And $2 million doesn't even begin to cover the out of pocket costs these junk piles are costing the city. $2 million a month might help them get to the level of being able to demolish some."
Too-Big-to-Fail Banks Face Up to $870 Billion Capital Gap Bloomberg
Citigroup Consumer Chief Plans to Leave Wall Street Journal. The Banamex money laundering saga is so seamy….
Antidote du jour (Richard Smith). A walrus lounges on a Russian sub.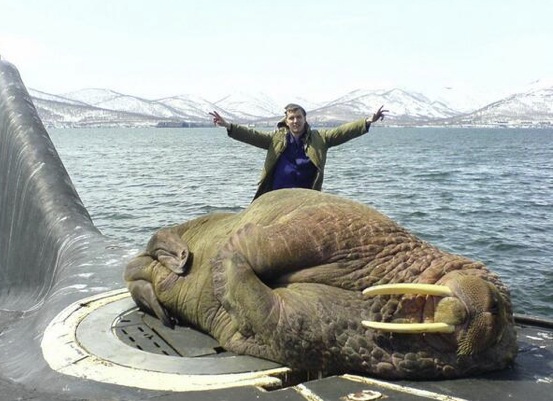 See yesterday's Links and Antidote du Jour here.