The "Fed can fix everything" premium has left the market.
The S&P 500 has been falling even more while I compose this this short post. It went from down over 2.2% to off 2.9% of this writing and the Dow went from down 2.1%. to down 2.6%, Ten-year Treasury yields dropped to below 2%. They recovered briefly to 2.05% but are now 1.99%. Oil fell sharply overnight.
Blooomberg has a raft of "panic is on" headlines on its site: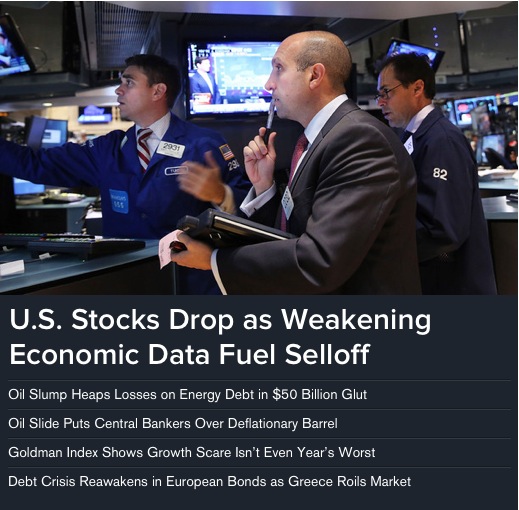 And Ebola fears are adding to traders' rattled nerves.
One overview from the Financial Times:
One catalyst for the latest burst of risk aversion came from a batch of weak US data releases, which fuelled worries that the US economy might not be immune to a growth slowdown elsewhere.

"Global uncertainty is ravaging markets," said Camilla Sutton, chief FX strategist at Scotiabank. "The weight of a deceleration in the global growth outlook, complicated by geopolitics and the threat of Ebola – and combined with strong oil supplies – is driving a wave of risk aversion in markets."

The 10-year US government bond yield at one stage was down 34 basis points at 1.87 per cent – the biggest single-session fall since March 2009. By mid-morning in New York, it was back to 2.05 per cent, down 16bp on the day…

European stock markets suffered even greater losses. The FTSE Eurofirst 300 ended 3.2 per cent weaker at its lowest point since December while Greek stocks fell 6.3 per cent as 10-year borrowing costs in Athens – already above 7 per cent – soared by the most in 15 months amid growing concerns about the political situation in the country.
The turbulence in equity and bond markets followed the release of data showing that US retail sales fell 0.3 per cent in September. A sharp fall in the New York Fed's manufacturing index this month added to the gloomy mood.

US producer prices eased 0.1 per cent last month, their first decline in a year.
Bloomberg on the race into Treasuries:
Trading volume in U.S. Treasuries is approaching the highest on record as investors drop wagers that the Federal Reserve will raise interest rates.

About $623 billion in U.S. government debt changed hands by 12 p.m. New York time, according to ICAP Plc, the world's largest interdealer broker. That's just below the record $662.2 billion traded on May 22, 2013, when former Fed Chairman Ben S. Bernanke mentioned the possibility of slowing bond purchases.
We've been pointing out for some time that conditions in the labor market are too weak to sustain any real recovery. The robust parts of the country have been riding on QE in various forms: energy development, financial services, and frothiness in Silicon Valley. But policymakers live in the Versailles that DC has become, and too many journalists are based in New York City, which is holding up nicely, and don't get out to the rest of the country to see the distress beneath the veneer of normalcy.
The shale bubble is popping now. And as Ed Harrison pointed out by e-mail:
As oil declines though, qe won't help because risk premiums will stay elevated irrespective of where safe assets are trading. It is a perfect storm waiting to build because there are fewer safe assets and that will exacerbate the move.

There are a lot of places to look for where the credit bubble is about to detonate. And this could be the subprime ground zero that infects other bubblicious areas: think student loans, leveraged loans, other high yield. The Fed has simply caused a massive misallocation of capital. And eventually this will be found out in a big way.
Agreed. And given how central banks succeeded in their effort to divorce asset pricing from fundamentals, the groping for a new level while reality sets in may take some time. And an additional impact is use of algos and HFT. HFT drains liquidity in roiled markets. What looked benign on the way up is going to add fuel to the fire at times like this.
Update 1:45 PM: The latest from the Journal:
Selling accelerated in U.S. stocks on Wednesday as investors flocked to safe-haven government bonds.

U.S. stocks fell sharply Wednesday, as European markets also posted steep declines.

Stocks plunged to the day's lows in early afternoon trading, with the Dow Jones Industrial Average falling 402 points, or 2.5%, to 15906. The blue-chip benchmark was on course to fall for the fifth day in a row, a drop that brought the index's year-to-date decline to 4%.

The S&P 500 dropped 51 points, or 2.7%, to 1827, a decline that turned the index's year-to-date return negative. The Nasdaq Composite Index fell 95 points, or 2.3%, to 4130, similarly erasing gains for the year.

Declines were broad and deep, with all 10 of the S&P 500's sectors tumbling more than 1%.

"There's a lot of pain out there," said Dave Lutz, head of exchange-traded fund trading at JonesTrading Institutional Services.

The selloff marked a continuation of recent tumultuous trading sparked by fears of a global economic slowdown, dangerously low inflation in Europe and ripples from a steep drop in oil prices. Feeding the gloom Wednesday was a weaker-than-expected report on U.S. consumer spending. Traders said swings across financial markets appeared to be magnified by investors—particularly hedge funds—scrambling to exit money-losing investments.