By Lambert Strether of Corrente
Stats Watch
Retail sales, September 2014: "Very mixed," "core numbers were weaker than expected" (-0.3% vs. -0.1%). Autos and gas down, home furnishings, building materials, nonstore retailers, clothing and accessories, and sporting goods and hobbies all down. Electronics up (iPhones) [Bloomberg]. "Food services and drinking places gained a robust 0.6 percent." The bear in me, which is me, thinks at once of "Eat, drink, and be merry…" "Big misses across all data" [Business Insider].
Empire State Manufacturing Survey, October 2014: "Slowing abruptly," "sudden reversal with new orders in contraction," despite employment climb [Bloomberg]. A "worrying signal" [Marketwatch]. Futures lower, on this and retail sales [NASDAQ].
Ebola
"Anyone Looking to Scare You Is Out for a Profit" [Cracked]. As usual, the only real mainstream news is in the humor outlets.
If Texas Presbyterian's nurses were unionized, maybe they wouldn't be afraid to speak out, and we'd know more than management mumblespeak and bafflegab [AP]. Read the whole thing, and see parallel reporting from the [Los Angeles Times]. I found this the most vivid:
Among the nurses' allegations was that the Ebola patient's lab samples were allowed to travel through the hospital's pneumatic tubes [instead of being hand-delivered], opening the possibility of . The nurses also alleged that hazardous waste was allowed to pile up to the ceiling.
What could go wrong? Isolation wards won't do the trick if the specimen tubes got contaminated. Dear Lord. IMNSHO, it's not aerosolization we have to worry about, but out-of-control neo-liberal infestations that hollow out our rickety, "jalopy institutions." Institutionally, this is third-world stuff, and it's an especially noxious and lethal form of American exceptionalism to pretend that it isn't. If there were a specimen tube that ran straight to the CEO's office, or medical waste piled up outside his door, you can bet these problems would be fixed toot sweet, but since that will never happen, more canaries will have to suffer and die. 
Hong Kong
Triads infiltrate anti- and pro-Occupy groups, say HK police [The Diplomat]. Impressively devious.
Admiralty: Video footage shows plain-clothes cops dragging a handcuffed Civic Party member Ken Tsang Kin-chiu away from the crowds in before kicking and hitting him [South China Morning Post]. Oopsie. "Never seen that behavior," says activist [International Business Times].
Cops and protesters trading territory [Asian Correspondent].
Ferguson
Atmosphere [The New Yorker]. Could do better.
And some St. Louis residents push back [HuffPo]. More vivid, and more of the story, which IMNSHO is the "spread offense" used by protesters across the St Louis metropolitan areas — so we would expect pushback like this.
2014
R enthusiasm higher than D, which is at a 30-year low, important for mid-terms turnout [WaPo]. Well-played, Obots.
Nate [genuflects] Silver: Polls skew. We just don't know what direction they skew in any given year [FiveThirtyEight]. 
Republicans shift $4 million to Senate races [Politico]. Ds abandon Mitch McConnnel's Kentucky, others [Roll Call].
Senate scenarios: (1) R near-sweep; (2) tied going into the (potential) run-offs (Louisiana, December 6; Georgia, January 6); (3) Ds by "skin of their teeth" (Orman wins Kansas, plus Joe Biden as tiebreaker) [Roll Call].
R Roberts and "unknown businessman" sleazy private equity "No Labels" D mole Greg Orman to meet in high-stakes Kansas debate [Wichita Eagle]. Maybe Roberts could rouse himself to ask Orman why he thought building a shrimp farm in the desert was a good idea [Politico].
Orman to hold fundraiser in Manhattan [WIBW]. Let the oppo begin!
An invitation obtained by the American Rising PAC (ugh) shows Goldman Sachs' Joseph Gleberman, Gotham Capital Partners' John Perry, banker Gavin Wolfe, and Jonathan Soros.
So, Obama's 2008 play. How cozy. Orman was one of the two board members of a Cayman Islands private equity partnership set up by a Goldman Sachs convicted felon[1] (a member of his campaign replaced him) [WaPo], and would be one of the richest Senators if he won [Topeka Capitol-Journal]. So I imagine all the principals feel quite comfortable with each other.
[1] I wish the phrase  "Goldman Sachs convicted felon" were more redundant than it is. "Orman said he was 'absolutely shocked' by Gupta's fraud conviction." Oh, come on. This is too easy.
Ds "prepare for apocalypse" in House [New York Times]. So, it looks like Steve Israel's DCCC has sabotaged another election [Down with Tyranny]. Kidding! Nevertheless, that the Times has a quote like this should give one pause:
Representative Michael G. Grimm may win. The Staten Island Republican is accused in a 20-count indictment of hiring immigrants living in the country illegally at his restaurant and of cheating on his taxes — neither of which usually goes over well with Republican voters. But he just might be re-elected. And the fact that Steve Israel, the chairman of the Democratic Congressional Campaign Committee, says he never thought that the Grimm seat was a sure-thing pickup is an indication that the Democrats are preparing explanations for a poor showing.
Maybe somebody who knows more about Staten Island politics than I do can weigh in, but I don't think the key point is that Ds are "preparing for a poor showing," but that Israel thinks taking down an R indicted for corruption isn't worth a shot. WTF?
Getting out of the two-party game [Medium]. One strategy not mentioned is simply voting against any incumbent.
Some blacks in St Louis voting R out of outrage at D leadership [WaPo]. Ds tend to think they own D voters, so this is the only way to get their attention.
2016
As I've said, I'd rather claw out my eyeballs than write about 2016, more than two years prior. It's like playing Xmas muzak on the Fourth of July. However, Our Betters have decided this is an important story, and needs must….
Panetta goes all-in for Hillary Clinton [Politico]. "What the hell else do you want?" A living wage? Single payer? Ending the wars? No grand bargain? Restoration of Constitutional government and the rule of law? Some banksters in jail pour encouragez les autres? It's a long list, Leon. If I may call you Leon.
Clinton "prohibitive" first choice of Iowa voters with 53% (but Warren has 10%) [Des Moines Register].
Jeb Bush declines to make Sherman Statement [Michigan Live], says wife Columbia "suppportive" of 2016 run [The Hill]. Also too Barbara Bush [NBC].
America the Petrostate
Which states are most vulnerable to falling oil prices [CFR].
News of the Wired
* * *
Readers, feel free to contact me with (a) links, and even better (b) sources I should curate regularly, and (c) to find out how to send me images of plants. Vegetables are fine! Fungi are deemed to be honorary plants! See the previous Water Cooler (with plant) here. And here's today's plant (craazyman):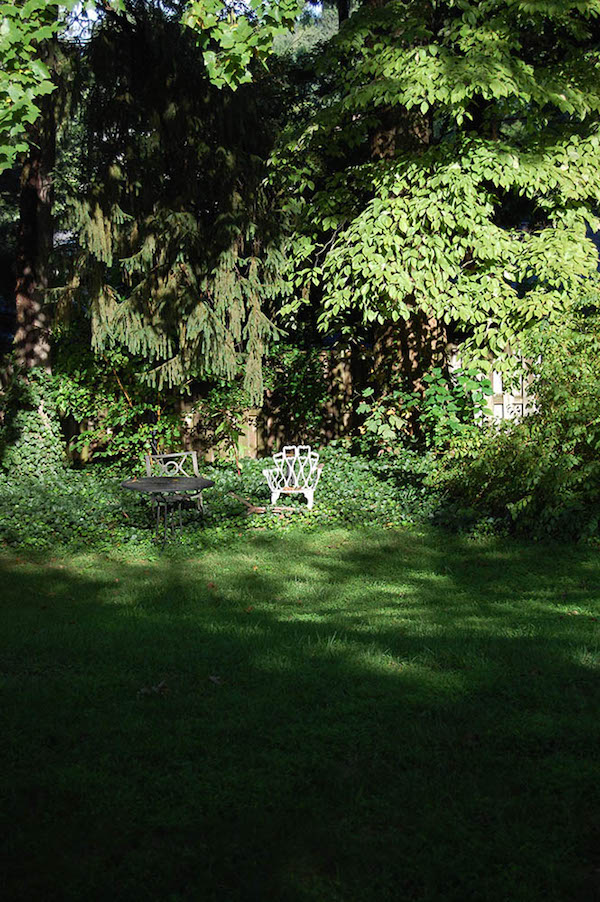 What higher purpose, after all, can a garden serve than being a place where one can sit, with pleasure?
Talk amongst yourselves!