One of the complaints too often taken seriously by the business press is employer claims that they can't find workers with the right skills for open job slots. We've looked at some of these stories in the past, and when employers complained, it pretty much without exception reflected that because the economy is slack,they expect to be able to hire workers cheaply, which often includes not being willing to spend time to train someone. In fact, there has been a perverse trend starting more than a decade ago of employers putting out incredibly narrow job specifications. They were effectively saying they were willing only to hire someone who had been in precisely the same role at a similar company.
But even as McJobs look to be the fastest growing employment sector, just because they want to hire workers for as little as possible does not mean that prospective employees will hit their bid.
This issue got new attention last week as news reports blared that new job openings had hit their highest level in 13 years, surely a bullish economic sign. Higher wages are just around the corner! But then the stories point out even as work postings are rising, the number of actual hirings is down. Notice the contrast in this Wall Street Journal account:
Employers had 4.84 million open positions in August, up from 4.61 million in July and the highest level since early 2001, the Labor Department said Tuesday.

Meanwhile, steady job creation has decreased the number of job seekers, a sign the labor market is tightening and raising the prospect of stronger wage growth. In August, there were just under two unemployed workers per job opening, the lowest level since the recession. In 2009, that figure was nearly seven….

Still, other figures suggest the labor market is growing below its potential. Despite the pickup in job openings in August, the number of hires actually fell to 4.6 million from 4.9 million in July. That could be a sign that while employers are ready to expand, they are having trouble finding the right workers or they lack urgency to hire immediately.

Moreover, the number of workers quitting their jobs has remained flat in recent months. That shows that despite stronger employment growth, many workers still aren't confident enough to quit their jobs for better opportunities.
The article curiously fails to mention the low labor participation rate and the large number of discouraged workers. Employers are strongly prejudiced against candidates who have been unemployed for more than six months. It's not irrational for them to give up.
And even for low-end, low-skill jobs, the pay on offer often looks unreasonably low. For the last two years, reader Carol B has regularly sent us job postings in her area in New Jersey. Her note with her latest find: "I'd send representative samples, but this is a representative sample. The economy's on a roll now!"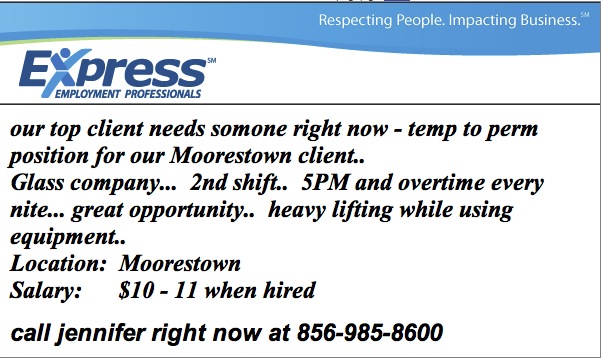 The flip side is that employers are following the lead of Obama, who last year touted Amazon warehouse jobs that paid below living wage levels as "middle class jobs." With the President subtly jawboning wage expectations down, why shouldn't employers see how far they can get with bottom fishing? As we wrote last year:
Obama needed a visual to show that, no, really, truly, jobs really are being created somewhere in America for yet another one of his exercises in trying to pretend that he's on the side of ordinary Americans. But it's hard finding any really good success stories in an economy with 12.2 million counted as unemployed and over 28 million as "disemployed" which is the number of people out of work relative to normal labor force participation rates when the economy is in good shape. So Obama chose as his backdrop an American success story, Amazon, which is opening a new a warehouse in Chattanooga and hiring 7,000 people.

But Obama in trying to tout this as a success story revealed either that he's completely out of touch or that he's conditioning American to regard a state of peonage as middle class. Not all that long ago, "middle class" meant you could after a few years of work and savings, buy a house in the suburbs, afford to have children and have a reasonably comfortable family life, and send those kids to college. "Middle class" also generally meant college educated, white collar employment plus the higher-skilled, better paid blue collar jobs.

If you had any doubts that that vision of middle class life was on its way to extinction, the Obama speech made it official. Amazon has been repeatedly cited here and abroad for abusive conditions in its warehouses.

….The message from Obama is clear: Americans are now expected to celebrate when companies are willing to pay at or not much above a living wage [for a single person]. As long as you pay enough that the workers don't wind up having to seek public assistance in the form of food stamps or emergency rooms for medical care, you'll now be promoted as creating better conditions for Americans. That's true as long as you remember that the Americans that benefit from this grinding down of ordinary citizens are Obama's backers and other members of the elite.
So the real story of the supposedly improving job market is that if things are getting better, it's likely only to be at the margin. Real wages have been stagnant since the mid-1970s and worker rights continue to be under attack. And with the top wealthy profiting handsomely in this weak recovery, there's no impetus yet for any real change.