By Lambert Strether of Corrente
2014 Midterms Post-mortem
Modern day poll taxes already affecting elections; cost of a voter ID card can range from $75 to $150 dollars [WaPo]. Good links. Great to see how the Democrats fought this tooth and nail. Oh, wait….
2016
Perry visits New Hampshire, fondles hat, wonders whether to throw it in ring [AP].
Gore/Kerry strategist signs on to possible presidential bid by Sanders [The Hill]. So Sanders is doomed, then?
Mexico
A good explainer gets the timeline and the players clear [Latin Times]. "[T]he gang or cartel, which the government as responsible for the disappearance (or feared execution) of the 43 students" is well worded, eh?
Here's a second explainer, from Ireland (!), with a greater focus on protester tactics: "Protesters were chanting: 'It was the state'" [Breaking News].
"The government, a mayor, police officers and gang members have all been implicated" in the deaths of the 43 students [Al Jazeera].
"Attorney General Jesus Murillo Karam downplayed chances of ever identifying the charred remains" [Agence France Presse].
Protesters block Acapulco international airport [BBC]. Big time; the only similar case I can recall is a "yellow shirt" protest in Thailand.
Ayotzinapa students, where the students were from, promised more "direct action" [Vice]. ("Direct action" is very photogenic; our famously free press loves it [Mic].)
Meanwhile, Mexico's President has flown off to Asia [Forbes]:
Soon after his plane took off, a new, potentially devastating scandal erupted. Aristegui Noticias, an Internet site run by journalist Carmen Aristegui (morning newscaster for Noticias MVS, the media outlet I represent in Washington), published an article documenting that Ingeniería Inmobiliaria del Centro, a company  run by a wealthy entrepreneur that has received lucrative public-works contracts, including participating in a multi billion-dollar deal with a Chinese-led consortium to build a high-speed train between Mexico City and the city of Queretaro, also owns a luxury $7 million white mansion in Mexico City's high-end neighborhood which actually belongs to Angélica Rivera, Peña Nieto's former soap-opera actress wife. The presidential office confirmed Peña Nieto's relations to the house, but claimed that Rivera had signed a contract to buy the house almost a year before he took office and is making payments to the builder.
Which, when you think about it, is exactly the point.
Ferguson
Turkish photograph sues Ferguson police for throwing him to the pavement when he was filming cops pointing a gun at protesters [St Louis Today].
Police and protester planning for events after Darren Wilson grand jury decision [ABC], expected mid- to late November [Christian Science Monitor].
Gun sales spike [CNN].
Chicago activists present police brutality report to United Nations Committee Against Torture [Juvenile Justice Information Exchange].
Hong Kong
Leung and Lam warn protesters they face arrest. Hong Kong media report protesters could be removed starting Wednesday. Perhaps the mainland government is waiting for APEC to finish [Reuters].
Hong Kong's high court extends injunctions requiring protesters to leave two of three sites [Asian Correspondent], including Admiralty and Mong Kok [AP], and therefore not Causeway Bay (map) [New York Times] ("the territory's residents are demanding democracy in intersections, not central squares" [The Atlantic]).
Occupy marshalls and divisions among the occupiers [South China Morning Post]. Alex Kwok a ten-year union organizer.
Net Neutrality
"The cable industry strongly supports an open internet" [Guardian].
Explaining net neutrality to Ted Cruz, idiot and shameless panderer [The Oatmeal].
ObamaCare
Obama: ObamaCare website being "double- and triple-checked" before opening [The Atlantic]. And this wasn't done the first time through why?
Enrolment targets lowered, but is the administration lowballing? [BBC]. Probably [Politico].
Axelrod says Obama should "compromise" on definition of 30-hour week as full time, thus requiring coverage [The Hill].
Imperial Collapse Watch
Say, where are all the good liberas who supported our humanitarian intervention in Libya? Because now it's a hell hole [The Intercept].
"The Big Counterterrorism Counterfactual" [Foreign Policy].
[T]he "surveil and strike" mentality that has dominated the counterterrorism effort (and which is clearly reflected in Hannigan's plea to let Big Brother — oops, I mean the NSA and GCHQ — keep its eyes on our communications) is popular with government officials because it's relatively easy, plays to our technological strengths, and doesn't force us to make any significant foreign-policy changes or engage in any sort of self-criticism at all. If we can solve the terrorist problem by throwing money at it, and enriching some defense contractors and former government officials in the process, what's not to like?
"What's not to like?" Snark like that, the dude should be blogging….
Corruption
Obama's DOJ helps launder local "civil forfeiture" seizures by "adopting" them, making them federal and exempting them from state-level corruption controls. Then the two thieves split the take [BoingBoing].
Nepotism in US immigration courts, said 2012 Inspector Genera's report [WaPo].
Stats Watch
Redbook, week of November 8, 2014: Continued soft sales. Retailers getting displays out earlier, cutting prices, extending hours [Bloomberg]. 1% drop could have been the mid-terms [NASDAQ].
Rapture Index: Closes up 1 on Tribulation Temple [Rapture Ready].
Class Warfare
401(k) retiree "assumed the company was looking out for my best interests" [Times]. Foolish, because markets.
"Carl Icahn has jacked the interest rate up on the Trump loans from 6.2 percent to 12 percent, ripped $350 million out of this company in four years, and now he says workers can't have health care, pensions, paid breaks" [Philadelphia Inquirer]. Er, do markets scale?
Employment in 29 of 50 states is below recession-era peaks [Bloomberg]. This is a complicated and confusing map; see the note on New Jersey. What I would like to see is a "job loss" map that shows absolute numbers of jobs lost (or, heck, gained) per state, given the lower labor force participation rates successfully achieved by the Obama administration.
In the 30s, squillionaires competed for conspicious consumption honors by commissioning fancy watches with lots of "complications" [BBC]. Today, such elaborate and cumbrous bric-a-brac takes the form of space flight [Daily Mail]. To be fair, a Patek Philippe Supercomplication can't serve as an extra-planetary lifeboat for the 0.01% lords of misrule. So there's that.
News of the Wired
* * *
Readers, feel free to contact me with (a) links, and even better (b) sources I should curate regularly, and (c) to find out how to send me images of plants. Vegetables are fine! Fungi are deemed to be honorary plants! See the previous Water Cooler (with plant) here. And here's today's plant: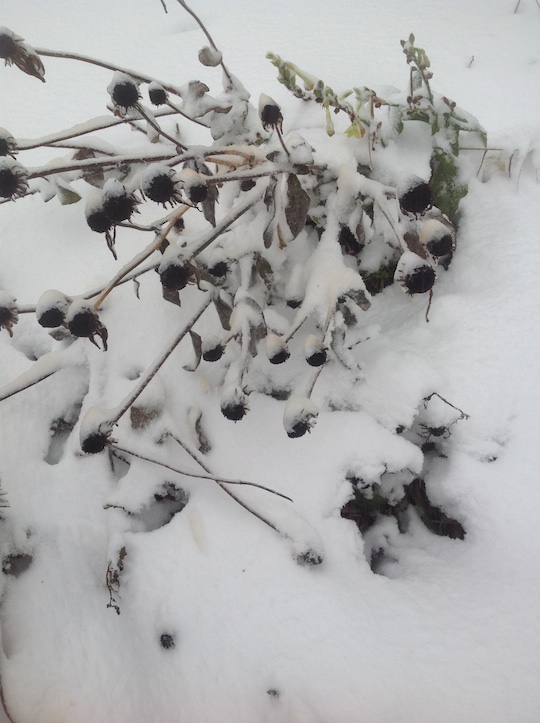 These fallen Black Eyed Susans, which I never dead-headed, remind me of soldiers, too.
Talk amongst yourselves!