By Lambert Strether of Corrente
2016
"How Can Hillary Make ObamaCare Her Own?" [Talking Points Memo]. It's already hers. Both Obama and Hillary are neo-liberals who support versions of the Heritage Foundation plan that morphed into RomneyCare and then ObamaCare. In 2008, Hillary supported the exchanges, IRS enforcement, and the mandate, justifying it as universal coverage, which, to be fair, is better than a poke in the eye with a sharp stick. (Universal coverage is also better field position if you're a single payer advocate.) Obama didn't support universal coverage, didn't support the mandate, and ran "Harry & Louise"-style ads in Ohio against Hillary on that, a tactic so vile and reprehensible that Krugman called him out on it. Later, of course, Obama flip-flopped.
The key point, which Talking Points Memo oddly, or not, omits, is that Clinton doesn't support single payer Medicare for All, a fact that should demolish her reputation for policy wonkery, as well as — just let me try to pre-empt 2016, here — any idea that she's a "transformational" figure (remember that one?) Further, since women pay more for health benefits, her repudiation of single payer should also demolish her reputation for empowering women. (After Obama, I hope the idea that "having somebody who looks like _____" in office is worth more than a bucket of warm spit has died the death. You never know with Democrats, of course.)
2014 Midterms Post-mortem
It seemed like the DSCC wasn't mobilizing the D base because it wasn't; memos [Daily Beast]. Democratic operative: "Sometimes people just fucking hate you." Out of the mouths of weasels….
In the midterms, "the big money has fought each other to a standstill" [National Journal].
Lowest midterms turnout since World War II [Political Wire].
How bad was voter suppression? Many calls, doubtless a tiny fraction of the real problem [The New Republic].
A list of Congressional campaigns that were actually well run [Roll Call].
What the voters want Ds and Rs to compromise on [Talking Points Memo]. Wait, would substantive agreement on neo-liberal policies do?
ObamaCare
UPDATE: Jon Gruber on ObamaCare: "[C]all it the stupidity of the American voter or whatever, but basically that [lack of transparency] was really, really critical for the thing to pass" [YouTube]. Oopsie.
Mexico
Protesters torch door of one Presidential palace as anger over missing students grows [Guardian].
Extremely large protests over 43 disappeared students [Al Jazeera], which reveals close connections between government and narcos [Al Jazeera], as drug gang confesses [Christian Science Monitor]. Of course, I think "fall guys," but ….
Attorney General's "Ya me canse" ["Enough, I'm tired"] trending [news.com.au].
Ferguson
How the protesters and the cops are preparing for the Darren Wilson grand jury outcome, including "rules of engagement" [New York Magazine].
Ferguson and the "bourgieos cocoon of niceness" [Theology of Ferguson].
Hong Kong
Cops could clear Mong Kok Wednesday [South China Morning Post].
"[S]trong winds reveal the strength of sturdy grass"; poem quoted by Xi supporting Leung [Bloomberg].
Obama calls for restraint from Beijing [New York Times].
Students remain committed to occupations [Forbes].
Is Hong Kong China's future? [The Conversation]. Perhaps not if "liberalization" as the writers seem to intend is meant.
America the Petrostate
Contrasts between Norway and Canada. Similar populations, dissimilar sovereign wealth funds. And political economies [Commonsense Canadian].
European trade reps shop for hyrdrocarbons at Philly trade show [Philadelphia Inquirer]. Paul Tioxin notes:
The event is promoted by one lawyer, former state Environmental Secretary of the most connected political firm in town, maybe the state. Please read this for energy overview, it is the most comprehensive statement for tar sands crude and fracking for gas, including the coming Trade Deal with Europe.  It is all covered, and energy is taking primary role as a driving force to close the trade pact.
Net Neutrality
Obama asks FCC to class the Internet (including mobile!) as a "utility" [BoingBoing]. Good, if late. It's Obama. What's the catch?
Time Warner Cable, Comcast, Cablevision and Charter Communications dropped between 2 percent to 4 percent [Miami Herald].
Reaction from "Philadelphia, the City That Comcast Stole" [Philebrity].
Verizon wants you to send your billing password over Twitter [Ars Technica]. What could go wrong?
Class Warfare
Putting minimum wage on the ballot raises voter turnout [Guardian].
Tallahassee voters approve anti-corruption ethics code for city commissioners [WCTV].
News of the Wired
* * *
Readers, feel free to contact me with (a) links, and even better (b) sources I should curate regularly, and (c) to find out how to send me images of plants. Vegetables are fine! Fungi are deemed to be honorary plants! See the previous Water Cooler (with plant) here. And here's today's plant: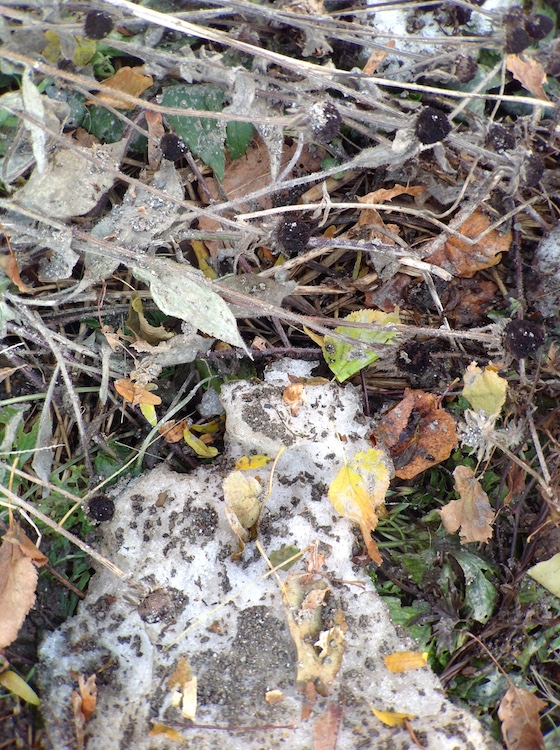 Winter is coming!
Talk amongst yourselves!