By Lambert Strether of Corrente
2016
Democratic Senator: "This is what you get when you have a drive-through president" [New York Review of Books]. Ouch! Elizabeth Drew thumbsucker on the midterms.
Pew: 59% of Americans think Obama will accomplish little or nothing in in his last two years [Bloomberg]. Good. No TPP or Grand Bargain. And the fight between "institutional" and Tea Party Republicans still smolders [WaPo].
Red state Democrats flirt with Republicans [Politico]. Because bipartisanship!
Rubio and Ryan developing alternative health plan, but there's no detail [Tampa Bay Times].
Democratic Party rating falls to record low [Gallup]. "On the other hand, the American public does not admire Republicans more."
"The only wildcard is if Clinton has a change of heart or has a prohibitive health issue" [Roll Call].
Beauty contest for O'Malley, Webb, Sanders held in Manhattan [The New Yorker].
Mexico
Argentine Forensic Anthropology Team, asked to do independent study by families, says bodies found in mass burial site are not those of 43 abducted Ayotzinapa students [Telesur].
There's a bunch of mass graves, so it's easy to get the wrong one [Businessweek]. Father of student: "The worst thing is knowing it wasn't organized crime that instigated this — this was our own government."
Teachers vandalize ruling Institutional Revolutionary Party offices, clash with police [La Prensa].
Catholic bishops condemn "corruption, impunity and violence" [Christian Post].
Ferguson
Brown family forensic pathologist to testify before Darren Wilson grand jury [St Louis Today]. Potential for conflict with official autopsy, with issue of whether Brown was shot at close range or not.
No witnesses, no video evidence (despite 2012 DOJ agreement), failed taser time stamps in pre-Mike Brown "fatal shooting of unarmed man" by cop [St Louis Post Dispatch]. Nice to see the libertarians all over this. Oh, wait…
Number of police killings highest in two decades (though could be a reporting spike) [USA Today].
Preparing peaceful protest tactics for expected grand jury decision [St Louis American], with streamers, and video training by Copwatch [FOX2].
Missouri Governor Nixon: "Violence will not be tolerated" [Los Angeles Times]. Just a leetle one-sided, no?
Interview with some of Ferguson protest organizers [WaPo]. Assume the grand jury verdict is no indictment of Wilson. There's always an asshole, and for all I know something will go up in flames. That's not the story here. The story is why smart, disciplined, strategic organizers like those interviewed by WaPo don't have any political power, and buffoons like Nixon and the ammosexual Mayor of Ferguson do.
Hong Kong
Protesters to occupy British consulate? [Agence France Presse].
Jimmy Lai hit by bag of rotten offal [Bangkok Post].
Making tear gas and pepper spray masks from common household materials [Tom Grundy].
Currently only half of the eligible population is registered to vote [Roydon Ng]. "Clearance" of protesters to begin Friday?
Net Neutrality
Facebook, Google, being oligopolies, stay out of the net neutrality debate, which benefits new entrants, not them [New York Times].
FCC's response to Obama's "public utility" letter translated by Internet guru [Bloomberg]. If this were Japan, I think the FCC response would read "We will consider your proposal very carefully." Wait, wait, who was it who appointed a telecoms lobbyist as FCC head?
Imperial Collapse Watch
The U.N. Committee Against Torture grills U.S. officials on "lapses"; Mike Brown's parents to appear [Talking Points Memo]. State department spokesperson: US "did not always live up to our own values." In other words, "That's not who we are." No, it damned well is who we are. Aristotle: We are what we repeatedly do.
Stats Watch
Forecast by IEA of 10% drop in shale oil investment if oil stays at $80 a barrel, resulting in production decline [Financial Times, "IEA warns low oil prices threaten US shale investment"].
Wholesale trade, September 2014: Steady relative to sales [Bloomberg]. Auto, apparel, hardware fall. Machinery, drugs, and paper products rise.
ObamaCare
Gruber grovels [Vox].
ObamaCare needs roughly 17 million enrollees to be sustainable by the end of 2016 [Health Care Policy and Marketplace Review].
Top obstacles facing the administration in this enrollment period [The Hill]. Yeah, like the back end still isn't done, and it's hard to comparison shop because the user experience of the website is so bad. But that doesn't matter much, because the data we'd need to comparison shop isn't available anyhow.
Class Warfare
Xu Lizhi, Foxconn worker, threw himself from a window in his dorm — say, what about those anti-suicide nets? — but left poems [Libcom]; [London Review of Books]; [WaPo]. Maybe Apple could use some of his poems for startup screens? Like this one:
颗螺丝掉在地上

A screw fell to the ground
Of course, Apple being Apple, that's probably an extra-pricey screw with a special screwdriver…
Exodus from struggling small towns "might to some extent shore up the middle class" [AP]. So those who stay because of family obligations get kicked down the ladder.
News of the Wired
* * *
Readers, feel free to contact me with (a) links, and even better (b) sources I should curate regularly, and (c) to find out how to send me images of plants. Vegetables are fine! Fungi are deemed to be honorary plants! See the previous Water Cooler (with plant) here. And here's today's plant: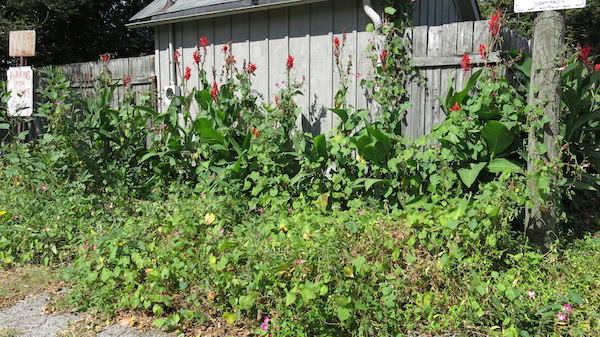 Morning Glories, Cardinal Flowers, and Moonflowers behind Juergens German Bakery & Restaurant in German Village Columbus, OH.
Talk amongst yourselves!