By Lambert Strether of Corrente
2016
"Rich liberals" give Warren "rock star's welcome" [Talking Points Memo]. "Run, Liz, run!"
Maybe those "chaos and infighting in the Clinton campaign" stories are so easy to write because they're true [ABC].
The private emails were provided to ABC News by a Democrat on the listserv who has worked alongside [Democratic stragegists] Mook and Marshall on previous campaigns. The person who provided the emails is, like the vast majority of those on the listserv, supportive of Hillary Clinton, but does not support the idea of Mook or Marshall holding leadership roles in a second presidential bid. They were provided on the condition of anonymity.

That the emails are emerging publicly reflects the ferocious intra-battle to populate the top positions of an expected Clinton campaign.
I wouldn't say the leaker, whoever they might be, looks much better then the leakees Mook and Marshall. I mean, which listserv gets dumped next?
There's an old saying that there are only two ways for an incumbent to run: "scared or unopposed" [Charles Cook, National Journal]. And that's why the left should put Democrats in fear and keep them there. And make sure Democrats know the left will make — has made — them lose races, pour encourager les autres. Democrats, it's simple. Stop sucking!
Yet another example of "top two" voting reinforcing the legacy party duopoly [Ballot Access News].
2014 Fallout
Nooners:  "People do what they know how to do" [Wall Street Journal]. Which is what Obama will do.
Steve Israel, resigning as DCCC chair, gets "ovation" from his remaining colleagues [WaPo] ("People do…."). Believe or not, Pelosi had asked him to sabotage another election [Newsday]. Somebody needs to tell Pelosi that David Broder is dead [Down with Tyranny]. I know, I know: "Can they tell?" But no. Apparently not. PCCC: Not Himes [The Hill].
"The belief that more cooperation could produce greater benefits united groups that often diverge on political questions" [National Journal]("People do…."). Which the Democrats tried in 2009. And here we are!
Congressional Black Caucus strongly supports seniority in choice of ranking members [Roll Call] ("People do….").
Mexico
Protests spread to Chiapas, Oaxaca and Michoacan [Mexico Daily].
Nothing that happened to the 43 Ayotzinapa students is new [Democracy Now]. Important perspective.
Soldiers face charges in massacre, but officials have immunity [McClatchy]. Very ugly.
Former mayor Mayor Jose Luis Abarca charged in Mexico student deaths [KVIA]. The ol' Russian sleigh…
The Institutional Revolutionary Party, historically, has plenty of blood on its hands [Union-Tribune]. "Mexico is suffering a national tragedy, the details of which make the Day of the Dead look like a walk in the park."
Ferguson
"I want to believe there is a way to protest that is more than marching but not bloodshed" [Kansas City Star].
Will Bunch: "Tin soldiers and Nixon coming" [Philadelphia News].
Governor Nixon sounds just like George Wallace before Selma [Vox].
Obama expresses "real heart-driven concern" [Politico]. Riiiight. That's why he sent Holder in!
Non-violent organizers preview post-grand jury map [St Louis Today].
They expected four areas to emerge as protester "hot spots" after the announcement: the Ferguson police station, the stretch of West Florissant Avenue near the QuikTrip that burned the day after the killing, the business district in Clayton, and the Shaw Neigborhood, where VonDerrit Myers Jr. was killed by a St. Louis police officer last month after the officer said Myers fired at him.
Protesters making wooden shields [WaPo]. Good idea?
Berkeley, Mo. city government passes out riot prepper leaflet. Resident: "It is very sad that we have to live in this fear" [Yahoo News]. True, really, but then again, it's unlikely anybody's going to whack that resident and leave their body out in the street, in the summer sun, for four hours, either. So there's that.
Gun sales boom before grand jury verdict [ABC]. Great. Ammosexual vigilantes.
Ferguson protesters, Brown family, attorneys at United Nations Committee against Torture in Geneva [St Louis American]. So, if some liquor store goes up in flames, where do you think the focus will be? That, or Geneva?
Hong Kong
Beijing said to be in no hurry to clear out Occupations since opinion on the Mainland is against them [EJ Insight]. However, Hong Kong will not be groomed for any bigger role, and no mainland cities will be limited in favor of Hong Kong.
Students Beijing trip still said to be happening [Reuters].
Women in Hong Kong protests [Quartz]. Better than the New Left, but still…
Life hacks from the Occupations [Coconuts Hong Kong]. "Tent maintenance has been a key factor throughout." I know this sounds boring as all get-out, but professionals study logistics…
OccupyHK organic garden (!) [Tom Grundy]. With gnome.
Albert Cheng throws his hat in the ring against Leung? [HK]. Not a class traitor, but still interesting.
America the Petrostate
Senate nears 60 on Keystone [The Hill]. Anything to save Mary Landrieu!
Shell told to replace aging pipes years before giant spills in Niger Delta [Independent]. It can't happen here.
ObamaCare
Ron Fournier on l'affaire Grube: ObamaCare built on a foundation of lies [National Journal].
Liberals should be the angriest. Not only were they personally deceived, but the administration's dishonest approach to health care reform has helped make Obamacare unpopular while undermining the public's faith in an activist government. A double blow to progressives.
Any single payer advocate could have told Brownstein that in 2009. Whether "progressives" were deceived, self-deceptive, or themselves deceivers is an open question.
This year's ObamaCare marketing campaign to leverage social media [Politico]. Really?! Looks more like walking around money for tech dudes than outreach! And read the story for detail on the utter lack of transparency for enrollment spending at the Federal level. And that Democrats exempted Covered California state freedom of information requirements should be a ginormous red flag for how those contracts were bid, who got them, and what the actual performance was.
Imperial Collapse Watch
Am I the only one who gets nervous reading headlines that include the phrase "scandal-plagued nuclear weapons programs"? [WaPo].
Class Warfare
Our Walmart stages sit-down strike in Crenshaw, near Los Angeles [Guardian] 23 later arrested for blocking traffic near Pico Rivera [CBS].
Our Walmart to protest at stores on Black Friday [Reuters].
Federal contract workers plan one-day strike [McClatchy].
Stats Watch
Consumer sentiment, November 2014: "Spiking" going into the holiday season [Bloomberg]. Current conditions lead, expectations "respectable."
Business inventories, September 2014: "Balanced" [Bloomberg].
News of the Wired
* * *
Readers, feel free to contact me with (a) links, and even better (b) sources I should curate regularly, and (c) to find out how to send me images of plants. Vegetables are fine! Fungi are deemed to be honorary plants! See the previous Water Cooler (with plant) here. And here's today's plant (LJ):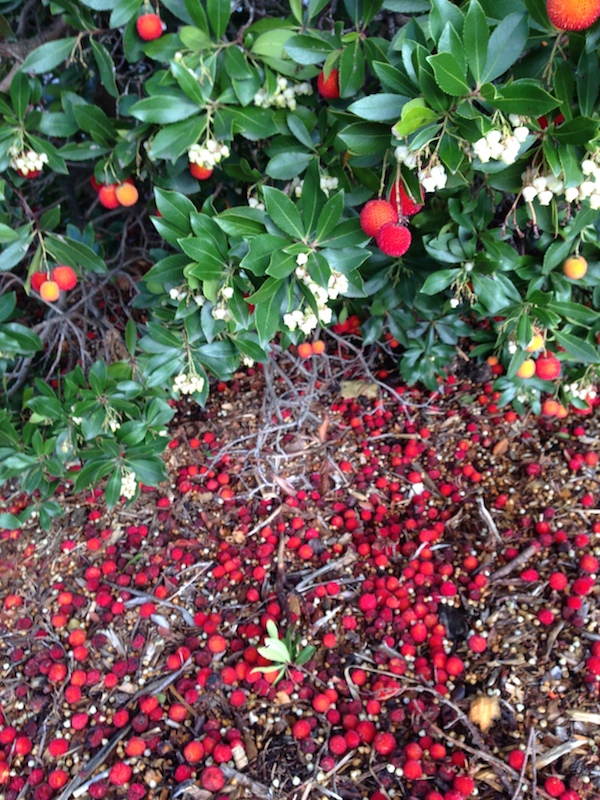 Pretty!
Talk amongst yourselves!