By Lambert Strether of Corrente
2014
Lambert here: Voting strategies I've heard, besides voting for the legacy party of your choice: Don't vote; vote against any incumbent; vote for an emerging party except when the race is close, and then vote for a legacy party; spoil your ballot; write in the candidate of your choice. I haven't made up my mind; I'm not sure which legacy party I hate and wish to injure more. Do note, however, that not voting plays directly into the "voter apathy" narrative, which always crops up after the low turnout mid-terms. But your vote is your own!
"Top Democratic strategists" clutch pearls, blame others for anticipated defeat [WaPo]. That's no shocker, it's a biennial tradition! [Atrios].
White House clutches pearls, blames "frustration with Washington" [Reuters].
The Upshot clutches pearls, explains that voters' perception of "the economy" isn't the same as reality [New York Times]. As always, when you hear "the economy," ask "Whose economy?" Because I gotchyer frustration, right here. Pavlina's famous chart: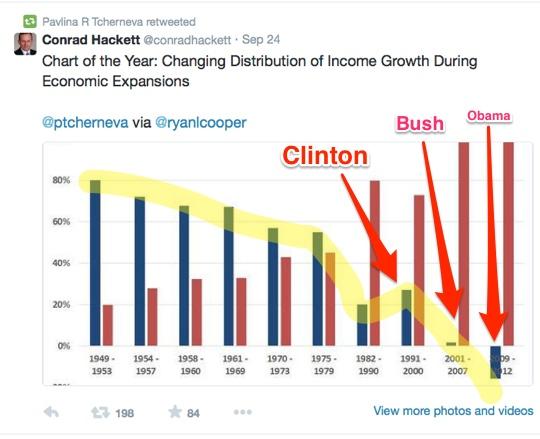 Total Federal spending on the mid-terms to reach $4 billion [Daily Mail]. Ka-ching!
Checks from billionaires like Tom Steyer, Michael Bloomberg and James Simons have kept Ds in the game, but Rs dominate dark money [Sunlight Foundation]. However, the majority of the increase in dark money has come from liberals [OpenSecrets]. Ka-ching!
Late race SuperPAC and dark money ad buys flood Senate races [OpenSecrets]. Ka-ching! A fine explainer:
38 percent of the ads bought by outside interest groups were bought by "dark money" organizations that do not disclose their donors to the voters they seek to influence. In the heated battle for control of the Senate, nearly half — 48.6 percent — of the ads were bought by such groups, most of them conservative. In fact, 48 percent of pro-Republican interest group ads in 2014 came from dark money groups, compared to 23 percent of pro-Democratic groups' ads.
Dark money groups (which don't have to disclose their donors) can fund SuperPACs (which do), turning the SuperPACs into straws [ProPublica]. (The other phrase for a "dark money group" is a "social welfare non-profit," apparently.)
Candidates funded under clean election laws can still be overwhelmed by dark money [Arizona Central].
One in seven pro-McConnell ads in Kentucky sponsored by "Kentucky Opportunity Coalition," which operates out of a PO Box in a strip mall [Bloomberg].
At the SEC, more than 1 million comments have been sent to the agency supporting a rule requiring corporations to disclose political spending (10 times the previous all-time record number of comments to the SEC) [The Hill].
21,000 Kansas voter registrations in suspension due to voter ID law [Wichita Eagle].
40,000 "missing voters" in Georgia [Yahoo News].
Lambert here again: Frankly, I don't know where to come down on the whole "dark money" thing, which probably won't be a problem will disappear from the narrative when Ds achieve parity anyhow. While the Supreme's "money is speech" argument seems ludicrous to me — all of a piece with the neo-liberal drive to turn every social relation into a transaction from which rent can be extracted — I don't think the Framers had any issues at all with money being "the mother's milk of politics." Ben Franklin, bless him, ran a very profitable business printing newspapers and political pamphlets, made sure there was a U.S. Post Office to distribute his product at reduced rates, and "freedom of the press belongs to those who own one." So it's not like there was a pristine, Eden-pure, money-free electoral system we have only to restore.
On the other hand, the system we have now is looking increasingly like an auction of putatively public offices, except conducted through (more of those rent-extracting) straws and middlemen. Is a more transparent auction really the answer?
On the third hand, the goo-goo slogan "get money out of politics" seems conceptually misplaced to me. Money — its distribution in the form of helicopter drops to rich and poor like, its allocation as capital both private and public, its circulation in "the economy" — is central to politics. If the coin of politics has two sides — values, and interests — money is central to the expression and implementation of both. So, I dunno. I think I might be more into Gene Sharp's non-violent method of protest and persuasion #198 than anything else.
2016
Mike Huckabee is doing what candidates do, this week in Iowa and everywhere else [Bloomberg].
Clinton wraps up two months on the trail, a trial run for 2016 [CBS]. She's tanned, rested, and ready [Baltimore Sun].
Jon Stewart on Clinton: She's a "little hawkish" [Salon]. Well, he won't like Warren either, then.
Cuomodammerüng
Green Howie Hawkins polls at 9%, after raising enough money to buy one (1) television ad [Vice].
Career "progressives" uneasily try to square fealty to "extraordinarily effective" WFP and Hawkins "Green New Deal" and anti-fracking message [The American Prospect]. Painful straddling is never a pretty sight.
Corrupt D thug Cuomo committed to push for a D New York Senate (!) in his deal with WFP, then reneged. If the Ds win the Senate, the margin will be slight, giving Independents the balance of power, so Cuomo is now courting them [New York Magazine].
Cuomo supporters greet their candidate at his polling place by chanting "Four more years!" [Daily News]. For those who came in late…
Hong Kong
A very useful daily wrap-up of events [Roydon Ng]. Day 38: At Beijing's airports, they are asking travelers from Hong Kong whether they're carrying umbrellas.
Pro-Beijing side unhappy Leung hasn't come up with a way to end the standoff [WSJ].
Stats Watch
Factory orders, September 2014: "Not much better than flat" [Bloomberg]. Hard data contrasts to anecdotal samples.
Redbook, week of November 1, 2014: "This year's late week Halloween, which fell on a Friday, may have backfired, having on the one hand boosted sales at those stores focusing on Halloween items but reducing sales at other retailers" [Bloomberg]. Exactly the reverse of the theory last week.
Gallup's October Economic Confidence Index, October 2014: "41 percent of Americans said the economy is getting better, while 54 percent said it is getting worse" [Bloomberg]. The best score since January (!). So, optimism!
America The Petrostate
A look at Pennsylvania after the last petroleum bust [Resilience].
TransCanada applies for pipeline permit to Atlantic terminals, getting tar sands oil out of the ground and bypassing Keystone [Foreign Policy].
Imperial Collapse Watch
Head of Naval Intelligence unable to view classified information for over a year, due to unresolved corruption allegations (bribes, junkets, hookers, "Lion King" tickets) [Mathew Aid].
News of the Wired
* * *
Readers, feel free to contact me with (a) links, and even better (b) sources I should curate regularly, and (c) to find out how to send me images of plants. Vegetables are fine! Fungi are deemed to be honorary plants! See the previous Water Cooler (with plant) here. And here's today's plant: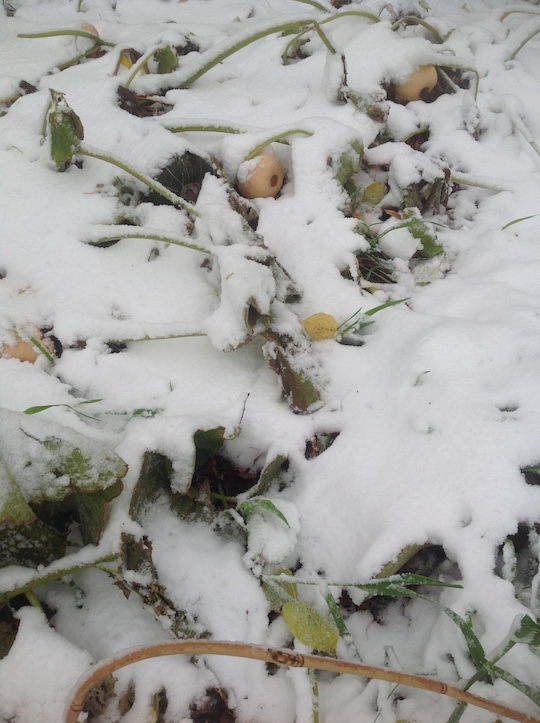 Talk amongst yourselves!