I'm still hugely behind on the AIG bailout trial, and hope to show a ton more progress in the next week. I'm posting the transcript for days three the trial; you can find the first two days here and other key documents here.
The first week was consumed with the testimony of the painfully uncooperative Scott Alvarez, the general counsel of the Board of Governors, who Matt Stoller argued needs to be fired, and the cagier-seeming general counsel of the New York Fed, Tom Baxter. Unlike Alvarez, Baxter at least in text seemed to be far more forthcoming than Alvarez and more strategic in where he dug in his heels. But the revelations about the Morgan Stanley rescue alone are juicy. The main actors have sold a carefully concocted story for years.
One of the hopes was that this trial would unearth new information about how the crisis was handled by the officialdom. Just as in wars, the history has been written by the victors. Here conventional wisdom was set in place by what amounted to an authorized narrative, Andrew Ross Sorkin's Too Big to Fail.
And in that version, the firm that failed or were effectively nationalized were headed by incompetents or figures who got so little coverage as to be cyphers. Dick Fuld was a bully and a lousy negotiator who kept blowing deals that might have salvaged Lehman. Freddie Mac CEO Dick Syron and Fannie CEO Daniel Mudd have walk-on parts. AIG's Bob Willumstad gets more coverage, but seems little more than a typical colorless corporate leader who isn't up to managing the escalating crisis at AIG. When the giant insurer was working with JP Morgan and Goldman on a last-ditch fundraising, the bankers were openly derisive that Willumstad didn't have a good handle on how big AIG's liquidity black hole was.
Shorter: the prevailing accounts of the crisis are clear on who the good and bad guys are, and paints them accordingly (although the CEOs of walking wounded Citigroup and Bank of America generally received less flattering treatment than Jamie Dimon and Lloyd Blankfein did). But reality is seldom so clean and tidy.
As we wrote earlier, the trial has already revealed that Treasury Secretary Hank Paulson refused even to entertain investment offers from Chinese and Singapore sovereign wealth funds, along with rich Middle Eastern investors. His pretext was that they would have required "guarantees". But it was a given that the Fed was going to provide liquidity, so the "guarantee" they'd refused to give to Lehman was already in place. There was nothing to lose in entertaining these offers…unless the real objective was not simply to salvage AIG at minimal cost to the public but to use it to launder rescue money to banks. More on that in future posts.
The Baxter testimony provides a key addition to the official history: This is Plaintiff's Exhibit 175: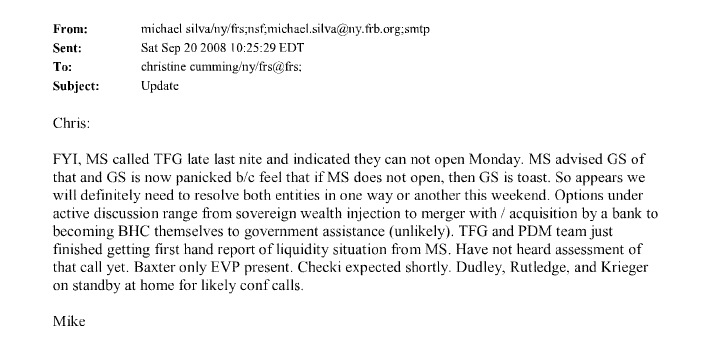 In case you have any doubts, TFG is Geithner.
I've checked my trusty copy of Too Big to Fail, have done some web searches (much less reliable than they were years ago) as well as called other crisis junkies for their recollection on this matter. If readers can show me any clearly contradictory evidence, I'd love to see it, but I am not aware of any published source previously saying that Morgan Stanley said it would not be able to open absent a bailout. And the e-mail also confirms something we've long said, and Lloyd Blankfein admitted to in a rare unguarded moment, that if Morgan Stanley failed, Goldman was next.
And don't kid yourself. If Goldman and Morgan Stanley collapsed, you could forget about JP Morgan's "fortress balance sheet". JP Morgan and Bank of New York, the two linchpins of the tri-party repo system, would be engulfed by the cascading payment failures and bankruptcies that would ripple out of a Morgan Stanley/Goldman implosion.
How is the sanctioned history different, and why does this matter?
While everyone with an operating brain cell knows that all of the major capital markets firms, particularly what were then US investment banks, were in a world of hurt after the Lehman bankruptcy, there is a big difference between having the (correct) view that they were inevitably going to need to be put on the official drip-feed and knowing for a fact that they clearly were going to fail if they didn't get a Fed rescue over the weekend of September 20-21. And remember, this weekend, when Goldman and Morgan Stanley were made bank holding companies, was the same weekend that the AIG demand note that bridged it into the weekend was replaced with an $85 billion credit facility on terms that were vastly more punitive, much to the surprise and consternation of its board.*
However, if you read Too Big to Fail, it depicts Geithner as having his hair on fire, desperately trying to browbeat Morgan Stanley's John Mack into merging his bank for $1 into JP Morgan. And this is stated as if it is Geithner's personal mania, rather than based on Morgan Stanley making an official report that it was a goner. From page 480 of the first edition:
Geithner, still holding court from his office downtown, had become convinced that Morgan Stanley would fail if it didn't complete a deal by the time the markets opened on Monday. H e had threatened Mack earlier in the day that he would deny his request to become a bank holding company unless he found a sizeable investment or merged….

Not everyone at the Fed was in agreement with Geithner's insta-merger strategy, however. So unpopular was Geithners' single-mindedness about merging banks that afternoon that some CEOs began referring to him as "eHarmony, the online dating service. "If we sell more of these guys for a dollar," [Fed governor] Kevin Warsh complained, "this whole freakin' thing is going to come undone."
In fact, Sorkin depicts Mack as a cool-headed, high-stakes poker player, evidently based on the assumption that the collapse of Morgan Stanley was not baked in. Remember, Mack was negotiating with Mitsubishi to make a capital injection, which they did in very general terms before the weekend was over.
What is kept hidden is that Mack knew he had the Fed and Treasury by the balls. After Lehman, they would not be able to let another major firm fail. It would clearly take the entire system down. So from his perspective, he had no reason to knuckle under. The Fed would blink and make Morgan Stanley a bank, as indeed it did. In other words, telling the Fed on Friday that the Morgan Stanley would not open Monday guaranteed that the opposite would happen, somehow. He could always do a deal with JP Morgan later if he really had no other option.
Mack himself apparently supported this misrepresentation, that it was the Fed/Treasury tag team that decided on its own that Morgan Stanley was about to go under, with since this account incorporates Mack's point of view. The immediately following section from Too Big to Fail:
At about 3:30 PM, John Mack's assistant, Stacey Cruck, announced that Secretary Paulson was on the line. Mack took the call on the phone next to his couch. The New York Giants versus the Cincinnati Bengals game was playing on the TV behind him.

"Hi, John, I'm on with Ben Bernanke and Tim Geithner, we want to talk to you," Paulson said.

"Well," Mack said, "since you are all on the line, can I put my general counsel on?"

Paulson agreed, and Mack hit the speakerphone after the television was muted.

"Markets can't open Monday without a resolution of Morgan Stanley," he said in the sternest way he knew. "You need to find a solution, we want you to do a deal."

Mack just listened, dumbstruck….

"We've spent a lot of time working on this and we think you need to call Jamie," Geithner insisted.

"Tim, I called Jamie," Mack replied, clearly exasperated. "He doesn't want the bank.:

"No, he'll buy it, Geithner insisted.

"Yes, for a dollar!" Mack exclaimed. "That makes no sense."

"We want you to do this," Geithner persisted.

"Let me ask you a question: Do you think this is sound public policy?" Mack asked, clearly furious. "There are thirty-five thousand jobs that have been lost in this city between AIG, Lehman, Bear Stearns, and just layoffs. And you are telling me that the right thing to do is to take forty five to fifty thousand people, put them in play, and have twenty thousand jobs disappear? I don't see how that's good public policy."

For the moment, there was silence on the phone.

"It's about soundness," Geithner said impassively.

"Well, look, I have the utmost respect for the three of you and what you're doing….But I just won't do it. I won't do it to the forty-five thousand people who work here."

And with that, he hung up the phone.
Now understand how this reads if you don't know that it was Morgan Stanley that told the New York Fed that it would not be able to open on Monday. Mack is presumably relaxing, watching football and is ambushed by Geithner, Bernanke, and Paulson to do a deal and manfully wards them off. Remember, we've just seen Paulson successfully browbeat both Freddie Mac and Fannie Mae's boards into accepting a resolution, when Fannie's board and bank regulatory lawyers were convinced it wasn't justified but found they had no way out.
We see a broadly similar story from Mack in a Wharton write-up of a talk he gave:
During the depths of the global financial meltdown in September 2008, John Mack faced the most critical moment of his tenure as CEO of Morgan Stanley. The investment bank was nearly out of cash, its stock price plunging into the single digits as investors lost all confidence in the financial sector. Mack was under enormous pressure from U.S. Treasury Secretary Timothy Geithner — who was then head of the New York Federal Reserve Bank — and from Geithner's higher-ups, then-Treasury Secretary Henry Paulson and Fed chairman Ben Bernanke. Their suggestion: Save the bank by merging with another player, most likely JPMorgan Chase & Co., for a price as low as a dollar…..

Mack stayed on the phone as Mitsubishi agreed to invest up to $8.4 billion in Morgan Stanley — the largest overseas investment by a Japanese financial firm ever — and then he worked out a deal with regulators to convert the investment bank into a bank holding company, a move that offered much greater flexibility for dealing with the fast-moving crisis.
What is the wee problem with this story? My archives show that the Fed approved that Morgan Stanley and Goldman become a bank holding company before the Mitsubishi deal was announced. From the Bloomberg story announcing the deal:
Mitsubishi UFJ Financial Group Inc. will invest up to 900 billion yen ($8.4 billion) for as much as a fifth of Morgan Stanley, the U.S. securities firm seeking capital following the collapse of Lehman Brothers Holdings Inc….

Morgan Stanley and Goldman Sachs Group Inc. won approval yesterday from the Federal Reserve to become banks, effectively ending the era of the Wall Street investment bank and capping a week that saw Lehman file for bankruptcy and Merrill Lynch & Co. rush to sell itself to Bank of America Corp.
Notice how all of the principals were apparently on the same page as far as the messaging was concerned: that it was the Fed and Treasury that were panicked about Morgan Stanley, that the Mitsubishi deal did not depend on Morgan Stanley having gotten the Fed lifeline of being made a bank holding company. The sequence of events strongly suggests that it did.
Here's the political significance: the hiding of key details about the Morgan Stanley bailout obscures the degree to which officials bent the rules to salvage big, well connected financial firms, and remember, this is even with the public knowing the rules were already bent a plenty. The rushed approval of Morgan Stanley and Goldman as bank holding companies was utterly in violation of official procedures. It isn't simply that normal waiting periods were waived. The Baxter testimony reminds us that the New York Fed and Board of Governors had to pretend black was white to approve Morgan Stanley as a bank holding company. Q here is David Boies, A is Tom Baxter:
Q. And in order to find that a company can be granted financial holding company status, you must find that they are in sound financial condition and well managed, correct?
A. Well capitalized and well managed, yes.
Q. And who has to make those findings?
A. The Board of Governors of the Federal Reserve System.
Q. And do you know whether the Board of Governors for the Federal Reserve System made a finding that Morgan Stanley was well capitalized and well managed the weekend of September 20th?
A. My belief is they did.
Q. Were you present when that happened?
A. I was not.
Q. Do you know what information was presented to the Board of Governors that would provide a basis for such a finding?
A. I do not know.
Boies' questions to Baxter also expose that Morgan Stanley managed the difficult feat of borrowing more from the Fed via the Primary Dealer Credit Facility, which had been loosened on September 14 to allow broker-dealers to pledge non-investment grade securities, as in any dreck they could round up, than the larger AIG had taken in its bridge loans during the same time period.
So while Mack comes out of this sort of looking like a good guy, let us remember that this moral comparison is more like what the Japanese would call a height competition among peanuts.
Mack did manage to muscle his and his staff's way into a lifeboat after the banking system hit the iceberg. But let us not forget that the lower classes in steerage of the Titanic, just like hapless Americans and foreigners who were exposed to the financial system collapse, such as business owners who had their credit lines cut and non Morgan Stanley bankers who lost their jobs, perished. And at least on the Titanic, the captain did go down with his ship. Here, instead, the captains got book deals and speaking gigs and used them to rewrite history.
____
* Note we are not saying AIG should have gotten a sweetheart deal. All of the rescued firms should have been treated harshly. At a minimum, their boards and top executives should have been replaced.
2014.10.01-DAY-3-Full
2014.10.01 – DAY 3 – Full