My family always used to play this Stan Freberg album on Thanksgiving, so maybe you can listen to it while carving, or being carved for:
Here's Freberg's bio, for anybody who isn't clear that Freberg's irony is savage. For those who came in late, here's a little bit about the historical context of the album, as we called them back then: It was made in a different Manhattan than the Manhattan that exists today. When Freberg was formed as a comedian, radio was still big, the Brill Building didn't yet dominate popular music, the Little Rock Nine were big in the news, and men wore hats: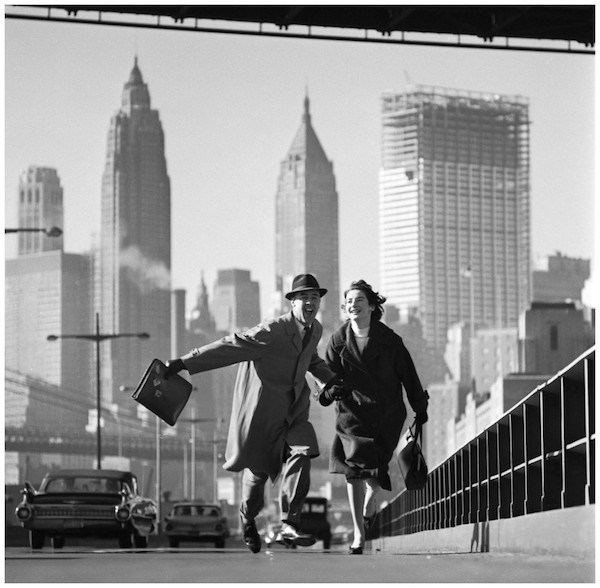 If the man in that photo were Stan Freberg, he could be carrying ad roughs in whatever the heck kind of man bag that is; a clutch? Freberg came up in the business of print advertising, just like Don Draper, though if I recall the reviews of Mad Men, there weren't any satires of colonialism to be had in it, sadly.
All of which is a meandering way of saying that many of Freberg's joke presume a context of pre-sixties Manhattan gemütlichkeit — granted, just following the McCarthy era and during the Cold War — that no longer exists, and so many of the jokes might not "make sense," although they are almost always (like some of Shakespeare) still funny — I hope — because of vivid language, repartee, timing; an earworm doesn't have to make sense, after all. It's as if Freberg's jokes (like those of another old school radio comedy act, Bob & Ray) were like coral: As it turns out, the "content" is the polyp that dissolves away, leaving the hard exoskeleton of "form" for future generations. For example, as Freberg the jovial real estate agent pitches Manhattan to the Peter Tischman the Dutchman on behalf of the Chief White Cloud, urged by his yenta wife):
CHIEF: Well, he could run down to Carnegie wigwam on Sunday afternoons and listen to Flying Birdstein explain the ceremonial dances.
Most readers will get Carnegie Hall[1], but readers may not get that Flying Birdstein is Leonard Bernstein, iconic symphony orchestra conductor, whose Young People's Concerts, televised on Sundays from Carnegie Hall, were a staple of middlebrow culture of the day.
On the other hand, this:
Take an Indian to lunch this week
Show him we're a regular bunch this week
Show him we're as liberal as can be
Let him know he's almost as good as we
Is timeless, isn't it? So I don't think it's as if Freberg is "appropriating," as for example "the Washington Redskins," but more like he's de-accessioning, empyting the museum of Western culture; kidz these days say, I think, culture jamming.
One way that Freberg's Manhattan was different from today's Manhattan is that everything wasn't financialized back then; readers will correct me, but I can't remember jokes about either banks or squillionaires in his work. That said, I can't resist sending this one out to Janet MR SUBLIMINAL Hi Janet! [waves] Yellen:
This parody of the Lawrence Welk Show — old-fashioned when I was young, so you see — may be an extreme example of my "coral" theory about comedy, and if that theory is really too much for you, I can only appeal that you click ahead to 1:37 at "What is that noise, there?" If the "turn off the bubble machine" running gag enters the argot of financial journalism, I will be able to sit back and rest, because my work here will be done.
Oh, there's a running gag at the beginning about "cards and letters" that's probably culturally opaque: Freberg (and Welk) delivered their content in a pre-digital era. In 1960, Neilson had only been measuring television audiences for ten years. And advertising revenues depended on audience size, so producers developed techniques to get audience members to interact with the show directly; they would mention a piece of jewelry on the show, for example, and listeners would write in to find out how to buy the heroine's brooch or whatever, and then they would count the letters. The constant repetition of "cards and letters" shows a similar tactic, so you can see that the running gag is about Welk trying to "pump" his show, rather like he pumps his accordion or, for that matter, like finance people inflate their bubbles.
* * *
Just in case some readers would like material a little bit less classic, and somewhat more contemporary, here's Louis CK. Apparently it's just before the holidays, and in fact it is full of things that (some) people may wish to be thankful for, but I think it's relevant to Ferguson as well, and Ferguson has been on a lot of people's minds lately:
(There really is a punchline, but you have to listen to the end.) Anyhow, when dealing with historical context "give them some time to be cranky" is a pretty good approach. It's humane.
* * *
So that unpacks my knapsack just a little, eh? This being Thanksgiving, I should say what I'm thankful for, and while I'm not thankful to have discovered racoons in the crawlspace, I'm happy to have heated living quarters, a bed, and friends to go have Thanksgiving dinner with later today. Not everybody does. I'm especially thankful that my happiness curve has not been U-shaped, but has, in spite of the vicissitudes of downward class mobility, been a straight line heading upward. I am very lucky to be doing work that I feel I have been called to do, and to be doing it here at Naked Capitalism with you, readers, and Yves, and Alice Leen, the Lemon Sisters, the Chief, and Mr. Freberg. It would be hard to ask for more.
NOTE
[1] Just where does the Russian Tea Room stand? Slightly to the left of Carnegie Hall.