By Lambert Strether of Corrente.
If you are a long-time Naked Capitalism reader, you'll remember that we like to use our magic markers to color important speeches, both to highlight the clever use of rhetorical figures for emulation, and to call bullshit where needed. And is it needed. I would have posted this immediately after the speech, but I was, if not incapacitated, not exactly capacitated, and this evening was my first chance.
Let it never be said that Obama always gives the same kind of speech; what follows, when the St Louis County Grand Jury returned no true bill of indictment in State of Missouri v. Darren Wilson, is extraordinary by virtue of its plain, even barren, style. It does not soar; it does not exhort. For example, there only two cases of Obama's favorite rhetorical device, anaphora, the first at paragraph five: "That means… It means… It means."
So I'm not going to get to use a lot of my coding! The speech is mostly free of Secular religion, Populism, Bipartisan shibboleths, and Neo-liberal catchphrases (see full table below). But there's still plenty of room for terminological inexactitude and lawyerly parsing and weasel wording, so we're good.
I can't speculate on why Obama chose such a low-key approach; perhaps he assumed, or was warned, that with the "insanely reckless, and inexplicably late hour of 8:00 pm" announcement the split screen that did occur was likely.
So to the Wordle, which shows with unusual clarity what Obama thinks the situation in Ferguson is about, or at least what he would like us to believe he thinks the situation in Ferguson is about:

"Community law enforcement." That's what Obama believes the Ferguson "situation" is about. The Ferguson protesters use fewer words. But punchier ones, in fact a Twitter hash tag: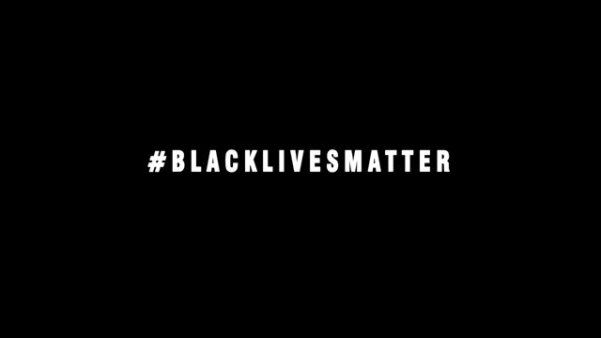 Argue the merits of "community law enforcement" vs. "black lives matter" if you will as policy, but I know who I want doing my messaging. And Obama was supposed to be the maestro of messaging, at one point. Oh well.
So, now I want to go through Obama's speech line by line. As so often, we will see that what Obama doesn't say is more important than what he does say. For reference, here's the White House transcript. And the table of color coding follows.
* * *
| Category | Note |
| --- | --- |
| Secular religion | A mish-mash of phrases from the Framers, Lincoln and MLK echoes, and so forth |
| Bathos | Bathos is an abrupt transition in style from the exalted to the commonplace |
| Neo-liberal catchphrase | "Free market," "innovation," "hard choices" etc. |
| Populism | "Our most vulnerable citizens" |
| Bipartisan shibboleth | "The troops," for example |
| Dead metaphors/cliche | "Ring the changes on," "take up the cudgel for," "toe the line," "ride roughshod over," etc. (Orwell) |
| Sheer nonsense | Word salad |
| Falsehood or truthiness | |
| Equivocation | Lawyerly parsing and weasel wording |
| Boilerplate | "Ladies and gentleman," and so forth. |
* * *
As you know, a few moments ago, the grand jury deliberating the death of Michael Brown issued its decision. It's an outcome that, either way, was going to be subject of intense disagreement not only in Ferguson, but across America. So I want to just say a few words suggesting how we might move forward1.
First and foremost, we are a nation built on the rule of law 1. And so2 we need to3 accept that this decision was the grand jury's to make4. There are Americans who agree with it, and there are Americans who are deeply disappointed, even angry. It's an understandable reaction. But I join Michael's parents in asking anyone who protests this decision to do so peacefully. Let me repeat Michael's father's words: "Hurting others or destroying property is not the answer. No matter what the grand jury decides, I do not want my son's death to be in vain. I want it to lead to incredible change, positive change, change that makes the St. Louis region better for everyone."5 Michael Brown's parents have lost more than anyone. We should be honoring their wishes.
1. A two-fer: I've coded this both Secular Religion and Falsehood. That America is governed by the rule of law is the Secular Religion part; and it's also a self-evident falsehood. This is the President who voted for retroactive immunity for the telcos for felonies under Bush's warrantless surveillance program; this is a President who put a U.S. citizen on his kill list disposition matrix and then whacked him, without any due process at all; this is the President whose Justice Department declined to prosecute banks that were too big too fail. Rule of law sounds like a fine idea; perhaps we should try it.
2. "So" is question begging; Obama assumes what he has yet to prove: That the Grand Jury's verdict conformed to the rule of law, as commonly understood.
3. I hate the "you need to"/"we need to" locution. It's a personal crotchet of mine, I know, but it just seems finger-wagging and authoritarian. Anyhow, whaddaya mean, "we"?
4. No, it very wasn't. The duty of a grand jury, as Obama the law professor at the University of Chicago — remember that one? — surely must know, is to weigh the evidence and decide whether there's enough to warrant an indictment (a "true bill"). It's not to determine guilt or innocence, which is a court should do and the Wilson grand jury did. I'm going to outsource this to Marcy:


The one substantive comment I will make for now is the way the standing prosecutors, Kathi Alizadeh and Sheila Whirley, spoon fed the witnesses, and especially Darren Wilson, and otherwise slanted everything imaginable, to support the exoneration of Wilson is just disgusting. I have read countless grand jury transcripts over the years, and I have NEVER seen anything that remotely resembles this kind of biased, for the defendant, dog and pony show. Again, it is simply insane and unheard of.

Okay, this entire grand jury was a farce, a charade, and a lie. It was a cravenly engineered whitewash by Bob McCulloch from start to the criminally reckless end with Ferguson in flames last night.

It's bizarre — agnotologistically bizarre — that Obama would tell anybody either that the decision that the Grand Jury made (innocence) was theis to make, or that we would have to accept it if it were.

5. I'm marking this bathos because of how Obama sucks the human dimension out of Mike Brown's father's words by decontextualizing them. Here's Black Agenda Report on what followed McCulloch's "insanely" timed, prime announcement:


It was Zero Hour. The authorities had just spoken through the voice of prosecutor Robert McCulloch… The teenagers and young adults of Ferguson gave McCulloch their answer [on the split screen], in perfect synch with the spontaneous outcry of Michael Brown's step-father, Louis Head. "Burn this M.F. down, burn this bitch down," he shouted, cradling the head of his distraught wife in his arms. "I think he was expressing a sentiment that a lot of folks in that crowd felt," said St. Louis Alderman Antonio French, who was standing nearby.

As people here know, I'm an advocate of strategic non-violence, a discussion to have another time. I say that, from deep in my armchair, to make it clear that though I might think most violence cathartic at best, ego-driven and manipulative at worst, I can't imagine putting Head's reaction into the "[dis]honoring the wishes of the family" box, as Obama does. For one thing, Head is part of the family, for another, when Obama says "Michael Brown's parents have lost more than anyone," that could well not be true: Plenty of other St Louis citizens have lost family members to police violence, one killing done between Brown's and the Grand Jury verdict, and it would be strange if none of them were at these demonstrations. Now, I'm not saying that Obama could have known Head's reaction; after all, he was on TV at the time. But when Obama plucked Mike Brown's father's words out of context, as he did, a savage irony was bound to happen, as it did. The distance between the fiery context of a father's pain and President's words on TV is the depth of the bathos. I don't think Obama should have used those words, because he clearly didn't know what he was getting into. It's he did this whole speech without any advance work. Phoning it in!
I also appeal to the law enforcement officials in Ferguson and the region to show care and restraint in managing peaceful protests that may occur6. Understand, our police officers put their lives on the line for us every single day. They've got a tough job to do to maintain public safety and hold accountable those who break the law.7 As they do their jobs8 in the coming days, they need to work with9 the community 10, not against the community, to distinguish the handful of people who may use the grand jury's decision as an excuse for violence —11 distinguish them from the vast majority who just want their voices heard 12 around legitimate13 issues in terms of how communities and law enforcement interact14.
6. Falsehoods. This from the President who coordinated a 17-city paramilitary crackdown of Occupy (and the crackdown the St Louis region is of a similar scale, as the dozens of DHS vans and 200 FBI agents show).
7. Falsehoods. One of the duties of the Ferguson Police Department and court system is raising revenue from fines and fees, and they do that mostly from the wrong side of the tracks like Mike Brown. This has nothing do with "holding people accountable," and it makes a mockery of the law; Ferguson might as well be a colony. Did nobody in the White House brief Obama about the realities on the ground?
8. Obama could not have known this, but "do their jobs" is an specially unfortunate locution, because that's just what Wilson thought he was doing when he whacked Brown: "I was doing my job."
9. An example of antithesis, the juxtaposition of contrasting words: "with… not against."
10. "Community." All I can say — I don't really have an interpretation for how neo-liberalism hijacked the the concept; readers? — is that maybe somebody on the White House speechwriting staff thought that resurrecting Obama's past as a community organizer would be useful.
11. A rare unforced error in delivery at a telling time. And no wonder. It's thoroughly appropriate for the man who said "I'm really good at killing people" to stumble on the word "violence." To be fair, Obama no doubt feels he has real reasons, as opposed to an excuse.
12. No, they don't "want their voices heard." They want some assurance that "black lives matter." Of many concrete policy steps, one would be to look into what DOJ can do. Marcy again:


And do not, like so many on social media seem to be doing, think the DOJ is going to bail the situation out by indicting Darren Wilson on federal charges. Even DOJ veterans say it is unlikely. I say there is not a chance in hell of an indictment against Wilson personally.

I suppose they're all busy hounding James Risen. Oh well.

13. As opposed to which "illegitimate" issues?
14. Falsehoods. For there to be any sane and humane way for the authorities and the citizens of Ferguson to "interact," law enforcement would have to stop being a profit center, even if personal and institutional racism were eradicated tomorrow[1]
Finally, we need to recognize that the situation in Ferguson speaks to broader challenges that we still face as a nation. The fact is, in too many parts of this country, a deep distrust exists between law enforcement and communities of color. Some of this is the result of the legacy14 of racial discrimination in this country. And this is tragic15, because nobody needs good policing more than poor communities with higher crime rates. The good news is we know there are things we can do to help. And I've instructed Attorney General Holder to work with cities across the country to help build better relations between communities and law enforcement. 16
14. Huh? "Legacy" makes it sound like racial discrimination is dead. It isn't.
15. No, it isn't "tragic." It's sad, or painful, but not tragic.
16. Whatever "better relations" means. This is the first of several paragraphs that Obama ends with an action item that is so vague as to be meaningless. The figure is like epistrophe, where each sentence ends with the same words (the opposite of anaphora) except with (non-)concepts, not words.
That means17 working with law enforcement officials to make sure their ranks are representative of the communities they serve. We know that makes a difference. It means working to train officials so that law enforcement conducts itself17a in a way that is fair to everybody. It means enlisting the community actively on what should be everybody's goal, and that is to prevent crime18.
17. Anaphora: "That means… It means…. It means."
17a[2] This is a weird category error. "Law enforcement" cannot "conduct itself"; only beings with agency can conduct themselves.
18 False. Once again, this can never be achieved while Ferguson treats law enforcement and the courts as a profit center. Obama persists in his delusional belief that law enforcement is only about preventing crime.
And there are good people on all sides of this debate, as well as in both Republican and Democratic parties, that are interested not only in lifting up best practices18 — because we know that there are communities who have been able to deal with this19 in an effective way — but also who are interested in working with this administration and local and state officials to start tackling much-needed criminal justice reform20.
18. Contrast the bloodless, Beltway, managerial "best practices" with "black lives matter."
19. What?
20. A second paragraph ending with an action item so vague as to be meaningless.
So those should be the lessons that we draw from these tragic events. We need to recognize that this is not just an issue for Ferguson, this is an issue21 for America. We have made enormous progress in race relations over the course of the past several decades22. I've witnessed that in my own life. And to deny that progress I think is to deny23 America's24 capacity for change.
21. Antithesis once more: "This is not just an issue…. this is an issue." Also, "issue" is another bloodless, Beltway, managerial word.
22. Missed opportunity for shout-outs. If Martin Luther King is too contentious, how about Frederick Douglass?
23. An example of conduplicatio, the repetition of a word or words in adjacent phrases or clauses, either to amplify the thought or to express emotion: "To deny… is to deny" amplifies the thought.
24. Not sure the protesters would agree it's America that has to change (although America would be changed).
But what is also true is that there are still problems and communities of color aren't just making these problems up. Separating that from this particular decision25, there are issues in which the law too often feels as if it is being applied in discriminatory fashion26. I don't think that's the norm.27 I don't think that's true for the majority of communities or the vast majority of law enforcement officials. But these are real issues. And we have to lift them up and not deny them or try to tamp them down. What we need to do is to understand them and figure out how do we make more progress. And that can be done .28
25. I can't figure out who Obama thinks his audience is; and whoever it is, it's not the protestors or the Mike Brown family. "Problems" is another bloodless word, and who does "aren't just making these problems up" speak to?
26. The same sort of category error as with "law enforcement"; the law is not sentient; it cannot feel.
27. It most certainly is the norm in Ferguson!
28. A third paragraph ending with the assurance that there must be an action item that is not vague or meaningless.
That won't be done29 by throwing bottles30. That won't be done by smashing car windows. That won't be done by using this as an excuse to vandalize property. And it certainly won't be done by hurting anybody. So, to those in Ferguson, there are ways of channeling your concerns31 constructively32 and there are ways of channeling your concerns destructively. Michael Brown's parents understand what it means to be constructive. The vast majority of peaceful protesters, they understand it as well.33
29. Anaphora: "That won't be done…. That won't be done…. That won't be done…. That won't be done…
30. I've said what I have to say on violence above.
31. "Concerns," like "issues" are bloodless, Beltway, and managerial.
32. Antithesis once more: "Constructively… destructively."
33. Sounds great, and it would sound much better if we didn't know that Obama, along with other Democratic mayors and governors, like Missouri's Jay Nixon, had not organized the 17-city paramilitary crackdown on Occupy. Obama has no respect for peaceful protest whatever.
Those of you who are watching tonight understand that there's never an excuse for violence34, particularly when there are a lot of people in [sic] goodwill out there who are willing to work on these issues. 35
34. "What never?" "No never!" "What, never?" "Well, hardly ever!" — Gilbert & Sullivan, HMS Pinafore.
35. Again the bloodless, managerial "issues." There is, I would urge, immense good will among the protesters; but "black lives matter" just isn't commensurate with "law enforcement in the community."
On the other hand, those who are only interested in focusing on the violence and just want the problem36 to go away need to recognize that we do have work to do here, and we shouldn't try to paper it over37. Whenever we do that, the anger38 may momentarily subside, but over time, it builds up and America isn't everything that it could be39 .
36. "The problem" seems rather ill-defined.
37. Unlike the Grand Jury report itself, all thousands of pages of it.
38. "[T]he anger"? Whose?
39. A fifth paragraph ending a vague or meaningless action item.
And I am confident that if we focus our attention on the problem and we look at what has happened in communities around the country effectively40, then we can make progress41 not just in Ferguson, but in a lot42 of other cities and communities around the country.43
40. "[L]ook at what has happened in … effectively." Churlish, I know, but does this mean "look at what's been effective in…"?
41. Whatever that means.
42. Oh? How many?
43. And it just ends. No boilerplate "And may God bless the United States of America," no nothing. Weird.
* * *
I cannot but think that for some erstwhile Obama supporters — those who believed that Obama was an avatar of racial healing, for example — this must have been a disheartening speech; long stretches of cliche punctutated by falsehoods with occasional interludes of vague promises about policy. An empty, windy, nerveless nothing of a speech, though mercifully short. It's very sad. Such high hopes. We're seeing not just a failure to rise to the occasion, but a headlong falling beneath it.
Obama can't even say that "Black lives matter." At best, the same White House team that built version 1.0 of the ObamaCare website was curating the Twitter, eh? Inexcusably bad staffwork. So here we are.
NOTES
[1] I've been working on a trope that "one hand grasps, the other manipulates," as you hold a bottle with one, and open the cap with the other; and so it seems to me that the financial hand grasps, and then the identity hand — in Ferguson, clearly based on race, and that goes for housing too, surprise surprise — manipulates. But it may be the wrong trope, and this might not be the post for it.
[2] Sorry, not renumbering. Sue me.