By Lambert Strether of Corrente.
A few days ago, the Upshot ran a putatively data-heavy "interactive" explainer on ObamaCare, "Obama's Health Law: Who Was Helped Most."[1] It relies on data from Enroll America, the private entity that was tasked by the Obama administration with signing up the uninsured, and which is a reincarnation of Obama for America. The piece is one example of the slick new grammar of data visualization that all the cool kids are playing with these days: Not just the Upshot, but Vox, and FiveThirtyEight, and Quartz, and plenty of the majors, too. Of course, the essence of grammar is that people can construct an infinite variety of statements using it, and this particular piece is rife with false and unexamined assumptions, conventional wisdom taken as fact, category errors, and naive assumptions about official Washington. In fact, if today were not my day to be kind, I'd characterize the piece as puffery.
Anyhow, since the piece is "interactive," I thought I'd swipe through it by annotating screen shots, as you see below. Maybe when you see one of these things on your cell or your tablet, you'll be encouraged to whip out your own mental yellow highlighter, and start making your own notes on the howlers you see. There are seven screens in all; I'll present each screen, and then comment.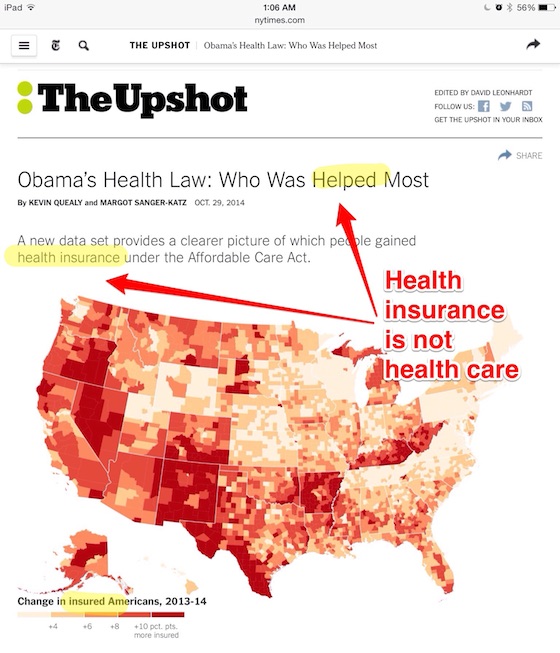 Screen 1 exhibits a fundamental confusion that ObamaCare defenders, wittingly or not, make over and over again: They confuse health insurance with health care[2]. The two are not the same, given the high deductibles, high co-pays, narrow networks, narrow formularies, and an insurance system that profits by denying care, instead of providing it. So, "who was helped" is a fundamentally misleading, even disinformative headline: Insurance helps nobody. Only care does that.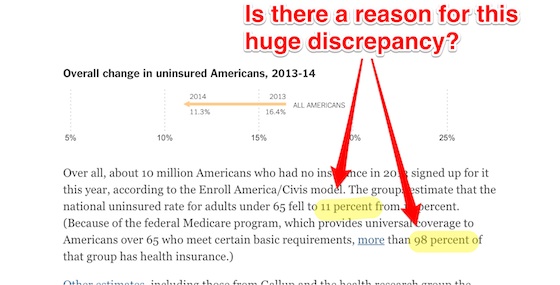 Screen 2, interestingly, uses an arrow pointing left to show a good or at least less bad outcome; left means down, as in a reduction of the uninsured. Of course, the visual grammar of incremental reduction conceals the fact that universal coverage for those under 65 is "off the table," as the prose makes clear. Apparently, if you're 64 years and 364 days old, or younger, your life is just worth less than if you're one day older. Come to think of it, that makes the headline even more disinformative: "Who was not helped" would be just as valid, would it not?

Screen 3 again reifies conventional wisdom. States have "power" over insurance except when they don't: In national, single payer programs like Medicare or the Veterans Administration.

Screen 4 explains, in prose — it's interesting to think about how these issues might be visualized — the provenance and credibility of the Enroll America data used in the vizualizations, which we'll discuss further below. What's not discussed is why we even need this data in the first place. Personally, I find it mind-boggling that we don't know how many people are enrolled in ObamaCare, and so have to pay a private entity for guesstimates.[3] Imagine if we had to do the same thing for Social Security, or Medicare, or to find out how many people we had working for the Post Office or the Army!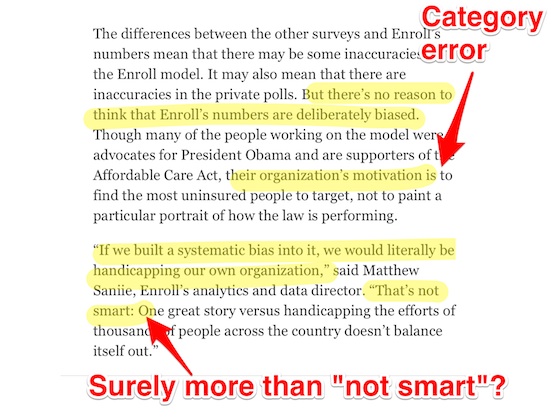 Screen 5 exhibits both a category error and a naive assumption. The category  error is "organization's motivation"; organizations don't have motivations; only people do. So let's categorize the kind of people we're dealing with: People who move easily from roles in political campaigns to roles as staffers to roles in government contracting. Janine R. Wedel, in Shadow Elite, calls them Flexians. (Liz Fowler is, I think, the candidate for Flexianhood health care-minded readers might be most familiar with: Wellstone VP -> Baucus CoS -> White House -> Big Pharma Lobbyist.) Flexians have several distinguishing charateristics, but here is the key one for the purposes of this discussion:
[Flexians are] members of a flex net… Flex nets draw their membership from a limited circle of player who interact with each other in multiple roles over time, both inside and outside government, to achieve mutual goals. While their roles and environments change, the group provides continuity. …. Members of what I call the Neocon core, an informal group of a dozen or so members and a successful flex net, have worked with each other in various incarnations for some thirty years to realize their golas for American foreign policy via the assertion of military power… [M]embers of flex nets are united by shared activities and interpersonal histories. "Interest groups" and "lobbies" so not convey the ambiguous state-private nature of flex nets, which coordinate power and influence from multiple vantage points — often far removed from public input, knowledge, or potential sanction.
That is, the writers of the piece are naive to think that the institution's "motivations" are the same as the Flexian's motivations; for them, it's their flex net that counts, not whichever institution they are embedded in, playing a tempory role. So, when the writers say "there's no reason to think that Enroll [America's] numbers are deliberately biased," they're naive; there's every reason to, at the very least, exercise a hermaneutic of suspicion (and one would think that was a reporter's role). What if David Axelrod (or Karl Rove) were quoting those numbers? Finally, I don't think I'm the only one not to be re-assured that Saniee would never cook the books because that wouldn't be "smart"; there could be reasons that would make that smart that we don't know anything about. I would be much more re-assured if Saniee had said that cooking the books would be wrong. Eh?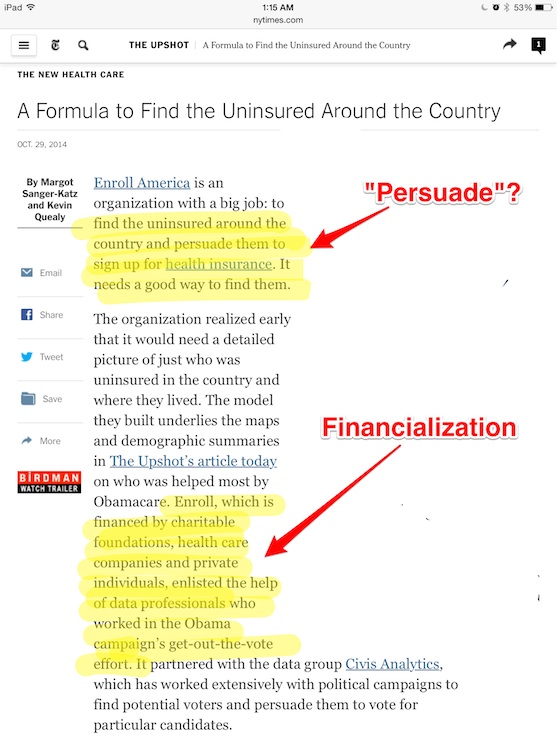 In Screen 6, the Times has directed us to a separate, and slightly more technical, article, supposely on Enroll America's methodology. Instead, the article raises two institutional issues, both part of conventional wisdom, and neither openly discussed.
First, "persuade them to sign up" carefully airbrushes the fact that (some) people are legally mandated to sign up. Given that social dynamic, the article's focus on how many people signed up is almost laughably simplistic. A more useful approach would compare uptake under conditions of compulsion, as with automobile insurance in some states. I have the feeling that ObamaCare's numbers would look less impressive that way.
More importantly, the entire Enroll America process exhibits a characteristic called financialization, where middlemen collecting fees crowd their way into every conceivable relationship and turn it into a transaction. For example, instead of a single payer program where everybody is enrolled, and so enrollmen data is very easy to get, we have a program with insurers (middlemen), and marketers like Enroll America (middlemen) to do the enrolling, and data analysts like Enroll America (middlemen) to count the enrolled, with all the middlemen taking a cut along the way.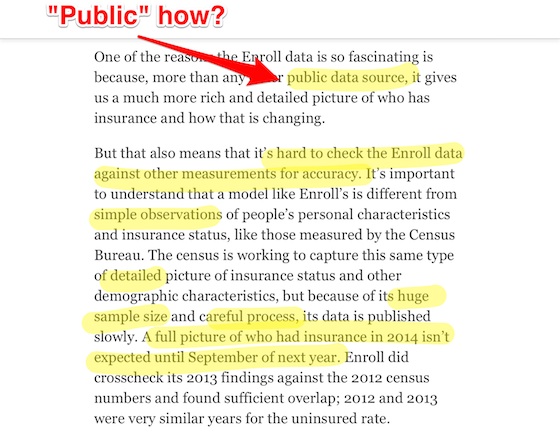 Finally, with Screen 7, we see the Flexian "ambiguous state-private nature" (quoting Wedel, above). In what sense is this data "public"? It's public, but it's not really public data, created by and for the public. Literally, it's created by a private organization, Enroll America. However, if the data were truly created by a public institution that supports "simple observations" for the simple reason that it's truly universal  — like the Census, or Medicare, or the Veteran's Administration, or Social Security, for example — then the data would be "detailed," have a "huge sample size," and be collected with a "careful process." It's ludicrous that we don't even have hard numbers (if that's what a "full picture" even means) of ObamaCare enrollment until two years after launch.[4] In fact, the data is as crapified as the process that created it, and the program from which it is derived.
* * *
So, fun with parsing, eh? I hope when you see examples of this new visualization gramar, especially online, you'll look at them critically. What they leave out will often be much more important than what they include.
NOTES
[1] The headline itself includes an uneasy compromise between "ObamaCare," a name once politicized but then denatured by Obama himself, when he said the name was OK to use, and "the health care law," which ObamaCare's defenders used when they wanted to avoid using "ObamaCare," and found "PPACA," "ACA," or "Affordable Care Act" too unwieldy.
[2] Perhaps for some, who have good policies, the skills with language and bureaucracy that certain privileges bring, and the time to track the bills, "health care" and "health insurance" are operationally equivalent. That is most certainly not true for everyone.
[3] I would have expected the ObamaCare back-end to be able to provide such data, given its status as the hub through which all enrollment flows.
[4] And enrollment numbers are just a bare mimimum, the lowest possible baseline. How about quality of policies? How about quality of care?