By Lambert Strether of Corrente
Torture Report
VICE interviews torture shrink James Mitchell [VICE]. Background on Mitchell [Boing Boing]. Apparently $81 million is enough to buy a pleasant retirement in Florida as opposed, to, say, a compound in Uruguay under an assumed identity. Good jobs at good wages!
Whoever's handling torturer George "Slam Dunk" Tenet's PR needs to tell him to lose the sunglasses (pic); they make him look like he's running a Banana Republic [Reuters]. Oh, wait…
UN High Commissioner for Human Rights, Zeid Raad al-Hussein, says it's "crystal clear" that the United States, which ratified the U.N. Convention Against Torture in 1994, must prosecute those who authorized and carried out torture [HuffPo]. Other international law experts agree [New York Times].
Human Rights Watch: "Obama's refusal to enforce this unequivocal prohibition means that torture effectively remains a policy option rather than a criminal offense" [Reuters]. Mission accomplished!
Rockefeller and Levin: DOJ should consider prosecutions [Bloomberg]. Of course, I remember very well the swelling tide of "progressive" calls for impeaching Bush over warrantess surveillance when the Democrats were out of office, which promptly died as soon as the Democrats took office, and Pelosi took impeachment off the table. So some sort of tangible proof, some skin in the game, that they're not running the same play again, a decade later, would be welcome.
Op-Ed: "Prosecute torturers. It's the law" [Los Angeles Times].
Op-Ed: "It is hard to believe that anything will be done now" [New York Times].
ACLU, Center for Constitutional RIghts, Reprieve call for "legal accountability" [The Intercept]. Torturers are "still being feted on book tours and talk shows."
Shocker: DOJ says no to prosecutions [HuffPo].
"Instead of prosecuting torturers, Obama prosecuted the guy who revealed the program" [Vox]. That's not a bug. It's a feature.
Feds, in the person of Preet Bharara, move to shut down New York Times FOIA suit over CIA destruction of torture videotapes [PDF]. Note the subtext of evidence destruction on this timeline [New York Times].
CIA itself admits: "CIA needs to develop the structure, expertise, and methodologies required to more objectively and systematically evaluate the effectiveness of our covert actions" [Council on Foreign Relations]. So, we "tortured some folks" and blew some faraway brown people to pink mist with drone strikes just for the hell of it?
Aleksander Kwasniewski, Poland's President at the time of the CIA's black sites there, admits for the first time the black sites existed, says he didn't know torture went on there, calls for torturers to be prosecuted [International Herald-Tribune].
American "support" for torture heavily dependent on questions used in polls [WaPo].
Froomkin does a close read of the report [First Look]. Well worth a read, like everything Froomkin writes. My favorite fact nugget:
Bush and others frequently said that information gained by waterboarding led to the disruption of a plot by U.S. citizen Jose Padilla in Chicago that involved blowing up apartment buildings in the United States and possibly "using a 'dirty bomb' in the U.S."

But the Senate report discloses that that Padilla and his associate, Binyam Mohammed, conceived what the CIA called the "Dirty Bomb Plot" after reading a satirical magazine article, "How to Make Your Own H-Bomb," that instructed would-be bomb makers to enrich uranium by putting liquid uranium hexafluoride in a bucket, attaching a six-foot rope to the bucket handle, and swinging "the rope (and attached bucket) around your head as fast as possible… for about 45 minutes."

According to the Senate report, that's exactly how Padilla was planning to build the "dirty bomb."
Well, so much for the Padilla scare story. I only hope these lunatics haven't gone into full Gaslight mode again, to "prove" how much we need them.
2016
Is Steve Israel stupid, or evil? [Capital New York]. Now, there's a strong case that Israel is evil — you don't bat zero for the season without a plan — but I've got to say, today I'm with stupid. Israel to the DCCC's biggest donors:
[ISRAEL:] Two months before the election I picked up on a mega-trend—a historic, acute and powerful anxiety among middle-class voters" Israel told the crowd, according to a person in the room.
Two months?! Two months?!?!
Jean Shaheen (D-NH) joins Warren in anti-Weiss fight [Talking Points Memo]. Hmm. New Hampshire.
Howard Dean endorses Hillary Clinton on Supreme Court picks, economy [Politico]. Shows "nervousness" among allies of Clinton of a "liberal uprising" [WaPo]. Well, they'll have to take a scalp. Will Weiss's scalp be big enough? But HoHo: If Clinton understands "the institutional imperatives" of the Supreme Court, is that really a unique selling proposition?
Democracy for America, founded by Dean, moves to support MoveOn in Warren draft effort [The Hill]. I guess the Obama for America crowd is too busy amassing Presidential Library loot to get involved in the mundane details of electoral politics….
Warren: "Third, and maybe you can help me understand this argument, people say opposition to Weiss is unreasonable because, wait for it, he likes poetry" [Talking Points Memo]. Impressive. That's weapons-grade snark. When are we going to see some bankers, in orange jumpsuits, doing the perp walk on national TV?
Biden: "I honest to God haven't made up my mind" [The Hill]; decision to come by spring or summer.
"War and Wall Street" are the two notes all Democratic populist insurgents strike: Sanders, Schweitzer, Webb. Warren strikes only the second [Reason]. "[T]his is the person MoveOn and Democracy for America are making a vehicle for their dreams of insurgency: a senator who never talks about empire."
Budget deal guts McCain-Feingold spending limits for "national parties" to fund conventions, at request of RNC and DCN [WaPo]. Two parties, one system. I'm not sure, for example, if the Greens are considered a "national party." Certainly they run everything on a shoestring, including their luxury skybox-less conventions.
Ferguson
Investec, the FTSE 250 banking and asset management, appropriates "I can't breathe" to complain about regulation [Businessweek]. Classy move!
Ferguson residents point out Ferguson Commission doesn't have anyone from Ferguson on it [St Louis NPR].
Ferguson businesses crowd-source for rebuilding [International Business Times].
More grand jury records released, but still not the Dorian Johnson transcript [USA Today].
Coverage of East Bay protests on Garner [San Francisco Chronicle].
Hong Kong
Admirality occupiers given 9:00AM Thursday deadline to leave [Hong Wrong].
Scholarism leaders advocate "linked hands" peaceful protest [Wall Street Journal].
Class Warfare
Budget deal allows "would for the first time allow the benefits of current retirees to be severely cut" [WaPo]. Wait. I thought a contract was a contract. Any word on this from Warren?
Corruption
How Obama turned the State Department into Tammany Hall [Bloomberg]. Not just 35% "political appointees" as ambassadors, but throughout State via exceptions to hiring rules. Note that this can't happen without Clinton and Kerry's knowledge and consent.
Banker who uploaded Grand Caymans data to Wikileaks collapses at trial [Bloomberg].
Court raises bar for insider trading on appeal, throwing out Preet Bharara convictions [Business Week]. Wow. Even the pissant stuff gets harder.
Campaign contributions in the 2014 Senate race by industry. Handy chart [WaPo]. Two parties, one system. The money looks pretty evenly spread, to me.
America the Petrostate
Shell subcontractor pleads guilty to eight felonies in arctic drilling [Greenpeace].
News of the Wired
* * *
Readers, feel free to contact me with (a) links, and even better (b) sources I should curate regularly, and (c) to find out how to send me images of plants. Vegetables are fine! Fungi are deemed to be honorary plants! See the previous Water Cooler (with plant) here. And here's today's plant (craazy):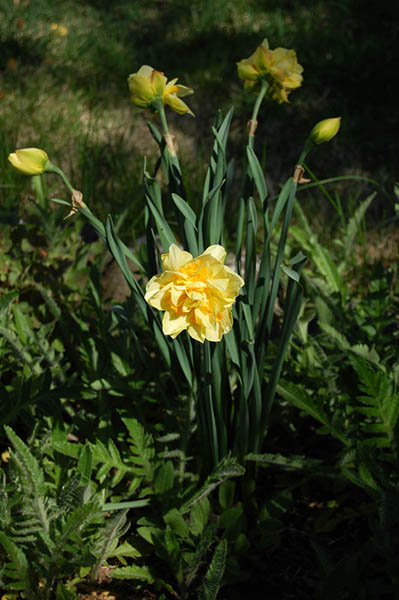 Yes, the flowers are there, under the earth!
Talk amongst yourselves!