By Lambert Strether of Corrente
Torture Report
"We are what we repeatedly do." –Aristotle
NOTE: Remember that the "Torture Report" is only an executive summmary, it's been heavily censored, and the main report is still secret. So you should assume that we're hearing about those aspects of our global dirty war on terra that elites believe can be discussed "in front of the children." So, kidz, that stuff you heard Mommy and Daddy doing in the living room after they sent you to bed? The screaming? That was very bad. So imagine what was going on out in the garage and down in the basement. (Sorry for the household metaphor; I'm trying to get into the elite's collective head, here.) You might also recall the concept of "plausible denial," and note the consistent theme that both the White House and Congress weren't really told what was going on. Mission accomplished!
"They knew it was torture, knew it was illegal" [Emptywheel]. Yep.
Statement by the President, shorter: Torturers have retroactive immunity from prosecution, just like bankers [White House]. Also, parse that "formally ended on one of my first days in office." Hmm.
The 54 countries involved [Independent]: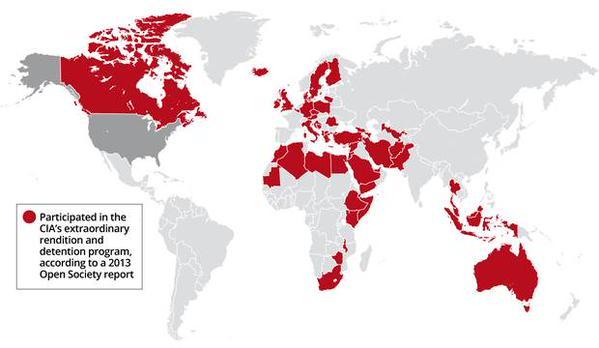 If I were, say, Julian Assange or Edward Snowden, I would have been looking very carefully at a map much like this one.
Key findings [BBC]. No collection on imminent threats, all claimed successes are bogus, 26 of 119 "known detainees" wrongly held, lies, flaws, lies, flaws, lies, flaws…
"Does Torture Work?" [Times]. In shocker, no, but fast work for an embargoed report…
CIA paid two psychologists $80 million to (mis-)apply SERE techniques to "develop, operate and assess" the torture program [MarketWatch]. Their pseudonyms in the report: "Grayson Swigert and Hammond Dunbar." Are these Nazi doctors the psychologists members of the American Psychological Association, and, if so, will the APA censure them? Probably not, given that the APA investigation was headed by an "independent reviewer" who used to work for George Tenet.
Torturers launch website to defend themselves [Foreign Policy]. They've even got a hash tag! I wonder who's doing their PR?
"Only the most cynical…." [Guardian].
Only the most cynical could have guessed back then that it would take six years even for a limited official account of what happened to emerge, that it would be Obama's own administration that stood in the way of its publication and that no one would end up taking personal responsibility for the crimes or the cover-up.
They don't mean "cynical." They mean realistic.
"The Bill of Rights of the US Constitution is full of prohibitions on torture, as part of a general 18th century Enlightenment turn against the practice" [Juan Cole]. Stupid or evil? More, much more of both. Both agnotology and — coinage alert — atroxology (the science of cruelty). Readers, a better coinage?
Live blogs: Greenwald [The Intercept], [Financial Times, "CIA Torture Report"], [Times, "C.I.A. Torture Report Live Blog"], [NPR], [BBC], [Telegraph]. Greenwald: "None of this has been in any plausible doubt for years," citing Taguba and McCaffrey.

Online copies: [Senate], [New York Times]. This [response to Greenwald].
Whither Markets
The S&P 500 down 0.9 percent at 11:03 a.m. in New York. DJIA down 1 percent. Trading in S&P 500 companies up 29 percent. Theory: Triggered by selloff in Asia after China says "lower-rated bonds can no longer be used as collateral for some short-term loans." Also, Grexit angst with possibility of new government [Bloomberg].
Theory: China, Grexit angst, and "oil, oil, more oil" as "Brent crude LCOc1 touched a fresh five-year low of $65.29 on Tuesday" [Reuters].
Best headline: "Markets Everywhere Are Tanking" [Business Insider]. Theories as above, plus fear Fed may soon abandon "considerable time," because no more free money for the right sort of person.
Theory: Greed shifts to fear [FT, "Risk aversion rises on growth fears"]. "The damage to sentiment has been done."
Shanghai Composite Index dropped 5.4%, the biggest daily percentage decline in over five years [Wall Street Journal].
Grexit angst: Anti-"bailout" Syriza might win snap election [Financial Times, "Greek shares tumble 11% on snap election."
Gentlemen prefer bonds [Business Insider].
Ferguson
Of Obama's base in the black communities: "disappointment appears to be palpable" [Los Angeles]. So the foreclosure crisis didn't do it, massive disemployment didn't do it, mass incarceration didn't do it, Mike Brown did it. Low baseline, and that goes for all of us.
Cops whack black women too [Bustle].
UPDATE Feds release their own Brown autopsy, no significant differences. However, transcript of two-hour FBI interview with Brown's friend, Dorian Johnson, is nowhere to be found [AP].
2016
MoveOn nudges Warren, whose Sherman statement has been conspiculously absent [New York Times]. If only MoveOn had not been so grotesquely ineffective on Obama adminsitration policy.
Neil Bush: Jebbie should run now that "Mom's on board" [Bloomberg].
Should Democrats give up on the South? Links pro and con [PoliticalWire]. Obviously, if identity politics are their permanently preferred strategy.
Mexico
The full scale of Mexico's disapperances: far more than 43 [Independent].
ObamaCare
Gruber speaks: "Translation: You got the wrong guy. I'm the consultant, man" [WaPo]. And he's right! And he worked for RomneyCare, too! (Fun use of the "Translation" trope.)
Stats Watch
Redbook, week of December 6: Slowing, but typical after November rush [Bloomberg].
JOLTS (Job Openings and Labor Turnover Survey), October 2014: Little changed from September [Bloomberg].
Wholesale inventories: Little changed [Bloomberg].
News of the Wired
* * *
Readers, feel free to contact me with (a) links, and even better (b) sources I should curate regularly, and (c) to find out how to send me images of plants. Vegetables are fine! Fungi are deemed to be honorary plants! See the previous Water Cooler (with plant) here. And here's today's plant (Eric Borling):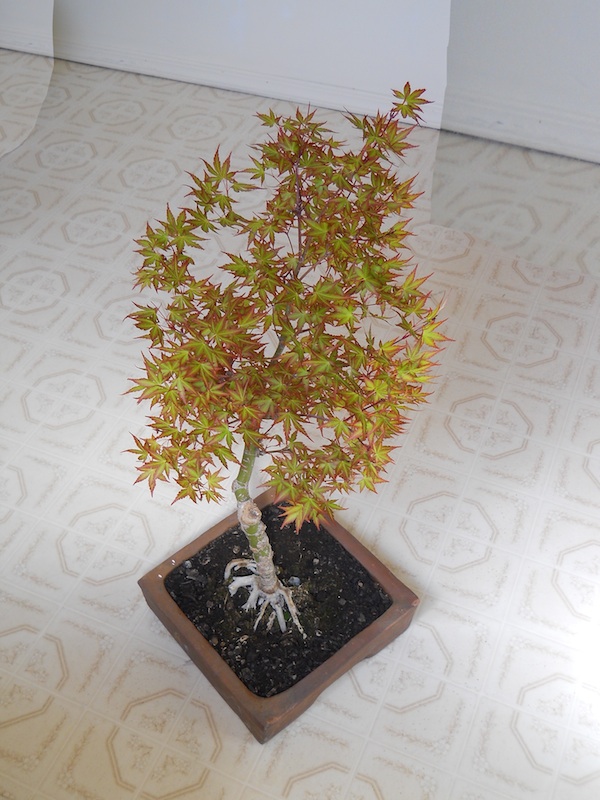 Bonsai!
Talk amongst yourselves!