By Lambert Strether of Corrente
Torture Report
Anderson Cooper: "I did say that some techniques used by CIA were ones used by Khmer Rouge and others. When KR water boarded it was considered torture" [Twitter]. Good for him.
Michael Hayden: "[E]veryone knows what waterboarding does" [HuffPo]. Indeed.
Torture shrink Mitchell calls report "hooey," while claiming Non-Disclosure Agreement prevents him from explaining why [Reuters]. So maybe the Obama administration could release him from the NDA?
Torture veep Dick "Fourth Branch" Cheney calls report "hooey," while claiming the program was authorized by Justice [Christian Science Monitor].
Former CIA official: "[T]here's no way people on the intelligence committees and in the leadership didn't generally know what was going on" [The Intercept].
Obama won't be throwing CIA director and torture advocate John Brennan under the bus [Bloomberg].
Obama won't be releasing separate 1,700 page Justice torture report [New York Times].
"[T]here is no real systematic evidence to suggest that revelations of brutality lead to more violence" [Political Violence at a Glance]. Actual brutality, however, does.
Jeffrey Goldberg, stopped clock: "It is a terrible idea, both morally and practically, to allow hatred to shape counterterrorism policy, but that, I think, explains in part what happened at the CIA" [The Atlantic]. Yes, and perhaps it would be wise to spend less time engineering hate.
Torture is the health of the state (paraphrase) [Andrew Bacevich, Boston Globe].
"The scale that's tipping, simply, is justice. It was already going over when the torture report hit like a ton of bricks" [Will Bunch, Philadelphia Inquirer]. Must read.
Grexit?
"If you owe the bank $100 that's your problem. If you owe the bank $100 million, that's the bank's problem." –J. Paul Getty
"Events have rudely exposed the illusion that Greece's people will submit quietly to a decade of colonial treatment and debt servitude" [Ambrose Evans-Pritchard, Daily Telegraph]. This is a Tory in the Torygraph, do note.
Greek PM Samaras slams opposition SYRIZA for bringing back 'Grexit fears' [Ekathimerini]. "Deputies have a duty to keep Greece in Europe."
Fixed-income strategist: "There's a lot of political uncertainty and I don't thing it will disappear soon" [Businessweek]. 10-year yield exceeds 9 percent after Samaras speech.
Greece's main opposition [anti-bailout] SYRIZA has a 4.8% lead over ruling New Democracy [Greek Reporter]. Election next week, framed as "chaos" [Business Insider]. Details on the mechanics of the two-months-early snap election [The Economist], in the frame of European growth worse than the lost decades in Japan.
Hunger striker Nikos Romanos calls off hunger strike after being allowed to attend business classes with ankle bracelet [Reuters].
40 Syrian refugees camped in Athens' Syntagma Square apply for political asylum [Greek Reporter].
Under austerity, Greek economy shrank 30%, youth unemployment at 50% [Irish Times].
2016
Warren speech against ghastly derivatives provision in spending bill throws red meat to the base [WaPo].[1] More like this, please. Lots more. And not just from Warren.
Joe Manchin (!) joins opposition to Weiss [HuffPo]. Note than in 2008, WV was Clinton country.
Yglesias explainer on the issues and inner party conflict over positioning that the Warren (and Durbin, Franken, Shaheen, Sanders, and Manchin) v Weiss fight is a proxy for [Vox].
Mary Miller, previous Undersecretary for Domestic Finance: "Of course he's qualified. That job is so broad that no one has everything you need going in. I was certainly no expert on banking regulation when I went into it" [Bloomberg]. So, if any generalist can do the job, why hire the global head of investment banking at Lazard?
Jacob Lew at The Dealb%k Conference in Manhattan: "Antonio [Weiss] is extraordinarily well qualified." [New York Times]. Personally, I'd say "adapted" rather than "qualified." But perhaps that's just me.
Lloyd Blankfein, at The Dealb%k Conference in Manhattan, speaking without an ankle bracelet: "I've always been a big fan of Hillary Clinton" [New York Times]. Alrighty then.
Henry Blodget: "I just made a bet with a political expert, former editor in chief of Slate, Jacob Weisberg, that Clinton won't win" [Business Insider].
WSJ/NBC poll: "Are the country's economic and political systems stacked against people like you? Yes, say 56% of Americans" [WSJ]. "58% of Democrats; 51% of Republicans; 55% of whites; 60% of blacks; 53% of Hispanics; as well as decent majorities of every age and professional cluster." Since the "Obama coalition" wasn't, maybe there's a better approach to be found here, especially if Democrats could somehow disentangle themselves from stacking that systems in cahoots with the Republicans. Look, if we can't figure out a reason to throw Democratic éminence or dorée. Bob Rubin in jail, couldn't we at least hire an entartiste?
Wendy Davis "bum steer of the year" [Texas Monthly].
So Jebbie's into private equity, too, along with the Mittster. Well well [Bloomberg].
NOTE [1] Cilizza: "[I]f you are either super busy or an easily distracted millennial." Er, not all so-called millenials are easily distracted. Generational tropes, except in marketing collateral, are a sign of lazy writing and sloppy thinking.
Oil Slide
Handy charts on economic and behavioral changes [Bloomberg].
Norway central bank governor warns of "severe downturn" on oil [Bloomberg].
Stats Watch
Consumer comfort highest since 2007 on oil prices, perceived jobs gains [Bloomberg].
Jobless claims, week of December 6, 2014: "[L]ess momentum than expected in the labor market" [Bloomberg] Wrong story, dudes!
Ferguson
Congressional staffers plan to walk off their jobs this afternoon to show their support for the families of Michael Brown and Eric Garner after two grand juries fail to indict [CNN].
Lewiston, ME high school principal tells students not to protest but to make a poster, then orders removal of poster [Portland Press-Herald].
A lawyer looks at more missing parts from the Ferguson grand jury document dump [Another Word for It].
Undercover cop draws gun on Oakland protesters [NBC].
Hong Kong
Time lapse of the Admiralty camp being cleared [Wall Street Journal].
New forms of spontaneous and leaderless protest emerge [South China Morning Post]. Go shopping!
Police arrest key protest figures at their homes [Time]. Unprecedented.
Banner: "You are only clearing a camp … you can't clear the idea" [Guardian].
Class Warfare
Explainer on budget deal's pension-gutting provisions: "[A] dramatic evisceration of labor law safeguards that have been in place since 1974" under ERISA [Los Angeles Times]. Also too, a divide-and-conquer carve-out for UPS.
What it feels like to be unemployed for years [Vox]. As the result of a thoroughly bipartisan policy to raise the disemployment figures permanently and shrink the labor force, I might add.
News of the Wired
* * *
Readers, feel free to contact me with (a) links, and even better (b) sources I should curate regularly, and (c) to find out how to send me images of plants. Vegetables are fine! Fungi are deemed to be honorary plants! See the previous Water Cooler (with plant) here. And here's today's plant: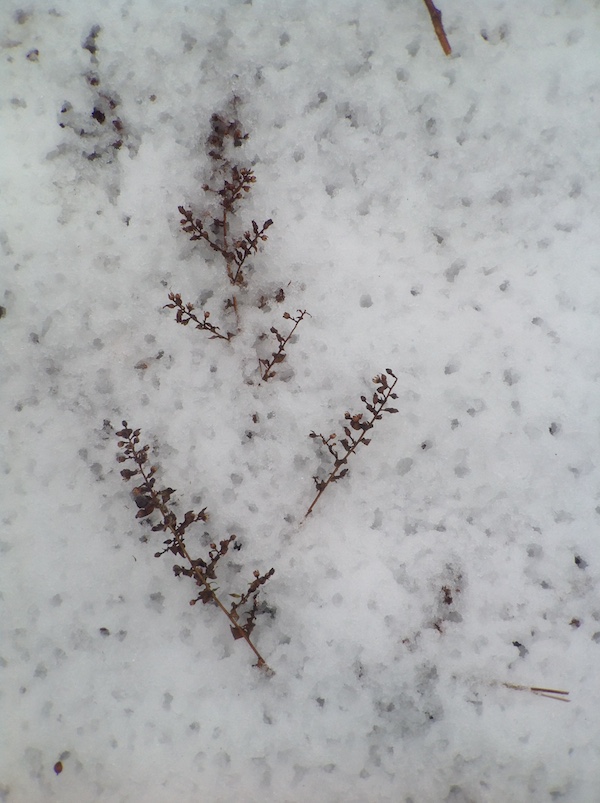 Talk amongst yourselves!