By Lambert Strether of Corrente
Ferguson
Obama's Ferguson response rates 30 points below his usual level of support among Blacks [WaPo]. Just wait.
Aggregation of Ferguson protest across the country, including DC's Union Station [WJLA]. Had to dig a little for this. Not part of the narrative, seemingly!
Police might investigate Michael Browns stepfather for inciting a riot [CNN]. Classy move!
Michael Brown's stepfather apologizes for "burn it" [ABC]. I've seen the claim that the TV mikes could hear him but the crowd could not, because the scene was so noisy. Quite plausible to me; the same thing happened with "the Dean Scream," IIRC.
Oathkeepers return [KSDK]. Great. Peaceful protesters beaten and gassed. Vigilantes with guns on the rooftops, everything's jake.
St Louis teens talk about Ferguson [Talking Points Memo]. Notice where "conversation" crops up and where it doesn't.
Putting abusive cops back on the street [The Atlantic]. Via foppe, who points out that Friedersdorf goes heavy on unions, but very light on the supposedly problematic arbitration process. How does union pressure produce outcomes? Friedersdorf doesn't say.
A Missouri judge could appoint a special prosector and reboot the process [Think Progress].
2016
Dems appoint Third Way-er Mark Warner, with Schumer's blessing, to balance Warren [Salon]. And they announce it at 5:00PM on the Friday after Thanksgiving. So there you are.
Then again, perhaps this is the story of Schumer's November 25 speech, buried by the ObamaCare controversy [New York Times].
To restore credibility, Schumer argued, the "first step is to convince voters that we are on their side, and not in the grips of special interests." for "what seems, on its face, blatant fraud" and tax reform designed to ensure that C.E.O.s paid higher rates "than their secretaries." In effect, he said, "an element of populism, even for those of us who don't consider ourselves populists, is necessary to open the door before we can rally people to the view that a strong government program must be implemented."
Oddly, Obots would rather not talk about this.
Hillary Clinton still uncertain about running, "according to several people familiar with her thinking" [Politico].
Poll: Clinton 65%, Warren 10% [Bloomberg]. "The press wants a race, and the left wants a race, but the Democratic electorate isn't sure that it needs one."
Hong Kong
More students expected to join Scholarism student leaders Joshua Wong, Prince Wong and Isabella Lo in hunger strike [EI Insight]. They are now "quite weak" [John Sparks, Channel 4 News]. "Declaration of a Hunger Strike" [Rose Tang].
Occupy leaders surrendur to police, are released without charge [South China Morning Post].
Explainer on the Hong Kong rumor mill [Hong Wrong]. Opposition to Occupy based on five reasons: Two true, two false, one defeatist.
Corruption
The U.S. attorney's office subpoenas Los Angeles Unified School District for records pertaining to its $1 billion iPad project [Los Angeles Times]. 20 boxes of records; Pearson was content provider; goal was test prep for [drumroll please] Common Core [Education Weekly].
Norman Blackwell, a wealthy Tory life Peer and Thatcher advisor, voted for the Coalition's hated health reforms, and is now bidding to land £1.2 billion worth of NHS contracts: the biggest privatisation deal in NHS history [Daily Mail].
30 years after Bhopal, and the locals still wait for clean-up, compensation, and conviction of executives from Union Carbide (now owned by Dow Chemical [Wall Street Journal].
Climate Change
"Melt rate in parts of Antarctica has tripled in the last decade, according to a comprehensive, 21-year analysis that reconciles four different previously used techniques" [EarthSky].
Stats Watch
ADP Payroll Report, November 2014: Payroll growth expected: 225,000. Estimate: 208,000. Last month: 230,000 [Bloomberg].
Gallup Job Creation Index, November 2014: Slight improvement after three point slip in October [Bloomberg]. I wish we had a "Naked Capitalism Jobs Crapification Index." Could we aggregate FRED data in some way?
"Pocket of weakness," "with two-thirds of the gauges on Yellen's dashboard not yet returned to pre-recession strength"  [Bloomberg]. Two thirds. That's some pocket.
Class Warfare
The bills are steady. But the paycheck is random [New York Times]. This is "worker time."
432 people own half the private land in Scotland. But only 26% of Scotland's landowners have been identified. [Guardian]. Why, it's like the enclosures never stopped!
Big Brother is Watching You Watch
Froomkin on the quite possibly forthcoming brutally redacted executive summary of the torture report we will never see, whose scope was in any case quite limited [The Intercept]. Where's Mike Gravel when we need him? There was a Democrat.
Maps and Mapping
This article does indeed contain beautiful maps [Your Wild Life]. But the conclusion is important, and about more than maps:
Those regions once part of colonial Britain together form their own biogeographic region when it comes to vectored pathogens. The British are coming, and they are bringing their germs. Interestingly, recent work on the biogeographic regions of plant pathogens, suggest the British inadvertently created their own biogeographic region for plant pathogens as well. Once more, the queen and her kingdom are in a realm all their own, one defined by some complex mélange of Christmas pudding, flu, cold, and syphilis.

We haven't formally tested it, but I'll posit here that these biogeographic regions, the British colonial region and all the rest, have more impact on your life than almost anything else you might map. You are not what you eat, you are what eats you.
Interesting. And see The Onion article below.
News of the Wired
* * *
Readers, feel free to contact me with (a) links, and even better (b) sources I should curate regularly, and (c) to find out how to send me images of plants. Vegetables are fine! Fungi are deemed to be honorary plants! See the previous Water Cooler (with plant) here. And here's today's plant (JN):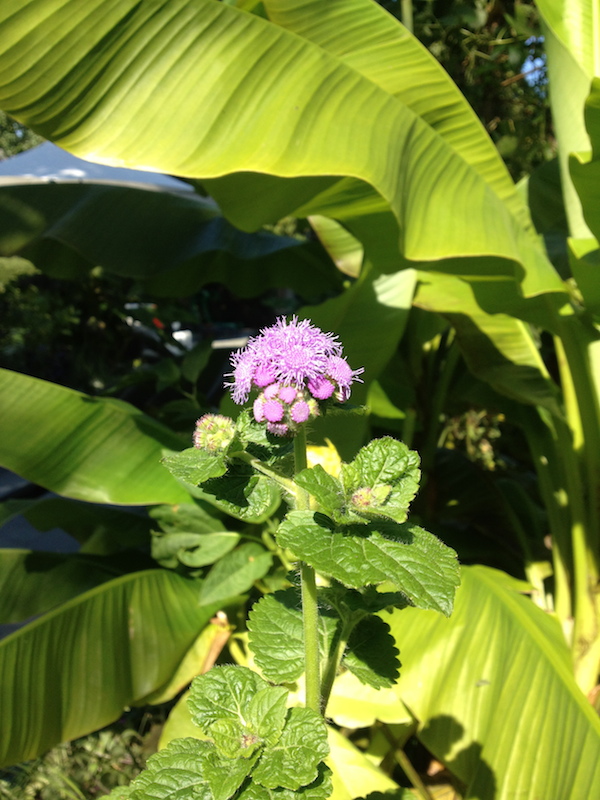 JN says this flower looks like a puppy. I can't see it myself.
Talk amongst yourselves!