By Lambert Strether of Corrente
Ferguson
How Nashville handled Ferguson protesters, including a freeway blockage [Ben Swann].
Oath Keepers challenge police order to leave Ferguson [FOX]. This is essentially an Oathkeepers press release.
Ashley Yates of MillenialAU of White House meeting: "[T]he president was very receptive and was open and willing to hear our experiences and really get that viewpoint from the other side"  [Democracy Now]. Very nice, however, to see Yates asked about "policy prescriptions," on militarized policing. Notice though that nobody, but nobody, ever mentions that in Ferguson, law enforcement is used as a revenue collection tool (primarily exploiting Black Ferguson). Nor does anybody mention the foreclosure crisis multiplying the financial impact on families caught up in that revenue generating machine (again, primarily exploiting Black Ferguson). Nobody wants to follow the money. Odd, that.
Ferguson "Protesters using tech to run rings around cops" [NY Post]. I'm sure there's a story here, but I can't imagine it's what the Post thinks it is.
Thumbsucker on the culture warz of today [WaPo].
Conservative media alive and well. Film at 11 [Bloomberg].
2016
Jebbie thinks the only way a Republican can win the general is by putting the crazies back in the box in the primary [Bloomberg]. And since Jebbie was crazy enough to help steal an election in 2000, you know how crazy the crazies are.
Rob Portman removes his hat from the ring it was never in [Bloomberg].
Did the White House use "progressives" to kill Reid's tax bill now, to pave the day for a deal with the Republicans in 2015 that "progressives" will hate even more? [The Hill]. It would be so like them!
When you've lost Charles Cook… [National Journal].
But an argument can be made that it is because Democrats have subordinated their traditional focus on helping lower- and working-class Americans move up the economic ladder in favor of other noble priorities, such as health care, the environment, and civil rights. Whether these were the right or wrong priorities is totally subjective, but they have come at a cost.

Governing is about making choices and facing consequences. Implicitly, to focus on certain things is to de-emphasize other things. The modern Democratic Party was effectively born during President Franklin Roosevelt's New Deal, reacting and dealing with the Great Depression. While books have been filled with the multitude of things that Roosevelt and his New Dealers did, if you boiled it down to its essence, it was helping people get back on their feet after the great stock-market crash of 1929 and the deep depression that resulted. In 2008, we faced the Great Recession, and like other financial meltdowns, it was deep and painful.

[Following the stabilization of the FIRE sector], we then saw a grand pivot to the environment and health care, with grave consequences for the party. At another time and in different fashion, both are important priorities, but the focus on these issues has effectively decimated the Democratic Party in specific areas and among specific voter blocs. The evidence is the difference in the partisan makeup of the Congress that will be sworn in next month, compared with the one from eight years ago.
Is "the Obama Coalition" (was it ever?) transferable to anyone else? [WaPo].
Clinton silent on Keystone in recent speech [ABC]. Odd, since the State Department was a key player in the permitting process.
Syraqistan
Kurds and Iraq government agree on how to split the swag oil revenues, combine against ISIS [WaPo]. Kurds can now export oil through a Turkish pipeline (!).
Western jihadi gripe fest [The Independent]. Could be disinformation, but it's awfully funny.
Imperial Collapse Watch
Massive cable failure knocks out power for downtown Detroit [Detroit Free Press].
Hong Kong
Occupy Central leaders call for student activists to retreat [France24].
Lung Wo Road occupiers branded as 'rioters' by government [EJI Insight].
Corruption
World's most corrupt industries [CNN]. #1? Extraction.
Climate Change
Climate change and coastal cities, with handy map of global flood losses by 2050 [Bloomberg]. Losses on our East Coast and Gulf are big, but the losses in China's Pearl River delta are ginormous. My goodness, I hope it's all insured!
Visualization: A year in the life of earth's Co2 [NASA].
Stats Watch
Redbook, week of November 29, 2014: "strength in the Black Friday shopping week with its year-on-year same-store sales rate rising 6 tenths to plus 4.8 percent" due to deep discounts [Bloomberg].
Gallup economic confidence indicator, November 2014: highest monthly reading in a year and a half, though still negative. Rise for all income groups, interestingly [Bloomberg].
NOTE: As per Ritholz's story in Links today, I should have framed the bogosity of the Black Friday retail stats. My bad. Next time!
News of the Wired
* * *
Readers, feel free to contact me with (a) links, and even better (b) sources I should curate regularly, and (c) to find out how to send me images of plants. Vegetables are fine! Fungi are deemed to be honorary plants! See the previous Water Cooler (with plant) here. And here's today's plant: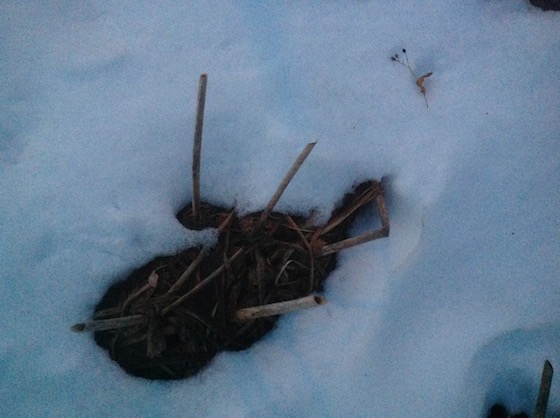 Talk amongst yourselves!