While there has been ample discussion the impact of falling oil prices on the national budgets of major oil producing nations, there's been less media focus on how some of the countries that face budget squeezes are likely to react.
Consider what a difference nine days makes. Moody's gave six Middle Eastern countries a thumbs up on December 8, based on the assumption that oil prices will average $80 to $85 a barrel in 2015. With WTI now at $55.33, it appears reasonable to assume a price of $60 or below for the first half of 2015. The consensus is that production cuts will lead to much firmer prices in the final two quarters,* but $70 a barrel would now seem a more reasonable forecast for the year.
Here is the money part of the Moody's assessment (emphasis ours):
Moody's Investors Service says that while the six sovereign states in the Gulf Cooperation Council (GCC) can withstand the pressure of oil prices averaging around Moody's estimate of $80 to $85 a barrel in 2015, Bahrain and Oman's credit profiles will be the most adversely affected, because the two sovereigns exhibit a combination of high fiscal breakeven oil prices and low reserve buffers…

Kuwait and Qatar are the most resilient, given their very low fiscal and external breakeven oil prices, and large reserve buffers. Saudi Arabia and the UAE exhibit slightly weaker fiscal fundamentals and higher external breakeven oil prices than Kuwait and Qatar. However, all four sovereigns have similar shock absorption capacities, given Saudi Arabia's and the UAE's large non-oil sectors and sizeable reserves.

Bahrain and Oman will be more adversely affected by the lower oil prices becasue they have the highest fiscal break-even prices and the lowest reserve buffers in the GCC. While the sovereign wealth funds of Kuwait, the UAE, Qatar and Saudi Arabia can cover multiple years' worth of government expenditures, Bahrain's and Oman's do not provide that level of cover..

According to Moody's report, Bahrain and Oman are likely to finance any increase in fiscal deficits in 2015 through sovereign debt issuance in 2015. Saudi Arabia has indicated that it will use its reserve buffer to finance its deficit. Moody's does not expect Kuwait and Qatar to raise their debt levels.
Translation: While Gulf states can make some spending cuts, they'll need to do more to cover likely shortfalls. The states with bigger sovereign wealth funds will tap them as needed. The ones with weaker positions will borrow.
Let's look and see how big these funds are. From Wikipedia: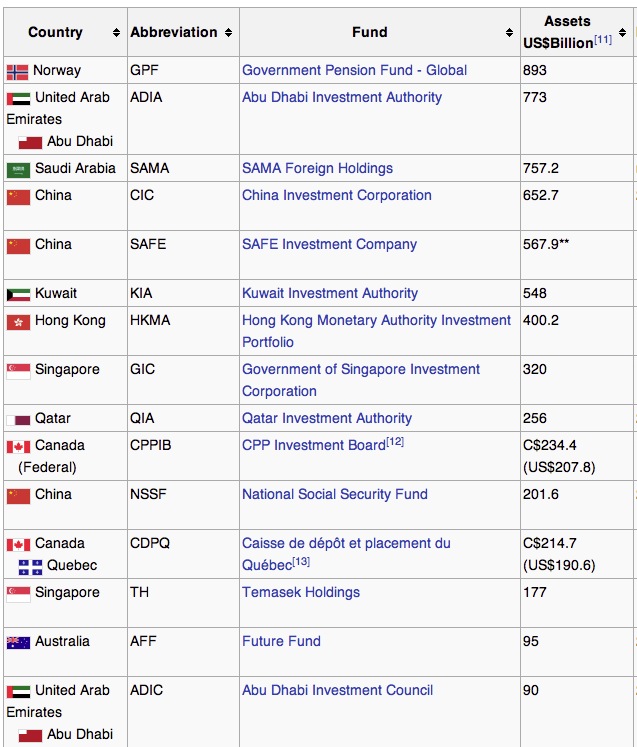 Look at how oil producing states dominate by ranking and by heft. Norway in particular is a very active stock market participant.
First order oil dislocation effects, such as general market volatility, currency repricing, continuing declines in energy-related debt prices, and cautiousness about risky investments, will dominate the investment picture. But the shift in posture of these big oil-funded sovereign wealth funds will play into this pictures as an undertow. They are pretty certain not to be making new investments and are likely to be making some sales. Not only will their sales have some impact at the margin, but their absence as deep pocket opportunists could be more important than one might imagine. Recall that in the early stages of the financial crisis, sovereign wealth funds stepped up to provide capital to quite a few wobbly banks. There will be fewer to act as rescuers this time around. And sovereign wealth funds are also big investors in private equity. The sorry side effect of that is likely to be that the private equity firms will become even more aggressive in their plans to hawk their funds to retail investors.
Again, we must stress that these expected moves by sovereign wealth funds aren't earth-shaking in and of themselves, but they illustrate how these second-order effects are still meaningful and not favorable to the outlook for financial assets.
___
* Your humble blogger suspects it will take longer for production to be choked off. Too many shale gas producers need to keep pumping to service debt. That does not mean low prices go on forever, but it might take a quarter or two longer that expected for production to adjust. A corroborating detail is that various analysts keep lowering their claims as to the break-even cost of US shale producers. A mere couple of weeks ago, the claim was that 80% of the shale gas producers had breakevens in the $60 to $80 range (with virtually all the rest at higher levels). That summary was generally consistent with charts like this. From a December 12 post:
And this chart (hat tip Ed Harrison) gives an idea how much a difference the drop from $70 a barrel to yesterday's below $60 price means (click to enlarge):

And notice that the "half cycle return" is a dubious metric and greatly understates the requirements for meeting long-term profit targets.
I have not been able to get independent confirmation, but an investor told me a new Goldman report issued yesterday stated that most shale producers could make money at $25 a barrel. The investor noted that it is quite remarkable how shale driller break evens keep falling as the price of oil keeps decaying, particularly since many were cash flow negative at $100 a barrel. If producers are giving this sort of blather patter to Goldman, you can be sure they are giving it to their friendly lenders, which means you can expect them to keep producing as long as oil prices are high than their claimed, as opposed to real, break-evens.