To Spur Adoptions, an Oakland Cafe Puts Cats Among the Patrons New York Times
What did the Romans ever do for us? They left a warning about the virtual water trade Raw Story (Margarita). Important. First heard about this at the Milken conference in 2008, with no reference to the Romans.
Death on the Internet: The Rise of Livestreaming Funerals Atlantic
Is Bitcoin the worst USD investment of 2014? MacroBusiness
The Guerrilla Tactics of The Racket, and How It Almost Upended Journalism Wired
What's on your surgeon's playlist? Science Daily (Chuck L). What is with these fluff BMJ pieces? Or does the BMJ do tongue in cheek pieces routinely and I'm late to be clued in?
Sydney Terrorist Aftermath. Sadly, this will probably be one of the best things ever to happen to Tony Abbott. He can use this as an excuse for all sorts of bad stuff he wanted to do anyway.
Uber offers free rides in Sydney after criticism of price surge amid siege Reuters

#illridewithyou: hashtag offers solidarity with Sydney's Muslims after siege Guardian. Lambert already linked to this, but it still illustrates how has managed to maintain a sense of community in the face of a continuing neoliberal/neocon onslaught.
Anti-Islam 'Pegida' march in German city of Dresden BBC
Strikes across Belgium cause transport chaos BBC. Note: protests in Europe finally getting coverage. Large protests in Portugal and Spain a few years back were given short shrift by the media. But these also look to have been designed to cause serious knock-on effects. Protestors finally realizing that the way to get attention isn't just to turn out but to target key infrastructure.
Greece warned against 'suicidal' debt move Financial Times
Democracy is at issue in Israel's election Financial Times (David L)
Closed for Risky Business: Stop Supporting Toxic Tarsands Toronto Media Co-op. Martha r: "Disruption."
Ukraine/Russia
Syraqistan
Pakistan Taliban 'kill 100' in assault on Peshawar school BBC (furzy mouse)

Guantanamo 9/11 hearing canceled, Army spokesman says Reuters (EM)
Emerging Markets Freakout
Why 1998 Was Different, and Same, to Emerging-Market Crisis Now Bloomberg

Emerging Market Oil Importers Are Suddenly Under a Cloud Wall Street Journal
CIA Torture Report
C.I.A., on Path to Torture, Chose Haste Over Analysis New York Times

The Charmed Life of a CIA Torturer: How Fate Diverged for Matthew Zirbel, aka CIA Officer 1, and Gul Rahman Intercept

Conversation with a CIA Interrogator CounterPunch
The Supreme Court just made it easier for police to search your car Vox
Why big spending on political campaigns makes racial inequality worse Washington Post
U.S. taxpayers help fund oil-train boom amid safety concerns Reuters (EM)
Hannity favorite 'Witness 40′ in Wilson grand jury is a liar and convicted felon: report Raw Story (furzy mouse)
Texas lawmakers put new gun rights laws in their sights | Reuters. EM: "Legalizing public masturbation, Ammosexual-style."
Fare dodger banned from City posts Financial Times. Flagged by Lambert but a classic of its sort. So if you cheat outside of your day job, you'll get busted by the banking authorities. But cheat as part of your day job? It's why you were hired.
Bankers, like alcoholics, must first admit they have a problem Financial Times (David L). They won't and don't have a problem unless the rest of us succeed in inflicting real costs on them.
Whither Oil?
Saudi Arabia is playing chicken with its oil Reuters. As we suggested early on.

Oil price fall threatens $1tn of projects Financial Times

Why Big Oil Needs a Bailout in New OPEC Price War Fiscal Times

Oil spill: As the oil price plunges, gloom and ill-will, oddly, abound Economist

Keystone XL pipeline may no longer make economic sense, experts say Los Angeles Times (martha r)

Big Trouble for the Bakken Oil Field: Has the Bust Begun? Steve St. Angelo, SRSrocco Report (Brian C). Important. While this is posted on a goldbug site, the hard asset pitch is very short and at the end of a long and persuasive-looking, chock-full-of-data analysis of the underlying productivity of the Bakken oil field. If this assessment is correct, or even directionally correct, a lot of conventional thinking about Bakken and the outlook for US energy production needs serious revision.
Fed Plans To Have Cheap Oil, Higher Inflation, Rate Hikes, Cake Dealbreaker
Treasury Department Seeking Survival Kits For Bank Employees Washington Free Beacon (furzy mouse)
Fallout for the S.E.C. and the Justice Dept. From the Insider Trading Ruling New York Times
Class Warfare
Antidote du jour. Josh's new cats have grown up: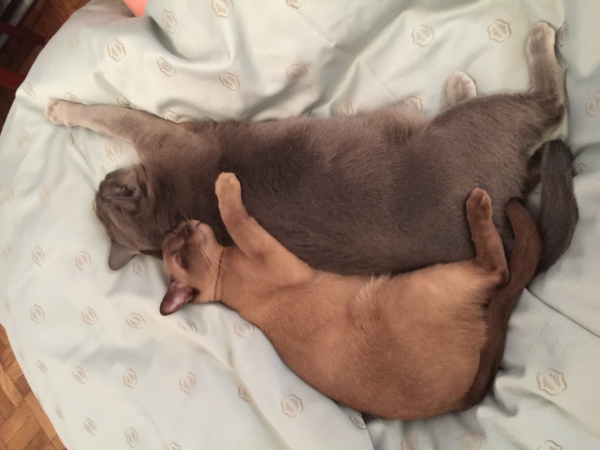 See yesterday's Links and Antidote du Jour here.