A new study by a team at the University of Texas, published in Nature News, throws cold water on bullish US natural gas production forecasts by the US agency, the Energy Information Administration. Its analysis suggests that the fracking boom will be a relatively short-lived phenomenon, which raises doubts about the attractiveness of investing in shale plays and in liquified natural gas transport facilities, particularly for export. Notice that this big red flag about the size and durability of the natural gas bonanza hasn't hit the mainstream media yet. For instance, today one of the lead stories in the Financial Times is US oil reserves at highest since 1975: Shale revolution transforms country's energy supply outlook.
Specifically, the study finds that shale gas output will peak ramp up sharply to 2020, consistent with the EIA's projections. However, the EIA calls for continued solid growth through 2040.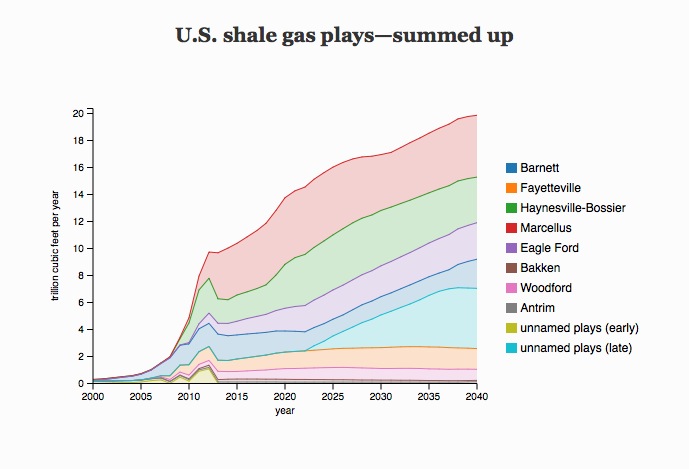 By contrast, the study foresees production dropping sharply starting in 2020. Note that this isn't the only expert source to anticipate that the fracking boom tops out in 2019 to 2020. The Paris-based International Energy Agency also projects that US shale gas production will peak then, but it foresees a very gradual decline in output through the 2020s and a steeper fall after that.
So why should we take the University of Texas forecast more seriously than that of the EIA? First, he's one of the few analysts to obtain and work with the EIA's projections. For instance, notice the two bottom bands on the chart. Inman appears to be the first to notice that the EIA appears to have introduced plug figures to achieve overall production totals higher than the sum of the eight majors plays. And troublingly, their spreadsheets didn't always foot. From Inman:
The shale gas forecasts I got from EIA listed 8 individual plays—but in a number of years, total shale gas production they forecast was somewhat larger than what these named plays contributed. So I added in two categories for the contributions from these unnamed plays—"unnamed plays (early)" for the contributions from 2000-2012, and "unnamed plays (late)" for 2023-2040. (Oddly, in the years 2013-2022, the sum of forecast shale gas production from all the named plays is very slightly more than the total of shale gas production that EIA shows. I ignored this discrepancy; it was just a few percent of the total.)
But more important, the Texas team's analysis was far more detailed. As Inman wrote in Nature:
But a careful examination of the assumptions behind such bullish forecasts suggests that they may be overly optimistic, in part because the government's predictions rely on coarse-grained studies of major shale formations, or plays. Now, researchers are analysing those formations in much greater detail and are issuing more-conservative forecasts. They calculate that such formations have relatively small 'sweet spots' where it will be profitable to extract gas….

To provide rigorous and transparent forecasts of shale-gas production, a team of a dozen geoscientists, petroleum engineers and economists at the University of Texas at Austin has spent more than three years on a systematic set of studies of the major shale plays. The research was funded by a US$1.5-million grant from the Alfred P. Sloan Foundation in New York City, and has been appearing gradually in academic journals…

The main difference between the Texas and EIA forecasts may come down to how fine-grained each assessment is. The EIA breaks up each shale play by county, calculating an average well productivity for that area. But counties often cover more than 1,000 square kilometres, large enough to hold thousands of horizontal fracked wells. The Texas team, by contrast, splits each play into blocks of one square mile (2.6 square kilometres) — a resolution at least 20 times finer than the EIA's.

Resolution matters because each play has sweet spots that yield a lot of gas, and large areas where wells are less productive. Companies try to target the sweet spots first, so wells drilled in the future may be less productive than current ones. The EIA's model so far has assumed that future wells will be at least as productive as past wells in the same county. But this approach, Patzek argues, "leads to results that are way too optimistic".

The high resolution of the Texas studies allows their model to distinguish the sweet spots from the marginal areas. As a result, says study co-leader Scott Tinker, a geoscientist at the University of Texas at Austin, "we've been able to say, better than in the past, what a future well would look like".

The Texas and EIA studies also differ in how they estimate the total number of wells that could be economically drilled in each play. The EIA does not explicitly state that number, but its analysis seems to require more wells than the Texas assessment, which excludes areas where drilling would be difficult, such as under lakes or major cities. These features of the model were chosen to "mimic reality", Tinker says, and were based on team members' long experience in the petroleum industry.
This chart shows how the University of Texas (UT) differs from that of other major forecasters so far: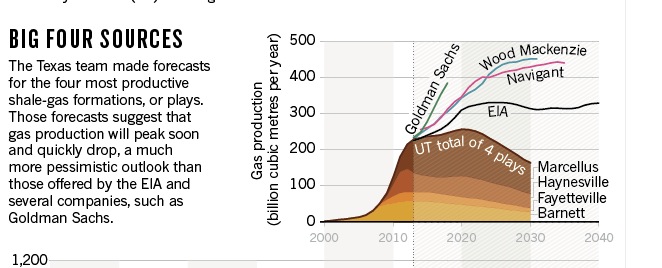 The Nature article points to an October 14, 2014 unofficial publication by two analysts from the EIA that 'fesses up that the methods used by the agency have shortcomings, and using high resolution maps like the University of Texas effort did would produce better results.
The Nature article also cautions that the team's projection could prove be high:
[Head of University of Texas at Austin's department of petroleum and geosystems engineering Tad] Patzek argues that actual production could come out lower than the team's forecasts. He talks about it hitting a peak in the next decade or so — and after that, "there's going to be a pretty fast decline on the other side", he says. "That's when there's going to be a rude awakening for the United States." He expects that gas prices will rise steeply, and that the nation may end up building more gas-powered industrial plants and vehicles than it will be able to afford to run. "The bottom line is, no matter what happens and how it unfolds," he says, "it cannot be good for the US economy."
You can see the data used in the study here.
This study exposes some serious issues. If the fracking boom indeed is a flash in the pan, it makes the high environmental costs even more dubious. Potable water is the planet's most scarce resource, and wrecking aquifers for a few years of gas output looks more and more like too high a price to pay. Yet we have a lot of investment, funded in part by a lot of borrowing, pouring into this play. If only a small portion of shale gas operations play out according to their projections made at the time of investment, you can expect to see a lot of dud loans, and enough of those will produce seriously sick banks. And on the stock market side of the equation, a lot of investors were looking for energy to be the new leadership group for a continued stock market rally. John Gapper of the Financial Times a mere week ago argued that manufacturers would relocate to the US because the fracking boom would produce so much cheap energy that energy cost savings would trump labor costs. The Texas forecasts put paid to that line of thinking.
It's going to be interesting to see how Wall Street reacts to these rigorous projections. Will they try to pretend they don't exist or seek to discredit them so they can keep up their cheerleading? Of course, it's always possible that despite all the petroleum experts involved in the modeling made some sort of fatal error that other eyes will uncover. But I wouldn't bet against them.