By Lambert Strether of Corrente
2016
Presidential hopefuls parties agree: "Economic mobility, and the feeling of many Americans that they are being shut out from the nation's prosperity, will be a defining theme of the 2016 campaign" [WaPo]. So, we can't say "class warfare," but have to say "income inequality," but now we can't say that, and have to say "economic mobility"?
"You talk to any pollster, on the Democratic side or the Republican side, they're in complete agreement on the idea that there has to be an economic populist message," said Matthew Dowd, a top strategist for former president George W. Bush's 2000 and 2004 campaigns.
Please kill me now.
Democrats set up a tax fight; "middle class" tax breaks paid for with a fee on financial transactions and cutting tax breaks for the 1% [WaPo]. Randall Wray called his shot on this one, and I agree with him.
Rubio has checked with his family, and they're OK with a Presidential run [National Journal]. "I'm confident that I can raise enough money. … I'm past that point in my deliberations." So he has a squillionaire backer?
Rand Paul hires Chris LaCivita, the Republican who just got Pat Roberts re-elected [Wall Street Journal]. The theme here being oppo. I mean, that's always the theme, but LaCivita is the Swift Boat dude.
Democrats outraise Republicans among disclosed donors [Politico].
Thomas Frank fires a last salvo before taking time off to write a book [Salon]. It's a nice takedown of Obot talking points. The peroration:
What I am suggesting, in other words, is that the financial crisis worked out the way it did in large part because Obama and his team wanted it to work out that way.

That is the simplest and most direct explanation.

The notion that Democrats might have agency is shocking, I know, since it means they bear some responsibility for our unhappy situation. However, once you acknowledge that it might be true, it occurs to you that this simple and direct explanation might also be the key to all kinds of Democratic betrayals and failures over the years, from the embrace of NAFTA to the abandonment of the Employee Free Choice Act. Maybe these episodes weren't failures at all. Maybe it's time we confronted the possibility that these disasters unfolded the way they did because Democratic leaders wanted them to work out that way.
One can only wonder what Democratic apparatchik and Salon editor-at-large Joan Walsh thinks of Frank's article. And not to be churlish, but one could have wished that Frank's "Road to Damascus" moment had come a little earlier; I [lambert blushes modestly] am a member of the Class of 2008, not the Class of 2016. (The "Class of" trope comes from Brad DeLong.)
"The Joe Biden random compliment generator" [WaPo]. I tried it! I got: "Look at those eyes. You have beautiful eyes" [lambert, again, blushes modestly].
The Hill
Implementation issues with Obama's free community college plan [McClatchy]. Why not focus resources by need?
Not enough votes to over-ride Obama Keystone veto [The Hill].
Charlie Hebdo
Three million march in Paris [Wall Street Journal]. As with #illridewithyou in Australia, it's possible that common humanity rises to the occasion in a way that "world leaders" (let alone zealots and jihadists) cannot.
"Heureusement, un pigeon est venu les sauver durant le défilé : alors que François Hollande serrait dans ses bras l'urgentiste et chroniqueur de l'hebdomadaire Patrick Pelloux, l'oiseau lui a « chié sur l'épaule »…" [Le Monde].
"Last Wednesday's incident takes its place in a chain of events, of which the most prominent include the fatwa against Salman Rushdie, author of "The Satanic Verses" (published in 1988). Rushdie lived in hiding for several years, for fear of assassination…." [Haaretz]. Odd that Haaretz's "chain of events" doesn't include the Iraq War, Abu Ghraib, etc., etc. I mean, I'm all for free speech, but the 100,000 minimum dead civilians from the Iraq War can't really exercise it, now can they?
Wednesday's upcoming million-copy Charlie Hebdo will "naturally" contain cartoons of Prophet Mohammed, along with jibes against politicians and religions across the board, said the stricken weekly's lawyer [Daily Telegraph].
"The Kouachi brothers were products of the West – and of the traumatic collision between Western power and an Islamic world that has been torn apart by both internal conflict and Western military intervention. They were, above all, beurs, French citizens from the banlieue: Parisians of North African descent [London Review of Books]. Much like the 9/11 hijackers. Too bad the Bush administration decided to invade Afghanistan and Iraq instead of staging a peaceful march of three million, but America, fuck yeah! Also too, ka-ching.
"By directly targeting satirical journalists, the terrorists highlighted Islamicist politics' assault on widely shared Enlightenment values" [Economist]. How unlike official Washington, which wouldn't dream of kowtowing to fundamentalists. Oh, wait…
"[O]ne may mourn the dead and condemn their senseless slaughter, and hail their courage in carrying out a mission in which they deeply believed, without celebrating the magazine for virtues it did not espouse" [The Atlantic].
"When all is said and done, humankind must be free to be Charlie Hebdo, and yet we must be free to not be Charlie Hebdo. Otherwise, we are not truly free" [Will Bunch, Philadelphia Inquirer].
"What we need is to not be afraid" [Bloomberg]. Truer words.
Black Injustice Tipping Point
Darren Wilson grand juror suing to reveal deliberations has a good case, if they can get standing [St Louis Public Radio].
"I hereby charge Timothy Loehmann and the Cleveland PD with the murder of 12-year-old Tamir Rice" [Daily Kos]. See especially the video transcript.
NPYD Soft Coup
"Why protest won't get the NYPD what it wants" [Waging Nonviolence]. Uses Gene Sharp's numbered categories to classify the NYPD actions.
Slowdown has cost city over $46M in lost revenue [NY Post]. In other words, "broken windows" makes New York just like Ferguson: Law enforcement is a profit center. That's a disgusting perversion of state power. Stick with "absolutely necessary" arrests, say I. All that extra revenue just bloats the cops, the courts, and the prisons anyhow. Downsize it all.
America the Petrostate
ICYMI, EIA bullish fracking forecasts are based on coarse-grained studies of major formations. New analysis shows such formations have smaller "sweet spots," and so more conservative forecasts are warranted [Nature].
Drillers pulling back from marginal fields in North Dakota to sweet spots [Reuters]. "200-person 'man camp' to house oil workers" on hold. Is that what they call them? "Man camps"? Yikes.
Mapping project confirms pullback: "it's clear that drilling has contracted to focus mainly on a core area in the center, rather than pushing out into new areas" [Wired].
Center for Biological Diversity files suit to force the Bureau of Ocean Energy Management and the Bureau of Safety and Environmental Enforcement to disclose fracking operations in the Gulf of Mexico [Grist]. What, they're secret?
Gas terminal proposed 19 miles off Jones Beach, New York, and 29 miles off Long Branch, New Jersey [Yahoo]. Developer swears up and down it's for import, not export.
77 Ohio earthquakes caused by fracking, seismologists show [Bill Moyers]. The Moyers web site hasn't slowed down any.
Class Warfare
One reason to take money away from the 1%: "For the children" [New York Times]. Their children.
Stats Watch
Overtime for durable and non-durable goods workers highest since crisis [Joe Weisenthal].
The mean duration of unemployment remains extraordinarily high [Joe Weisenthal].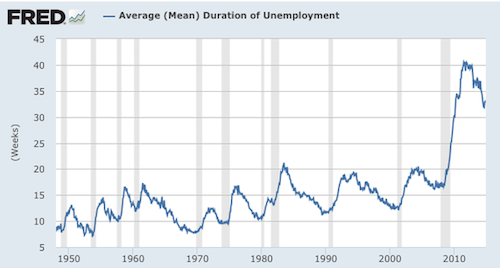 I don't see why "state terrorism" is too strong a term for this.
News of the Wired
* * *
Readers, feel free to contact me with (a) links, and even better (b) sources I should curate regularly, and (c) to find out how to send me images of plants. Vegetables are fine! Fungi are deemed to be honorary plants! See the previous Water Cooler (with plant) here. And here's today's plant (furzy mouse):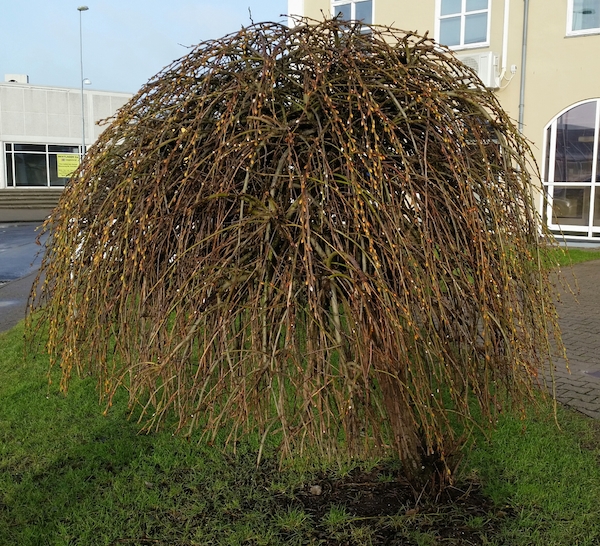 Willow tree in Svendborg. And I have to say, I have never seen a willow that looked like that.
If you enjoy Water Cooler, please consider tipping and click the hat:
Talk amongst yourselves!