By Lambert Strether of Corrente.
2016
Democrats set fundraising record in 2014: $131 million [New York Times]. That's a lot of money to light on fire and throw in the air.
Bernie Sanders adds three stops to Iowa trip [Des Moines Register].
Bernie would run against Wall Street, not Clinton [WaPo]. "The truth is, there is profound anger at both political parties."
Hillary Clinton agrees to testify before House Benghazi panel [CNN]. If her voice can be heard over that high-pitched warbling sound.
"My own experience in the Clinton crosshairs stands as a good example of why her 'old' approach to the press often backfired" [Bloomberg]. Good luck to the Hillary campaign with the reverse beat sweetening. Of course, the press is never part of the story.
Dean rolls over, widdles as wingers froth and stamp after his American Sniper comments [HuffPo]. And I don't even hate the guy! But Democrats should really stop doing this. Say it with me, HoHo: "I'm sick and tired of going on TV and apologizing just because some wingnut operative got his knickers in a twist." Take the party back, mkay?
Establishment
Let The Mittster be The Mittster, i.e., a Mormon [Bloomberg].

"Jeb Bush's Secret Weapon" [The Hill]. Is it time for the wife story already?

Both Jebbie and The Mittster should give Iowa a miss [Boston Globe].
Principled Insurgents
Koch donors like Rubio, dislike Paul [Politico]. I am, very reluctantly, placing Rubio in the "Principled Insurgent," rather than the "Clown Car," category.
Koch Brothers hope to spend $889 bmillion in 2016 [Reuters].
Perry loses second request to dismiss criminal case against him for "abuse of official capacity and coercion of a public official — two felonies" [Austin Statesman].
The Hill
Republicans lose cloture vote on Keystone [Talking Points Memo]. Reid is much better on defense than offense (which isn't saying much, I grant).
Senate Republican trial balloon on eliminating filibuster for Supreme Court nominees pops [Politico].
Black Injustice Tipping Point
Obama to helicopter in for Selma march on Saturday, March 7, instead of the march commemorating "Bloody Sunday," March 8, which the locals have been holding for years, and for which people had already made plans [Alabama Media Group].
Corruption
AG nominee Loretta Lynch, asked to disclose all media interviews in Senate Judiciary questionaire, omits her interview with CBS on HSBC, defending a cost-of-doing-business fine/no criminal prosecution deal after HSBC laundered Mexican drug cartel money [International Business Times].
"Shelly is only the (apparently) most talented and prominent crook in a system of governance practically custom-built to enable graft" [The Albany Project]. Can somebody who really understands New York State politics expand on this story? We've got "three men in a room," which would be Silver, Bruno (the Republican leader), and Cuomo. And the sense I get of New York State corruption is that it's a fabric a lot like felt: Fibres beaten together so closely that they can't be separated. So how come we're only hearing about Silver? And while we're at it, Preet Bharara's a former aide to New York Senator Schumer. Is Schumer Bharara's backer? And what about another New York Senator, esconced with her famous, Foundation-heading husband in the pleasant hamlet of Chappaqua? And then there's Wall Street. And New York Real Estate. If the New York State government is as pervasively corrupt as the Silver case seems to show it is, then how is it all the other power brokers have clean hands and, more to the point, pockets?
"The Monopsony Of Sheldon Silver [Albany Project, part one and part two]. Good stuff, especially "big data" style money-flow chart in part two.
TED talk on corruption from Peter Eigen, founder of Transparency International [TED].
Fear
"Fearful voting shifts the whole polity to the right" [George Monbiot, Guardian]. Very encouraging on UK greens.
Former FBI assistant director Thomas Fuentes: "If you're submitting budget proposals for a law enforcement agency, for an intelligence agency, you're not going to submit the proposal that 'We won the war on terror and everything's great,' cuz the first thing that's gonna happen is your budget's gonna be cut in half" [PrivacySOS]."You know, it's my opposite of Jesse Jackson's 'Keep Hope Alive'—it's 'Keep Fear Alive.' Keep it alive."
Health Care
Adminstration to overhaul Medicare payment structure with HMOs ACOs [Bloomberg]. From the same team that launched the ObamaCare website!
"[T]he government wants to link payments to how well providers take care of patients" [Businessweek]. For some definition of "well." Maybe Rahm Emmanuel's brother Zeke's "Go die if you're over 75?"
"Data on Health-Care Price Variation Doesn't Itself Solve the Problem" [Wall Street Journal]. Transparency's not helpful when there's a power asymmetry between seller (insurance company) and buyer (you, for example).
Indiana governor Mike Pence expands Medicaid, given ObamaCare waiver [Wall Street Journal]. "[S]trict requirements on some Medicaid enrollees to pay a portion of their premiums."
Big Brother Is Watching You Watch
Reporters go to jail, torturers walk the streets. That's Obama [Dan Froomkin, The Intercept]. Not to mention banksters.
DEA proposed tracking license plate numbers at gun shows to Justice [Wall Street Journal]. Nutty, especially when there's Occupy and peaceful Ferguson protesters to infiltrate, besides all that quality agent provocateur work. And so many banksters to ignore.
Mexico
Mexican AG: "[T]he evidence allows us to determine that the [43 missing Ayotzinapa] students were kidnapped, killed, burned and thrown into the river" [New York Times]. 100 people arrested, 39 confessions "obtained."
"The 43 Mexican students who disappeared four months ago were murdered on the orders of a drug cartel who mistook them for members of a rival gang" [Reuters], based on the testimony of a hit man [Fusion]. Yeah, oopsie [nods head vigorously]. From way outside, it doesn't even look like the elite can construct a coherent narrative on this, evidence of serious dysfunction.
At a news conference Tuesday, the parents of the students refused to believe authorities, even suggesting the Mexican military (!) might've been behind the disappearances [CNN].
"Earlier this month, a student from the group who escaped the massacre implicated the army in the disappearance" [Independent]. Of course, I'm bringing my biases to this. I'd welcome commentary from people who know Mexico much better than I do.
Class Warfare
"[S]o far all of the gains of the recovery have gone to the top 1 percent" [New York Times]. Quality work from Obama on this. He even did better than Bush!
The 1%, state by state [HuffPo]. $274K in Maine, $678K in Connecticut. $555K in DC.
Thoma quotes huge slab from one Daniel Little on French "Marxist" theorist Althusser, complete with diagram [Economist's View]. Refreshing, but that diagram should have reminded somebody of E.P. Thompson's "Orrery of Errors."
News of the Wired
* * *
Readers, feel free to contact me with (a) links, and even better (b) sources I should curate regularly, and (c) to find out how to send me images of plants. Vegetables are fine! Fungi are deemed to be honorary plants! See the previous Water Cooler (with plant) here. And here's today's plant (MM):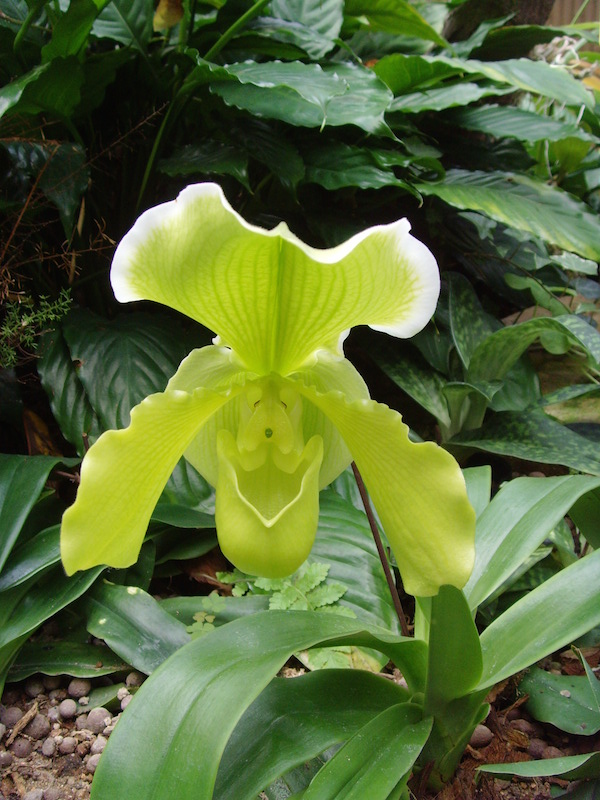 Yet moar orchids, very nice in winter!
If you enjoy Water Cooler, please consider tipping and click the hat. It's the heating season!
Talk amongst yourselves!