By Lambert Strether of Corrente.
Grexit?
I love this cartoon; in the end, it may show the most enduring and least predictable effect of the Syriza victory. It reminds me, in both execution and theme, of the famous New Yorker cartoon: "Let's all go to the Trans-Lux and hiss Roosevelt."
Syriza says Troika agreement on debt is dead… @russian_market A 'beautiful' election night for almost everybody… pic.twitter.com/UWFQPv03mk

— María Uría (@mintaka51) January 25, 2015
(NOTE: I'd link to the original in the Chattanooga Times-Free Press, but I can't find it.)
Herd on the Street
European stocks shrug off Greek news [Wall Street Journal]. Ditto the Euro.
Wall Street opens flat [Reuters].
Hedgies bet oil will keep dropping [Bloomberg].
2016
Campaign advisers say the likelihood of a Clinton campaign went to 100 percent right after Christmas, when Clinton approved a preliminary budget and several key hires [Mike Allen, Politico]. April launch.
Top Democrat donor on fundraising after Clinton announces: "It's going to be like nothing you've seen. The numbers will be astounding" [The Hill]. In a good way, one assumes.
The cottage industry of Clinton hate [New York Times]. Brokers between oppo and the press…
Meanwhile, Jebbie pities the poor immigrant [Yahoo News].
Republicans shut out Univision from presidential debates [HuffPo].
Walker in Iowa: "When he said he won reelection as Milwaukee County Executive in an area where President Obama won by a two-to-one margin, some in the audience gasped" [The Hill]. I told you to watch this guy. He stomps Democrats. The base likes that.
Bats at the "Freedom Summit" in Iowa [Bloomberg]. Sounds dull. Attending: Christie, Walker, Cruz, Perry.
Christie forms PAC, hires aides [New York Times].
Republican Clown Car
Palin muses on 2016 [Politico].

Donald Trump muses on 2016 [Independent]
Kos considers run for Congress, in Barbara Lee's district, CA-13 [New York Times]. It would be sweet to see one of those tough Richmond Greens take him on.
Corruption
New York Democrats proceed with fundraiser for Sheldon Silver February 9 [Capital Times]. So awesome.
Silver on the hook with state probe, besides the Feds, for never revealing his financial involvement with Goldberg & Iryami, a small firm that represents developers [New York Daily News].
"Law Firm at Center of Silver Scandal Donated Huge Sums to Dems" [New York Observer].
Rahm could be forced into run-off by weakly funded opponent [Reuters]. This goes under corruption because Rahm.
America the Petrostate
ICYMI: "3 billion gallons of wastewater were illegally injected into central California aquifers and that half of the water samples collected at the 8 water supply wells tested near the injection sites have high levels of dangerous chemicals such as arsenic and thallium" [Desmogblog]. But jawbs and groaf!
Some Colorado lawmakers say cities that ban fracking should have to pay the owners of the mineral rights who are impacted, and the cost could run in the millions of dollars [CBS Denver]. Of course, if we had decent retirement security, this wouldn't be such a concern.
Two months after Illinois opened the door to hydraulic fracturing, only one company applied [WaPo]. "Smart people don't invest in things that break-even."
Black Injustice Tipping Point
"He fits the description" [Mediaite]. Yeah, he was a black guy!
The cascade of failure in the Tamir Rice shooting [New York Times]. From Rice's standpoint, at least.
How subprime nuked Prince George's County, VA, " the wealthiest majority-black county in the United States. It was also the epicenter for mortgage failures in Maryland" [WaPo].
ObamaCare
Health officials are scaling back the amount of consumer data shared with private companies [The Hill]. "It's unclear the scope of data on the site still available to third parties." Shocker, huh?
Healthcare.go sign-ups near 7.2 million [Modern Healthcare].
Why Republicans must have believed that ObamaCare subsidies were universal [The New Republic]. Not sure how this process esoterica will play on cable. Gruber is also on record disagreeing. Such a mess. Can we even know what legislative intent was?
Class Warfare
DeBlasio is trying to blend liberal politics and identity politics, but that can't be done [New York Times]. "Politically, economic populism trumps identity-group appeals."
News of the Wired
* * *
Readers, feel free to contact me with (a) links, and even better (b) sources I should curate regularly, and (c) to find out how to send me images of plants. Vegetables are fine! Fungi are deemed to be honorary plants! See the previous Water Cooler (with plant) here. And here's today's plant (MM):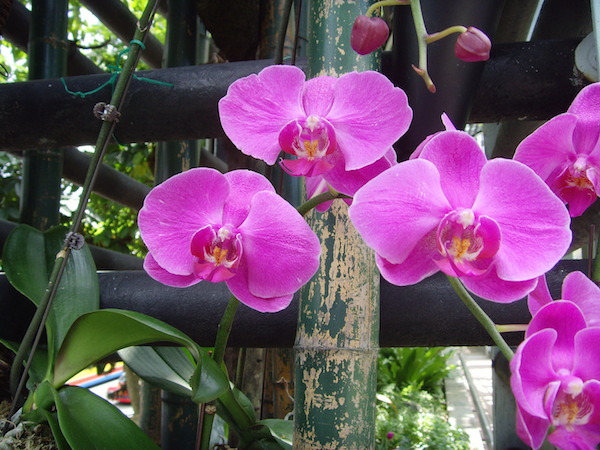 Moar orchids, very nice in winter!
If you enjoy Water Cooler, please consider tipping and click the hat:
Talk amongst yourselves!