By Lambert Strether of Corrente
2016
"How to speak Warren"; a translation of Warren's speech to the AFL-CIO [ABC].
By using 1980 as a turning point in her arguments about the disappearing middle class, Warren indicts Reagan-era "trickle-down" economics. But she makes clear that the presidencies of Bush, Clinton, Bush, and Obama didn't change those trends.
As ever, Warren's good on the cancer. But her policy prescriptions amount to hospice care.
If Warren keeps giving high-profile speeches like her AFL-CIO speech, her supporters will have more than the lack of a Sherman statement to back up the idea that she might be coaxed into a 2016 bid [National Journal].
Joe Trippi: "It looks increasingly to me like [Warren's] thinking about actually making a run, but at the same time not taking the steps necessary to actually pull it off. She's got to start putting a campaign effort together or an organization together" [WSJ].
Rubio, in his totally not campaign fodder new book, positions himself as a conservative populist hero, opposed to crony capitalism, just like Elizabeth Warren [National Journal]. "There is only one American Dream."
Rubio declines to make Sherman statement at National Press Club [McClatchy].
Jebbie to release a decade of tax returns [Politico]. In contrast to Romney. Getting serious!
Scott Walker putting together campaign team [CNN].
Christie's chances are over-rated: He's too moderate, lacks discipline, and no longer "electable" (BridgeGate) [FiveThirtyEight].
Santorum floats image rebranding as uniter not divider [Bloomberg]. Hilarity ensues.
The Hill
McConnell claims that "the expectation of a new Republican Congress" gave the economy a boost [WaPo]. So I guess we're going to factor political polling into dynamic scoring, then? If so, which pollster? Gallup? Rasmussen?
New rules governing the house: Dynamic bullshit scoring, moar Benghazi, fewer Committee reports, no vote for the plantation D.C. [WaPo]. And, of course, gutting Social Security. So what, Dick Durbin, is wrong, exactly, with "gratuitous and wanton" filibusters? They certainly worked for the Republicans! [Talking Points Memo].
Charlie Hebdo
"This horrific murder was not a pious protest against the defamation of a religious icon. It was an attempt to provoke European society into pogroms against French Muslims" [Juan Cole].
"Sharpening the contradictions" is the strategy of sociopaths and totalitarians, aimed at unmooring people from their ordinary insouciance and preying on them, mobilizing their energies and wealth for the perverted purposes of a self-styled great leader.

The only effective response to this manipulative strategy …. is to resist the impulse to blame an entire group for the actions of a few and to refuse to carry out identity-politics reprisals.
Besides the twelve cartoonists, the gunmen killed a police officer (Muslim) and a copy editor (Muslim) [Bloomberg]. Meanwhile, Marine Le Pen takes the high road [Reuters]. Canny. Presidential, even.
"Je suis Charlie" demonstrations, as Parisians hold up pencils and pens in solidarity with dead journalists [Globe and Mail]. Map [Le Monde].
"So we must all try to be Charlie, not just today but every day" [George Packer, The New Yorker]. Well, except for the bigotry.
Ron Paul: It's the West's overall foreign policy which "invites retaliation." [Buzzfeed].
Calm demeanor and co-ordinated movements of gunmen suggest professional training (French government videos) [McClatchy].
Hunt for gunmen continues [Guardian]. "A police source told Reuters news agency that one of the suspects had been identified by his identity card, which had been left in the getaway car." Look! A clue!
Suspect appeared in 2005 jihad documentary [Vice]. More on Sharif and Said Kouashi, the two brothers for whom the French police are searching [Juan Cole].
NYPD Soft Coup
New York courts idle as cops make only "make the arrests we absolutely have to" [New York Times]. I hear the sound of rice bowls being broken….
Again, NYPD's "broken windows" policing is a revenue-generating tool, and not about justice at all. It's Ferguson writ large [Gawker]. A tax on poor people for being poor, while malefactors of great wealth walk the streets. Who's running the country? The Bourbons?
NYPD "New York City police union leaders said they rejected Mayor Bill de Blasio's leadership" [Reuters]. Really? Last I checked, DeBlasio was elected Mayor by the citizens of New York. So does the NYPD plan to select a new mayor, Praetorian Guard-style? Of course, if this were ancient Rome, we'd just write the NPYD a huge honkin' collective check for "overtime." And perhaps that's the problem?
Police protests of the past, including 1981 in Milwaukee, similar to the current NYPD protest [Marshall Project].
Black Injustice Tipping Point
Geographic distribution of prisoners by county, with handy map: "Florida, Arizona and California stand out as states with sizeable corrections populations in just about every county [WaPo]. The US has more prisons than colleges, or, to put this another way, prison is our primary educational institution.
Ferguson activist DeRay Mckesson on "hashtag activism" [The Atlantic]. IMNSHO, hash tag activism is worse than useless unless it generates events on the ground, in real time and space. But that is what the Ferguson activists have been able to do.
ObamaCare
High deductibles lead the insured "middle class" to postpone care [USA Today].
Post mortem on Shumlin universal health care debacle by Dr. Margaret Flowers [Health Insurance Exchanges News].
Class Warfare
In Seattle, correlation between income and vorting for Socialist City Councilor Kshama Sawant strong, but by no means perfect. Handy maps [Seattle Times].
Water
"4 Things to Know Before Your Water Is Privatized" [Next City]. Round-up with sources.
Battle in Portland, OR over privatizing public reservoirs. Cronyism, naturally, is involved [Truthout].
Byzantine complexity in East Orange, New Jersey, as Water Commission executives indicted for concealing the presence of industrial solvents in drinking water [Star-Ledger]. Can't tell the players without a scorecard. I wonder how often this scenario plays out, nation-wide?
California frackers want to inject fracking water back into the aquifer [Bakersfield Now].
Climate Change
For the first time in recorded history, temperatures in Anchorage did not drop below zero once in an entire calendar year [McClatchy].
Nature study: "Our results suggest that, globally, a third of oil reserves, half of gas reserves and over 80 per cent of current coal reserves should remain unused from 2010 to 2050 in order to meet the target of 2 °C" [Salon (study)]. Well, of course we should leave that stuff in the ground. It's taboo!
News of the Wired
* * *
Readers, feel free to contact me with (a) links, and even better (b) sources I should curate regularly, and (c) to find out how to send me images of plants. Vegetables are fine! Fungi are deemed to be honorary plants! See the previous Water Cooler (with plant) here. And here's today's plant (craazyman):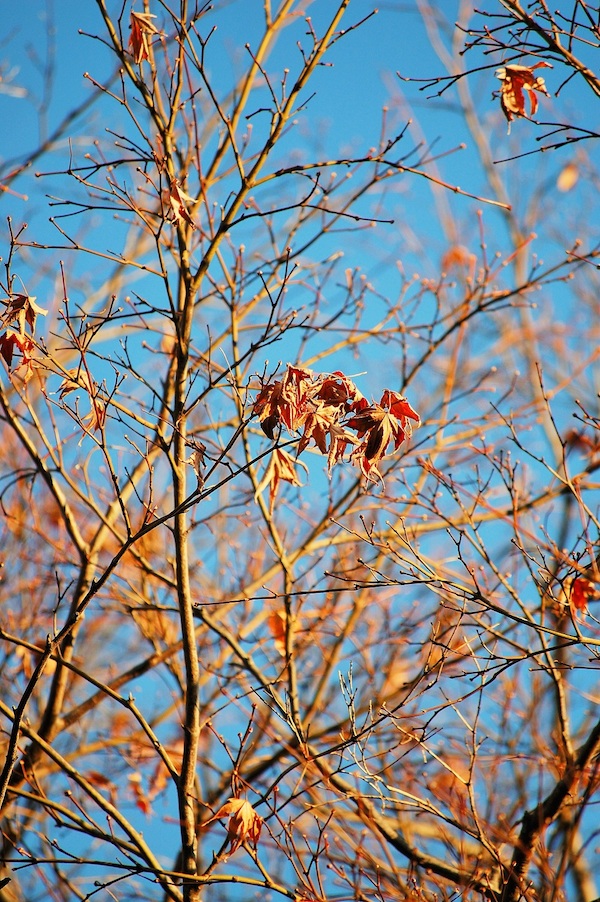 When yellow leaves, or none, or few, do hang…
If you enjoy Water Cooler, please consider tipping and click the hat:
Talk amongst yourselves!