By Lambert Strether of Corrente
2016
Political dynasties: Bush, Clinton, Paul, Cuomo… [New York Times]. So where the heck are the Gracchi Brothers?
Jebbie to recycle W's "compassionate conservatism"? [NBC]. If so, somebody should ask him how he feels about Social Security cuts.
Jebbie's Foundation for Excellence in Education is a better scam than any scam Neil Bush ever ran [WaPo]. Even if — by which I mean "exactly because" — the Gates Foundation did give it $5.2 million to promote Common Core.
Boehner re-elected speaker with all but 25 Republican votes [The Hill]. A historic victory, and that's not enough for Republican ultras. Catch Democrats acting like that… And then Boehner punished the 25. Catch Democrats acting like that, especially to Blue Dogs.
Rubio's written a book. He wants to turn Medicare into a voucher program [Tampa Bay Times].
Black Injustice Tipping Point
Interview with Michael Brown's father [Esquire]. "We was treated like we wasn't parents, you know? That's what I didn't understand. They sicced dogs on us. They wouldn't let us identify his body. They pulled guns on us."
"Broken windows" policing theory in New York made law enforcement a revenue source, exactly like Ferguson. Who knew? [WaPo].
IED explodes outside NAACP headquarters in Colorado Springs, Colorado [Denver Post].
A critique of Oprah's critique of #BlackLivesMatter [Vox]. Readers who have been following Water Cooler know that, contra Oprah, there's plenty of leadership, and plenty of strategic planning, and plenty of tactical brilliance in the movement whose epicenter was Ferguson. The Civil Rights movement was then. This is now.
Corruption
Judge gives former Virginia Governor McDonnell two years, instead of the ten to twelve prosecutors recommended [Los Angeles]. So, to review, if you sell loose cigarettes on the street in New York, you're dealt summary execution and choked to death, and a grand jury will call it good. But if you put your elected office up for sale, a judge will be "moved by the hours of tearful testimony" and slap your wrist. Alrighty then.
Chinless wonder Fred Hiatt's Editorial Board: "[T]he real punishment for former Virginia governor Robert F. McDonnell is disgrace" [WaPo]. Yes, indeed. Assuming such a thing to be possible in the Beltway, of course.
Stats Watch
ADP Employment Report, December 2014: Private payroll growth of 241,000, within consensus range [Bloomberg].
Gallup U.S. Job Creation Index, December 2014: "[T]he Job Creation Index has essentially remained at the same level for the past eight months, suggesting the job market plateaued in the latter half of 2014. Still, the score for the final month of the year is markedly higher than in previous Decembers" [Bloomberg].
Water
Judge to weigh conflict of interest argument in "Freedom Industries" case [Charleston Daily Mail]. Get a load of this:
Both [Freedom President Gary] Southern and [former company executive Dennis] Farrell have asked the federal judge to disqualify U.S. Attorney Booth Goodwin's office from the case, saying there is a conflict of interest because the prosecutor's employees were affected by last January's chemical leak, which affected 300,000 people in nine counties.
So, the spill is so massive that it affected personnel in the prosecutor's office… who must then be disqualified for conflict of interest. Chutzpah? That theory would also make suing for global warming impossible, since there's nobody on the planet without conflict.
Federal officials overlooked risks of fumes when people flushed their pipes after the "Freedom Industries" chemical spill on Elk River in West Virginia [AP]. Here's the study. And here's a fine local blog post.
West Virginia's Public Service Commission says that West Virginia American Water provided "significantly over-redacted" documents for an investigation into its response to the "Freedom Industries" chemical spill [West Virginia Gazette].
West Virginia DEP: 1100 storage tanks "not fit for service" [Metro News]. Well, we're only talking the headwaters of the Ohio River. What could go wrong?
Tree rings show California's drought the worst in 1200 years [EarthSky].
California water usage down 10%, but Governor Brown's goal was 20% [San Francisco Chronicle].
"When water goes bad, so do political relations" [The Atlantic].
America the Petrostate
Apparently, it's going to take a court case to get safety included as a criterion for issuing a drilling permit in Ohio [Cleveland Plain-Dealer]. Get a load of the picture: A drilling rig in a suburban backyard. Yikes.
ObamaCare
Analysis: Shumlin built 'lead airplane' for single payer [VT Digger].
News of the Wired
* * *
Readers, feel free to contact me with (a) links, and even better (b) sources I should curate regularly, and (c) to find out how to send me images of plants. Vegetables are fine! Fungi are deemed to be honorary plants! See the previous Water Cooler (with plant) here. And here's today's plant (Maria Moya):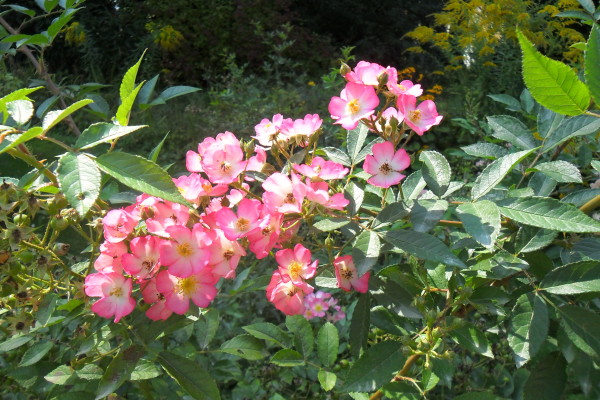 If you enjoy Water Cooler, please consider tipping and click the hat:
Talk amongst yourselves!