The Republicans have been quick and shameless in using their control of both houses to try to crank up the financial services pork machine into overtime operation. The Democrats at least try to meter out their give-aways over time.
Their plan, as outlined in an important post by Simon Johnson, is to take apart Dodd Frank by dismantling key parts of it under the rubric of "clarifications" or "improvements"* and to focus on technical issues that they believe to be over the general public's head and therefore unlikely to attract interest, much the less ire. However, as Elizabeth Warren demonstrated in the fight last month over the so-called swaps pushout rule, it is possible to reduce many of these issues to their essential element, which is that Wall Street is getting yet another subsidy or back-door bailout.
Today's example is HR 37, with the Orwellian label "Promoting Job Creation and Reducing Small Business Burdens Act". We've attached it at the end of this post. The Republicans sought to get it passed in the House on Wednesday using a fast track process referred to as a suspension of the rules, which is used for supposedly non-controversial bills. But the Republicans overplayed their hand. Enough liberal and banking reform groups lobbed objections to secure enough votes to prevent the bill from passing.
An overview from the Wall Street Journal:
A push by House Republicans to roll back a series of Wall Street regulations failed to advance Wednesday amid resistance from Democrats, an unexpected setback for the GOP's efforts to use its increased majority to ease financial rules.

Republicans were six votes short of the two-thirds support needed to advance the legislation, which included a controversial delay to a provision stemming from the 2010 Dodd-Frank requirement that banks sell stakes in certain complex securities. The bill failed by a vote of 276-146…

While the bill includes nearly a dozen modest provisions that had cleared the House or individual committees as stand-alone measures in the last Congress, Democrats focused their objections on one provision that would have delayed restrictions on bank ownership of certain debt securities. The restrictions, part of the so-called Volcker rule prohibiting banks from making risky bets with their own money, applies to bank ownership of collateralized loan obligations, or CLOs, which are complex securities that bundle together corporate loans as well as bonds…

"They had 11 bills in one and we thought that it needed to go through more of a process," said Rep. Elijah Cummings (D., Md.)…

The "Volcker' reprieve would have given banks until 2019 to sell their stakes in CLOs, benefiting J.P. Morgan Chase & Co., Wells Fargo & Co. and Citigroup Inc. that hold the largest CLO stakes, according to data compiled by SNL Financial last year.

Though the Federal Reserve has already given banks until 2017 to comply with the CLO restrictions, supporters said an additional delay is needed to prevent "fire sales" of the securities, which could cause banks to suffer big losses.
We don't agree that all the other measures were so modest, but the CLO matter is indeed a big deal.
CLOs are a type of collateralized debt obligation. They are made of risky corporate debt exposures: leveraged loans, junk bonds, or credit default swaps on high-risk corporate borrowers. Their structures are less risky than the type of asset-backed CDOs that blew up the global financial system. The flip side is that because the CDO meltdown was so dramatic and had such devastating consequences, the fact that CLOs took big mark to market losses in the crisis has been largely ignored (and like other complex, risky securities, the realized losses, which in the end were inconsequential, would almost certainly have been higher had the Fed not engaged in such heroics to goose asset prices and enable weak borrowers to refinance cheaply.
As Better Markets explains in a useful backgrounder, CLO exposures are concentrated at the biggest banks: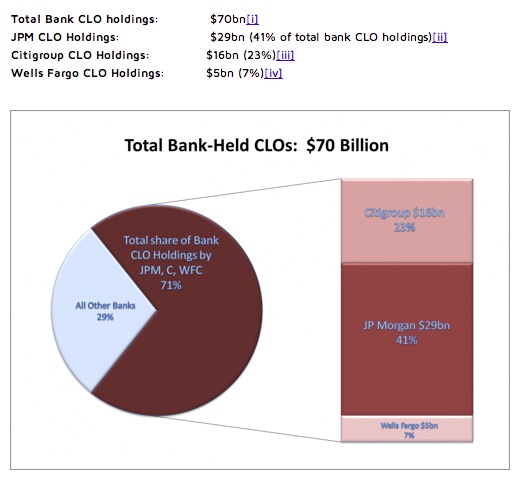 And they play two critical roles: helping banks finance private equity deals, which are a huge business for them, and as trading vehicles for their own account. As a Bloomberg article in February 2014 explained, tightening up on CLOs would restrict private equity funds' ability to get cheap credit.
To unpack this issue a bit, let's turn again to the Better Markets backgrounder:
What are CLOs?
CLOs are investment funds that consist of "leveraged loans", (huge, low-rated, corporate loans) which can be swapped in and out by the manager throughout the life of the fund.

Investing in a CLO is functionally identical to investing in a hedge fund

that invests in this kind of loan.

CLOs held by banks were – and continue to be – proprietary positions. Beneficial capital treatment of

CLOs

meant that banks could borrow cheaply and hold high-yielding

CLOs

on their books, capturing the difference as profit.

The specific features of

CLOs

(when it will mature, the kinds of investments it can make,

the rights and protections for each class of investor, etc.) are not publicly disclosed and are non-standardized

, so it is impossible to know how many

CLOs

exist with any given feature.

Importantly, it isn't clear which

CLOs

, or how many, would be affected by any change in the rule.
Keep in mind that CLOs that consist entirely of loans are excluded from the Volcker Rule. But a bank would generally create that type of CLO only for sale to third parties, so they would seem to fall outside the Volcker Rule on that basis (ie, this provision was a belt0-and-suspenders measure to clear up any ambiguity).
And the CLOs that the banks are keen to keep in-house are crucial for private equity firms, who are the biggest source of investment banking revenues for all of Wall Street. From a February 2014 BusinessWeek article:
Leveraged loans held in CLOs are "crucial" for leveraged borrowers, Elliot Ganz, general counsel at the LSTA [Loan Syndications and Trading Association], said in a telephone interview. "They are pretty much the only source of funding for many of these companies."…

CLOs, a type of collateralized debt obligation that pool high-yield, high-risk loans and slice them into securities of varying risk and returns, were the largest buyers of leveraged loans last year, with a 53 percent market share, according to the New York-based LSTA.
That percentage has almost certainly gotten higher. As structured credit maven Tom Adams said by e-mail last month:
Much of the recent energy boom has been financed with junk debt and a good portion of that junk debt ended up in collateralized loan obligations. CLOs are also big users of credit default swaps, which an important target of the Dodd Frank push-out. In addition, over the past 6 months banks were unable to unload a substantial portion of the junk debt originated and so it remained on bank balance sheets . That debt is now substantially underwater and, potentially, facing default. To hedge or hide the losses, banks are using credit default swaps. Hedge funds are actively shorting these junk debt financed energy companies using credit default swaps (it's unclear where the long side of those CDS have ended up – probably bank balance sheets and CLOs).

Finally, junk financed energy companies have been trying to offset the falling price of oil by hedging via energy derivatives. As it turns out, energy derivatives are also part of the Dodd Frank push-out battle.

Conditions in the junk and energy markets are pretty dire right now as a result of the collapse in oil, as you know. I suspect there are some very anxious bank executives looking at their balance sheets right now.

Since the derivatives push-out rule of DF was scheduled to go into affect in 2015, the potential change in managing their exposure may be causing a lot of volatility for banks now – they need to hedge in large numbers at the best rates possible. Is it possible that bank concerns (especially Citi and JP Morgan) about the potential energy markets are why DF has to be changed now?
The reason to expect such heavy concentration of energy debt in CLOs is that energy debt has made a big increase in its total share of the junk bond market, up from 4% ten years ago to 16% now. 16% might not seem like a big deal until you realize that the real increase in energy credit issuance happened in the last few years, so the proportion of energy borrowing to total risky borrowing was vastly higher of late so as to move the averages so much in a short time. And CLOs tend to have the heaviest exposure to the newest deals; for instance, with managed CDOs in the runup to the crisis, CDO managers would swap out older vintage subprime exposures for more recent vintage deals.
Needless to say, the outlook for energy prices and therefore energy-related debt has gotten only worse in the last month. As we've written repeatedly, and the Wall Street Journal confirmed yesterday, many US shale gas companies are continuing to operate at losses because they need the revenues to pay creditors. That means the supply glut and depressed prices will continue until their access to funding is cut off. And the longer the glut continues, the more companies will eventually run out of financial rope. From the Journal story:
Their need to service that debt helps explain why U.S. producers plan to continue pumping oil even as crude trades for less than $50 a barrel, down 55% since last June….

Energy analysts warn defaults could be coming. "The group is not positioned for this downturn," said Daniel Katzenberg, an analyst at Robert W. Baird & Co. "There are too many ugly balance sheets."

The industry is also expecting a wave of asset sales and consolidations…

And mergers aren't a panacea.

"To be a consolidator of a company that has a large cash-flow hole, you have to have the ability to fulfill that cash-flow need," said Dennis Cornell, managing director and head of energy investment banking for the Americas at Morgan Stanley. "You can't expect two companies with big problems with their cash flows to come together and mitigate that problem."
So ironically, one of the industry justifications for not wanting to unload CLOs now is true. They'd take big losses because future price declines are baked in. To put it another way, the values at which they are carrying them on their balance sheets are certainly inflated. Recall that it was widely believed that during the crisis, banks were similarly holding CLOs that were under water. They traded itty bit exposures with each other and with friendly hedge funds to establish fictive prices and justify the marks on their books.
And the irony is that if the banks had been forced to implement the Volcker Rule on a timely basis in the first place, they wouldn't be sitting on losses that they are keen to hide.
This isn't the only gimmie, as opposed to fix, in this bill. Oddly, just about no media account has taken notice of a provision, Title IV, which starts on page 8, which gives private equity firms a "get out of liability free" card for acting as unlicensed broker-dealers, at least on small and medium-sized transactions. As we discussed earlier this week, broker-dealer liability is a nuclear weapon for the SEC in enforcement negotiations with private miscreants. So it's hardly surprising to see that the industry has tried burying it in alongside other innocuous-seeming fixes, like allowing companies with less than $50 million in revenues to opt out of electronically tagging their annual reports to the SEC.
There is a bit of good news in this generally sorry but all too typical picture. Even though the Republicans can clearly get the bill passed in both house through normal processes, Obama has said he will veto this bill. That means the Democrats will put up at least a bit, and perhaps even more than a bit, of a fight. That in turn means the Republicans will need to offer enough in they way of concessions for Obama look like less than a total sellout (admittedly a low bar).
If the Republicans get stupid and bargain too hard, the process could take long enough that it drags on into the time when CLO losses become a hot topic in the business press. That would make it clear what this bill is really about and also require that Obama get a bit more than a cosmetic redo. In other words, the longer the negotiations go on, the more the climate will change to make it harder for each side to give ground and reach a deal. I'm not saying this scenario is likely, but this means there actually is reason to fight, and for you to call your Congresscritters and tell them you are sick of bank bailouts and you expect them to vote against HR 37.
____
* As we've said repeatedly and consistently in past posts on Dodd Frank, we consider the bill to be grossly inadequate. Moreover, it was designed to be weakened over time, with many critical issues relegated to studies and others set for delayed implementation, which as we can see here, allows the banking industry to keep fighting a rearguard battle. We've also stated that while we agree with the Volcker Rule in concept, its particular implementation left a lot to be desired, and we've discussed some easy-to-implement remedies. But even this weak reform is better than nothing, and the Republicans are clear about their agenda: "We disagree with all of Dodd-Frank."