By Lambert Strether of Corrente.
Let's start by recalling that ObamaCare does not treat health care as a right, and is not structured to provide universal coverage. As we wrote:
ObamaCare conceives of health insurance as a "shared responsibility" — the fines for mandate breakers are called "shared responsibility payments" — between the federal government, state governments, insurers, employers, and individuals, except not employers.)
Another way of looking at this Orwellian language is that "shared responsibility" guarantees a role in the system for a type of business entity that has no reason to exist: The private health insurance company. That is ObamaCare's basic requirement, and it drove ObamaCare's system architecture ("the marketplace") and its design. Again:
With a single payer system, "shared responsibility" would not involve handling a chunk of rent to the health insurance companies, since the tax system would handle this duty of citizenship.
All of the insane complexity I am about to describe — and which you are about to experience, on Tax Day — comes from ObamaCare's central requirement. It's not a bug. It's a feature.
The ObamaCare Income Tax Logic Tree
Here's a map of ObamaCare's useless complexity at tax time; the numbered subheads below come from healthcare.gov). ObamaCare's logic tree throws citizens consumers into three buckets, depending on how they consumed, or did not consume, their insurance coverage.
1. If you had 2014 health coverage through the Health Insurance Marketplace
If you had 2014 health coverage through the Health Insurance Marketplace, you should receive Form 1095-A in the mail in early February. Form 1095-A, the "Health Insurance Marketplace Statement," lists who in your household had ObamaCare policies, and their subsidies, if any. (Note that Form 1095-A comes from your insurer, not the IRS, so the IRS can't answer any questions about it.) However, those subsidies were based on the income you projected, back when you purchased the policy. Now it's time to reconcile your subsidies with your actual income, now that you finally know it. (If you've been accustomed to using Form 1040EZ, you can't do that, because there's no place to perform this calculation). You perform this reconciliation using Form 8962, which looks like this: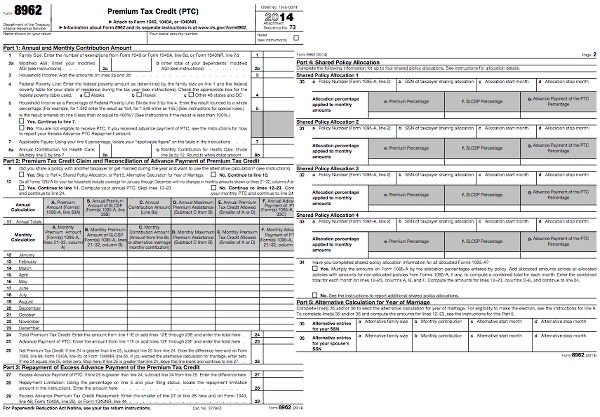 H&R Block has been gaming out this process with fictional couples, and here's one possible outcome:
["Dan and Lucy"] did sign up for health insurance last year. They even got a subsidy to help them pay their premiums.

"They were entitled to a $1,500 subsidy," Smith says.

But then Lucy got a part-time job [as part of that great recovery we keep hearing so much about], raising the family's income and reducing the amount of subsidy for which they were eligible. That means they'll have to pay the subsidy back.

"So that would come out of any potential refund," [H&R Block's Sue Ellen] Smith says. Or increase the amount of tax they pay, if they are not getting a refund.
So how many Dan and Lucy's are there going to be? Lots. The Los Angeles Times:
About 85% of the roughly 7 million Americans who signed up last year through government-run exchanges paid discounted premiums thanks to subsidies.

Experts project that 40% to 50% of families that qualified for financial assistance might have to repay some portion because their actual household income for 2014 was higher than what they estimated during enrollment.

Those repayments could range from a relatively small amount to thousands of dollars in some cases.

As part of his research at Vanderbilt, Graves analyzed household income data and estimated that the average subsidy is $208 too high.
Even better, Dan and Lucy probably didn't understand how the flying bits of the exploding Rube Goldberg device that is ObamaCare were going to hit them:
Public awareness of the penalties is very low. A survey published last month by the Kaiser Family Foundation found that 72% of people didn't know what the fines are in the health law.
So you can see why H&R Block would want its preparers briefed on how to break the glad news to clients, eh?
Let me pause here to reflect on the insanity of mandating that people with unpredictable incomes predict their incomes. Health Affairs (quoted by CNBC):
The authors said that more than 73 percent of people predicted to receive subsidies were in families that had income changes of more than 10 percent between the two years looked at, with a nearly even split between the number that had large income increases and the number that had large income decreases.

And "30 percent of the recipients were in families whose incomes increased more than 20 percent," and nearly 19 percent of the recipients had income increases of more than 40 percent, the study found.
To be fair, if people whose income had increased had reported the change promptly to ObamaCare, their subsidies would have been cut immediately, and they would have avoided the April 15 clawback. Try reading this story on the precariat if you want to see how only a Harvard professor could have dreamed up an compliance regime like that:
It has been hard. Over the past year, they have spent down the meager savings they once had. Luis, Josefa, Iris, and Sol — all four are fast-food workers. But on low, low wages and unreliable hours, they have to come up with $550 a month in rent for the studio. Then there are the utilities, the gas, the groceries, the schoolbooks, and the clothes.
Yep, reporting a temporary upward income blip to healthcare.gov is going to be totally the first thing Luis, Josefa, Iris, and Sol think about, even assuming they have access to the web site.
2. If you had 2014 health coverage from another source
If you had health coverage from another source, like a job, Medicare, Medicaid, or a plan you bought outside the Marketplace, life gets a lot easier: You just check a box, Box 61 on Form 1040, saying you're covered; no proof is required, though of course you're could be subject to an audit. Just for grins, I'll quote Jack Lew:
"For the vast majority of Americans, tax filing under the Affordable Care Act will be as simple as checking a box to show they had health coverage all year."
Yeah, the part of the sytem you didn't change is still sane!
3. If you didn't have 2014 health coverage
Here, there are two alternatives. First, you can pay a fine. The kicker here is that the fine will be larger than most people expect. The meme that the fine is $95 seems to have "stuck":
For those who were uninsured in all or part of 2014, much attention has been given to the $95 penalty. Few realize that the penalty may be as much as 1% of their modified gross adjusted income and rises to 2% in 2016 and 2.5% in 2017. While the government has been clear that it will apply the higher of the two penalties, this myth still persists.
This is a second scenario H&R Block has gamed out. Here "Ray and Vicky" attain enlightenment:
["Ray and Vicky"] they earn $65,000 a year. Neither has health insurance.

"The biggest misconception I hear people say is, 'Oh, the penalty's only $95, that's easy,'" Smith says.

But a lot of people like Ray and Vicky could be in for a surprise this year, Smith says. For the fictional couple, their fine will be much more than $95. "In this situation, it's almost $450."

That's because the penalty for being uninsured is $95 or 1 percent of income, whichever is greater.
To be fair, even though $450 is quite a hit, the clawback is capped:
To help ease the pain, the amount you have to pay back is capped based on your filing status and income as a percentage of the federal poverty line; for example, in 2014, a single taxpayer with income of between 200% and 300% of the federal poverty line cannot be required to pay back more than $750 of advance credit. But it's still going to hurt, particularly if you didn't know it was coming, and had budgeted on receiving extra cash, not paying an additional liability over to the IRS.
The good news is that you can file for an exemption from the fines. The bad news is that the process is — hold onto your hats, here, folks — butchered. healthcare.gov does not inspire confidence:
You can apply for some exemptions by filling out an exemption application. Others you can claim when you fill out your federal income tax form. Some you can apply for either way.
Encouraging! Here's a description of what you have to go through just to find out whether the exemptions apply in your case:
This tax-filing season brings the first enforcement of the Affordable Care Act's individual mandate–the complexity of which could become a boon for tax-preparation firms. The instructions for completing the mandate exemption form run 12 pages, list 19 types of exemptions (with multiple codes), and include worksheets that may require individuals to go to their state exchange's Web site to find the monthly premiums that will determine whether they had access to "affordable" coverage.
Anyhow, here's a list of the 19 types of exemptions.[1]
Oh, and don't expect any help from the IRS on any of this:
The Internal Revenue Service (IRS), which will play a starring role in the implementation of the ACA this year, has already forecast that they will receive upwards of six million additional calls from taxpayers seeking help, largely because of ACA tax code changes. They also estimate they will only be able to answer about half of these calls, with wait times of more than half an hour.
Enjoy your tax season!
The ObamaCare Income Tax Logic Tree Is in Itself a Tax Burden
First, ObamaCare's useless complexity is a tax on time, and for those who can't afford to have their accountants handle such things. Even Megan McArdle gets this:
There's been a lot of talk about the "hidden taxes" in the Affordable Care Act, but here's one I hadn't thought of before or seen mentioned anywhere: the sudden need for folks with simple tax returns to avail themselves of the services of a paid professional. If you have no income outside a modest salary, and not much in the way of potential deductions such as huge mortgage interest or state tax bills, then there was really no reason to use a tax preparer. Even the mathematically challenged should, with the aid of a calculator, be able to fill out their 1040EZ forms just fine. But Obamacare has introduced a significant level of complexity into the taxes of lower-middle-class wage earners. More of them are going to need an accountant to negotiate the process — or risk owing the government hundreds of dollars because they didn't fill out the forms correctly.

The money doesn't go to the government, of course, but in many ways this looks like a tax: Suddenly, people with simple incomes are going to need to pay a significant sum to keep themselves out of trouble with the IRS. This tax will be extremely regressive, because the people most likely to be hit by it are people whose incomes are (or have been) low enough to qualify for subsidies.
Second, ObamaCare's useless complexity will increase fees at tax preparation services:
On Wednesday, the CEO of the tax preparation firm H&R Block told the Reuters news service that the company expects about one in every four of its tax return customers to file either a form calculating their penalty for failing to have insurance or the form detailing the subsidies they received for their plans.

CEO Bill Cobb would not estimate the boost to H&R Block revenue this year from charging for the forms, but he did say that an outside analyst was correct in estimating that the charges could be between $5 and $30 per form.
And that totals up to a nice chunk of "change" for H&R Block:
[Wedbush Securities analyst Gil Luria] estimates about 13.9 million clients will visit H&R Block's retail locations. If 25 percent of them pay $30 to file one of the new forms, that would yield as much as $104.25 million in additional revenue for the company this year.

Cobb said he expected the new healthcare requirements to attract more new clients as well.

"Generally tax complexity is a good thing for H&R Block," Cobb said.
Third, ObamaCare's useless complexity decreases the value provided by tax preparation services. USA Today:
For many of these people, the tax refund is one of the biggest financial moments of their year, making it even more imperative that they understand the tax implications of the ACA.
The "Shared Responsibility Payment" ruins this "big financial moment" in two ways: First, the refund just may not be as big. Second, speaking from my own experience, the real value that H&R Block brings is peace of mind; the forms are filled out professionally, and I rest easy the job is done right. However, H&R Block isn't in the "peace of mind" business any more: That's why they're gaming out scenarios for how to deliver bad news to clients.
Conclusion
I put on my yellow waders, and I work through this crap, this steaming pile of crap that should not exist in the first place, a system that insults every citizen consumer forced to participate in it, and I think of France under the Bourbons, the ancien regime. People knew the ancien regime was broken for decades before 1789, and earnestly tried to fix it, but no fix was possible. Perhaps we will do better.
NOTES
[1] Haygood is right; those shut-off notices are "little tax shelters"; see exemption #3. (In fact, in Maine, which is cold and poor, shut off notices are routine during the heating season, which is why there are plans in place to stretch payments out.) Of course, having the notice and turning it into an exemption by filing the proper form are two different things.
NOTE
This post doesn't cover the "Cadillac Tax" on "lavish" health insurance plans, such as those available to Harvard professors. I must confess to a smidgeon of schadenfreude:
The [Cadillac] tax "is having the effect that was intended, which is the cost of these plans are being reduced," Christopher Condeluci, a former Senate Republican aide who helped design it, said in a phone interview. "Sadly, the way in which they're being reduced is they're shifting more costs onto the employees."
"Sadly" is rich, isn't it?