By Lambert Strether of Corrente.
2016
Clinton The Musical to open on Broadway in March, following success at Edinburgh Fringe Festival [Bloomberg]. Bill Clinton, unfortunately, although Hillary Clinton (Kerry Butler) has a supporting role.
Clinton campaign to locate in Brooklyn or Queens ("youthful feel") [MSNBC]. Surely, given the optics, Westchester was never given serious consideration?
Nice hash tag, that last one, Hillz [Twitter].
The science is clear: The earth is round, the sky is blue, and #vaccineswork. Let's protect all our kids. #GrandmothersKnowBest

— Hillary Clinton (@HillaryClinton) February 3, 2015
Establishment
Jebbie's going to run on "hope" [Wall Street Journal]. No, I'm not kidding. He actually used the H-word! So I've been asking what possible rationale for Jebbie's candidacy there could be, and I get this for an answer?
Principled Insurgents
Long form on Walker's youth at his father's church in Iowa [Journal-Sentinel]. Parishioners "remembered the boy starting a 'Jesus USA Club' to do good deeds and seek donations for a new flag for the Plainfield City Hall." So the union-busting would fit right in with that.

Limbaugh lines up behind Walker [Politico]. Ditto Drudge [Politico].

Paul grants audience to CNBC host: "When [host Kelly] Evans interjected, Paul raised his finger to his lips and said 'shhh'" [The Hill]. Stay classy, Rand!
Clown Car
Christie's "trade mission" hotel in London "has a Baccarat chandelier and masses of flowers refreshed every morning" [New York Times]. Well, I should hope so!

Huckabee went too far in attacking the Obama's childrearing practices, say 61% of likely Republican caucus voters Iowans in poll [Des Moines Register]. Walker first, then Paul, then Huckabee.

Jindal: "[C]onservatives can never hope to outspend the left by acting as cheap liberals" [Politico]. Of ObamaCare alternatives post-King v. Burwell.

Trump "making my own decision" and could "place a bet on himself" [New York Daily News]. One good thing: Trump would be an honest politician; he'd stay bought because he owns himself! Well, I assume….
Ben Carson backs vaccinations as safe [The Hill].
"The 2016 Republican field looks like the 2012 field on steroids — with many more well-credentialed contenders who have the potential to excite GOP primary voters" [Stuart Rothenberg, Roll Call]. For some definition of "well-credentialled."
So, whaddaya know. Demographic changes don't mean Democrats can just sit back and wait for their (identity politics-driven) majority to magically materialize. Who knew? [WaPo]. My advice: Democrats! Stop sucking!
Black Injustice Tipping Point
Sharpton addresses younger Ferguson activists: "They are pimping you" [Capital New York]. Constructive!
Rosa Parks papers at the LIbrary of Congress [WaPo]. Awesome must read.
Herd on the Street
Employment/population ratio trend line suggest Fed could be "patient" until 2016, or later [Council on Foreign Relations].
"Standard & Poor's has agreed to pay a record $1.375bn in the first major settlement for a credit-rating agency accused of inflating grades for mortgage securities linked to the financial crisis" [FT, "S&P to pay $1.4bn to resolve ratings case"]. Cost-of-doing-business fine, executives skate, nothing has changed, it will happen again, film at 11.
Over the past 18 months, the Royal Bank of Canada has moved to close many of its wealth-management offices across Latin America, prompted by scrutiny of potential money-laundering activities" [Wall Street Journal, "Money-Laundering Fears Fuel an RBC Retreat"].
Reserve Bank of Australia unexpectedly cuts rates [Bloomberg]. Joining fight against deflation, says headline.
The sad story of Radio Shack [Bloomberg]. Thanks to Bloomberg's wonderful new redesign, the very first thing I have to do is scroll past a screenful of crap to get to the lead. Thanks respecting my time and energy, Bloomberg.
UPS to apply surcharges to residential packages, after they spent a bundle mobilizing workers and equipment for a holiday shipping surge that never materialized [Reuters]. So the UPS brand is that customers pay for executive blunders? Is UPS branching out into cable?
Stats Watch
Factory orders, December 2014: "Factory orders fell a very steep 3.4 percent in December for a 5th straight decline. This is the longest losing streak since the collapse of late 2008 and early 2009." However, durable goods orders actually rose 0.1 percent, and less volatile nondefense capital goods excluding aircraft slipped only 0.1 percent [Bloomberg]. Strong dollar means weakening exports, along with slowing in the oil patch.
Redbook, week of January 31, 2015: Pick up, based on TV sales and sales of food and beverages for the Superbowk, despite winter weather [Bloomberg].
Gallup US Economic Confidence Indicator, January 2015: "[T]he first time a monthly average has been in positive territory since the recession [sic]" [Bloomberg]. Current conditions up one point, economic outlook by nine (!).
With a score of plus 1, middle- and lower-income Americans registered a positive reading for the first time in seven years; that score climbed eight points from December.

Upper-income Americans, whose annual household incomes are $90,000 or more a year, reached their highest level of confidence yet, at plus 15. This is the fourth consecutive positive monthly reading that higher-earning Americans have registered.
So we see Gallup accurately reflects how gains have been and, no doubt, will be distributed.
Health Care
HHS Secretary Burwell announces that she wants at least 30 percent of Medicare's $362 billion in fee-for-service payments moved, by 2017, into new Accountable Care Organizations [Bloomberg]. I think we tried that already, except with a different acronym: HMOs. Readers?
Corruption
On Silver: "[S]uffice it to say that making the core Progressive argument, that government can and should be a force for good, looks a little bit less compelling than it did two weeks ago" [Albany Project].
Feds focus on New York State Supreme Court's civil division, "the country's most important civil court," for ties with Silver [New York Post]. What they call "a web of influence." Great detail, must read.
Weak tea from Cuomo on corruption reform [Times-Union]. Proposals do not include public campaign financing or "LLC reform," "a force-multiplier for wealthy donors that's at issue in the federal corruption complaint against outgoing Speaker Sheldon Silver" [Times-Union].
Ten distinguished University of Connecticut professors withdraw support for Board of Regents President Gregory Grey over for-profit and on-online course content [Hartford Courant]. Since the educational benefits of these approaches are thin, to say the least, one might imagine there's some other reason….
Pennsylvania Democrat Treasurer McCord formally charged with extortion [Inquirer]. A former venture capitalist.
Class Warfare
Chinese workers become "bolshier" as economy slows; 2014 strikes and labour protests doubled to over 1,300 [Economist].
NBER: "Employment growth in 2014 was higher in counties that saw bigger declines in the duration of benefits. Overall, the authors estimate that the benefit cut led to the creation of 1.8m extra jobs in 2014—about two-thirds of the total" [Economist].
Oregon strippers, independent contractors, lobby for better working conditions [Island Packet]. That'll work until Uber enters the stripper market, I suppose.
News of the Wired
* * *
Readers, feel free to contact me with (a) links, and even better (b) sources I should curate regularly, and (c) to find out how to send me images of plants. Vegetables are fine! Fungi are deemed to be honorary plants! See the previous Water Cooler (with plant) here. And here's today's plant: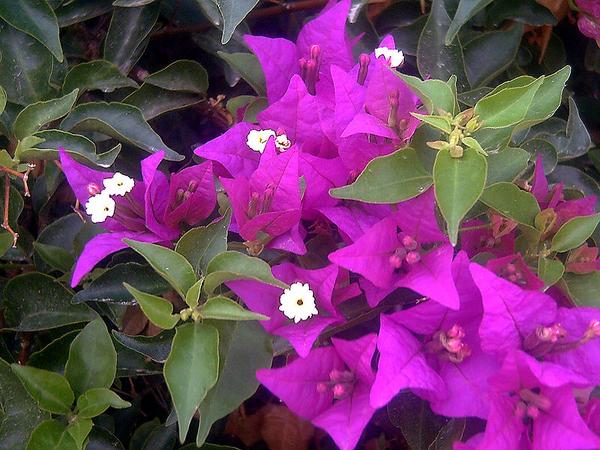 Bougainvillea — more tropical plants to fight off the winter!
If you enjoy Water Cooler, please consider tipping and click the hat. It's the heating season!
Talk amongst yourselves!