By Lambert Strether of Corrente.
2016
Clinton launch date, conflicting views: "Never interrupt your opponent when it's destroying itself" vs. "If [Hillary Clinton] is trying to avoid a coronation it really is a terrible way to go about it" [CNN].
"[I]f [Clinton] were to suddenly take herself out of the race in, say, two months' time, there would be a massive sense of doom within the party" [Chris Cilizza, WaPo].
"Bernie Sanders is right to be outraged" (!) [Dana Milbank, WaPo].
Sanders faults President Obama for the current demoralization. "I think he had a moment in history to do what President Roosevelt did in 1932," he says. "He had the opportunity to say to the American people, 'Look, millions of people have lost jobs . . . [and] it's because of what JP Morgan did, it's because of what Morgan Stanley did, what Goldman Sachs did."
This interview made the rounds, but it's interesting to see Sanders get relatively fair treatment from Pravda on the Potomac.
Establishment
Jebbie oppo: Republican front-runner remembered by classmates at Phillips Academy as a stoner who "sometimes bullied smaller students" [Boston Globe]. Well, let's be reasonable. Who'd want a President stupid enough to bully larger students?
Principled Insurgents
Walker leads Iowa [Des Moines Register]. He sold 'em with his summit speech. Jebbie's like fifth or something.

Walker on Syria: "I think we need to have an aggressive strategy anywhere around the world. … Ultimately, we have to be prepared to put boots on the ground [in Syria], if that's what it takes" [Political Wire]. Then tries to put the toothpaste back in the tube: "Well, I don't think that's an immediate plan." Oh, alright. (Gates chimes in.)

Rand Paul putting campaign infrastructure in place, meanwhile positioning himself as able to get things done across the aisle (!) [Wall Street Journal].

Rubio, says source at fundraiser, has "the fire in the belly" [The Hill]. But he's so short; only 5'8″, it's said. Too late for some lifts?
Clown Car
Graham on Syria: We'd need 10,000 "boots on the ground" to stop ISIS in Syria [The Hill]. Just doing the math, 10K boots means 5K bodies in boxes, tops. At least bodies that count, and assuming no blowback.

Rick Perry on gay rights: "I don't think Washington, D.C., needs to be having federal legislation that, again, tries to push all of us round pegs into square holes — and round pegs into triangular holes" [New York Times]. Block that metaphor!

Mike Huckabee on gay people: "This is not just a political issue. It is a biblical issue" [CNN].
The Hill
"Obama budget would fund public works program with tax on overseas profits" [WaPo]. No, it wouldn't, because Federal taxes don't "fund" Federal expenditures.
Herd on the Street
"Workers have downed tools at nine US oil refineries that account for 10 per cent of domestic capacity in a dispute about pay and conditions" [FT,"Nine US oil refineries hit by strike in pay dispute"]. First, the ports, now this.
Justice still, five years later, interviewing Moody's executives on whether they "bent criteria on how to assess structured-finance products to win business from Wall Street banks" [Bloomberg].
Eurodisney a nightmare for European investors [Reuters].
China Minsheng Bank's shares fell almost by 6 per cent as the president of the country's largest private lender resigned on Saturday after reports that he had been taken away to assist Chinese anti-graft investigators" [South China Morning Post].
Stats Watch
Gallup US consumer spending, January 2015: A drop expected post-Xmas, and "stronger than [estimates] in any January from 2009 to 2012" [Bloomberg]. Weisenthal: "Don't freak out."
Personal income and outlays, December 2014: "Moderately healthy," actuals in consensus range [Bloomberg].
PMI manufacturing index, January 2015: Output volumes and employment are strong, but new business growth held back on export weakness, oil and gas [Bloomberg].
ISM manufacturing index, January 2015: slowest rate of monthly growth in six months. New orders slow substantially; delivery times stretch out on West Coast ports labor-related slowdown [Bloomberg].
Debt Jubilee
Thousands of Croatia's poorest citizens will have their debts wiped out under the "Fresh Start" program. The government scheme aims to help some of the 317,000 Croatians whose bank accounts have been blocked due to their debts [WaPo]. Marc Andreessen (!): "This is probably a good idea for the US, if done randomly with different timing and criteria each time?"
UK Meltdown
Secret 1981 file naming Sir Peter Hayman, former high commissioner in Canada, as paedophile is released to public [Guardian]. And Maggie Thatcher was briefed.
David Hare, The Absence of War playwright: "The welfare state and the NHS, perfectly affordable when the country was desperately poor after the war are, we are told, mysteriously unaffordable now that the country is infinitely richer" [Guardian].
Hospitals that provide 75% of all NHS services refuse to sign budget deal, saying £1.7bn cuts involved will put patient care at risk [Guardian].
Health Care
"Medicare to Publish Physician-Payment Data Yearly" [Wall Street Journal].
Republicans to meet Groundhog Day on ObamaCare replacement plan, if they win King v. Burwell [Bloomberg]. Funny we never hear about what the Democrats will do. Perhaps Elizabeth Warren could introduce a single payer bill?
Corruption
No-bid Motorola contract for broadband in Harris County [McClatchy].
American the Petrostate
"The Pros And Cons Of Fracking" [The Onion].
Class Warfare
Blame the upper middle class (>$100K) not the 1% [Slate]. I think we should blame them both.
"'We may end up with a future in which a fraction of the work force would do a portfolio of things to generate an income — you could be an Uber driver, an Instacart shopper, an Airbnb host and a Taskrabbit,' Dr. Sundararajan said" [New York Times]. You first, Perfesser!
You can earn $13K a year selling, er, fecal transplants [WaPo]. Something to add to my "portfolio of things to generate an income"!
News of the Wired
* * *
Readers, feel free to contact me with (a) links, and even better (b) sources I should curate regularly, and (c) to find out how to send me images of plants. Vegetables are fine! Fungi are deemed to be honorary plants! See the previous Water Cooler (with plant) here. And here's today's plant (Alex):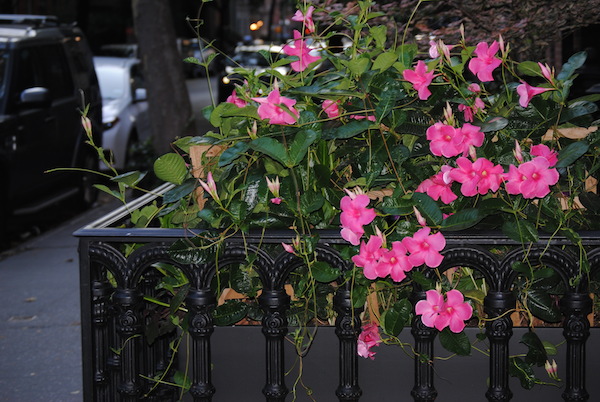 In Manhattan! Certainly a cheerful sight! Anyone else from "the city" with pictures? Perhaps with some snow?
If you enjoy Water Cooler, please consider tipping and click the hat. It's the heating season!
Talk amongst yourselves!