By Lambert Strether of Corrente.
2016
"The Clinton Foundation accepted millions of dollars from seven foreign governments during Hillary Rodham Clinton's tenure as secretary of state, " [WaPo]. Oopsie. This is starting to look a bit unseemly. I mean, especially since the "ethics agreement" must surely have been written to be gameable in the first place. Twisting, twisting, slowly in the wind….
Elizabeth Warren: TTP's ISDS "would undermine U.S. sovereignty" [WaPo]. Rather a contrast to the Clinton Foundation's trans- or indeed post-national fundraising model.
Elizabeth Warren goes on Al Sharpton's show [WaPo]. And then this happened:
SHARPTON: A lot of progressives have questions about whether she'll [Hillary Clinton] be a progressive warrior. what would you say to them?

WARREN: You know, I think that's what we gotta see. I want to hear what she wants to run on and what she says she wants to do. that's what campaigns are supposed to be about.
Ouch!
Establishment
Jebbie on the Iraq wars [Washington Examiner].

HEWITT: What interests me is not how the Iraq wars went or your opinion of your father's order to invade Iraq, or your brother's order to invade Iraq, but whether or not you'd be overly cautious about using force for fear of having a 'third Bush war' occur?

BUSH: That's an interesting question, and I'm glad you asked it. It wouldn't, if I was, if I decide to go forward with a race and I'm fortunate enough to go through that whole process, and God willing, win, then I would have a duty to protect the United States. And there are circumstances where a commander-in-chief, the president of the United States has to make tough decisions. And history's full of examples of that. I actually, Hugh, am quite comfortable being George Bush's son and George Bush's brother. It's something that gives me a lot of comfort on a personal level, and it certainly wouldn't compel me to act one way or the other based on the strategies that we would be implementing and the conditions that our country would be facing.

So, no problemo.
Principled Insurgents
Scott Walker: "I will always choose to focus on what matters to the American people, not what matters to the media" [USA Today]. An Op-Ed.
Clown Car
Biden: Strom Thurmond on his deathbed asked him to deliver his eulogy, which the then-senator did in 2003 [Boston Herald].

Paul: Clinton Benghazi ZOMFG!!!!!! [Yahoo News]. Hard to believe the 'Droid's pushing that when there's an actual Clinton fundraising scandal festering right in front of him.

Huckabee skips CPAC for religious broadcasters conference [USA Today].

Trump "more serious" than ever. "I'm not doing this for enjoyment. I'm doing this because the country is in serious trouble" [WaPo]. And Trump's doing warm-up for Jebbie at CPAC tomorrow.
"[CPAC] underwritten by the National Rifle Association, the Heritage Foundation, the Trump Organization Inc. and the Motion Picture Association of America in addition to much more modestly moneyed religious and small-government interest groups." [Bloomberg]. Well, that's a little unseemly, too. The "more serious" Trump is underwriting the organization that's letting him take the mic?
The Hill
Moderate Tim Kaine (D-VA) will boycott Netanhahu speech [Bloomberg].
TransCanada could use NAFTA's ISDS to sue the US government for stopping Keystone XL [Politico].
Herd on the Street
Bombardier CS300 loses out to Airbus/Boeing duopoly [Puget Sound Business Journal].
Royal Bank of Scotland Group will reduce the number of countries in which it operates by two-thirds to 13 [Bloomberg].
Hermès says its profitability likely narrowed in 2014 amid currency fluctuations and that revenue growth may slow in 2015 [The Fashion Law].
Stats Watch
Jobless claims, week of February 21, 2015: "[J]obless claims surged unexpectedly in the February 21 week, up 31,000 to a 313,000 level that is far outside the Econoday consensus" [Bloomberg]. Oopsie. Could be Presidents' Day?
Consumer price index, January 2015: "Overall consumer price inflation fell sharp 0.7 after declining 0.3 percent in December," on gas [Bloomberg]. "Excluding food and energy, consumer price inflation firmed to a 0.2 percent."
Durable goods orders, January 2015: Rebounded 2.8 percent, in consensus range. [Bloomberg]. "Nondefense aircraft surged a monthly 128.5 percent percent (!)."
Bloomberg consumer comfort index, week of February 2, 2014: The 1.9-point decline was the biggest since May 2014 [Bloomberg]. Retreat everywhere, including five of seven income brackets.
ObamaCare
Good explainer on King v. Burwell. Justice Badass Ginsberg, Roberts joining: "[T]he plainness or ambiguity of statutory language is determined [not only] by reference to the language itself, [but as well by] the specific context in which that language is used, and the broader context of the statute as a whole" [HuffPo].
"If the plaintiffs [in King v. Burwell] prevail, millions of people in 34 states who bought insurance on federal exchanges would suddenly lose the subsidies that make it affordable" [Bloomberg]. Out of left field: Could Obama just cover everybody by lowering the age of eligibility for Medicare to zero by executive order? Not a serious proposal, of course, since Obama doesn't care about covering everybody, but it shows the paucity of imagination on the Democrat's side. What's their Plan B?
Emmanueldammerüng
Democracy for America on Rahm being forced into a run-off: "Rahm Emanuel and his corporate cronies have awoken a massive grassroots army across the city committed to ending his agenda of privatization, public school closings, and pension cuts" [WaPo].
"[I]f we pair Emanuel's hollow victory with other recent, successful campaigns from the left — like Sen. Elizabeth Warren's thwarting of the Antonio Weiss nomination, or Zephyr Teachout's humbling of Gov. Andrew Cuomo — it's hard to deny that there's a change happening within the Democratic base" [Salon].
Mayor 1% had no coat-tails on the South Side [Chicago Tribune].
Black Injustice Tipping Point
Missouri's public safety director, chosen amid Ferguson unrest, resigns six months into the job to return to teaching [McClatchy].
Course title for half-day training session offered last month by the Illinois Association of Chiefs of Police: "Media Relations Training: Don't Be the Next Ferguson, Missouri!" [Chicago Tribune]. Idea: Stop whacking black people?
"No Charges for Georgia Officer Who Shot Handcuffed Man," George Smith [ABC]. "Many Grand Jurors were appalled that the police did not find Smith's gun despite the fact at least three officers are seen on video frisking him." Because the gun was a throw down?
"Denver's approach of restraint is being shared [during protests] by agencies across the country as experts say police interference can actually escalate violence and erode trust" [AP]. Interesting, if true, and if true, protesters will have to display adaptability. That's a good thing.
Police State Watch
"Federal air marshals assigned to protect commercial flights across the U.S. were furtively pulled from their assigned flights so they could meet for sexual trysts, get better routes or travel to cities they preferred" [Center for Investigative Reporting]. Comments one retired air marshall: "What kind of Mickey Mouse place is this?"
FBI has agent provocateur foment another plot by crazy people, then indicts them [The Intercept]. It's like the FBI is the Packers, and this play is their Power Sweep.
"De Blasio Prevails In Fight To Mass Arrest Peaceful Protesters" [Gothamist]. The headline is exactly right, if you consider put the judge's ruling in the context of conditions on the ground during an actual protest.
Corruption
SEC probes whether companies are muzzling corporate whistleblowers [WSJ]. This is interesting:
In recent weeks the [SEC] has sent letters to a number of companies asking for years of nondisclosure agreements, employment contracts and other documents….

Some of these types of documents sometimes include clauses that impede employees from telling the government about wrongdoing at the company or other potential securities-law violations…. In some cases, the firms require employees to agree to forgo any benefits from government probes, effectively removing the financial incentive for participating in the SEC program.
Hmm. I wonder if private equity firms use these techniques, and whether that accounts for the evident omerta in that so-called industry.
"Now known as American Dream Meadowlands, the sprawling project was known as Xanadu in the early 2000s when, federal prosecutors contend, Joseph Ferriero used his position as head of the Bergen County [New Jersey] Democratic Organization to squeeze nearly $2 million out of a developer" [AP]. "American Dream Meadowlands"! I love it!
Class Warfare
"Why It's So Difficult to Repair Stuff: It's Made That Way" [Of Two Minds (hunkerdown)]. "When something is assembled by robots, the appliance was designed to optimize assembly by robots. It was not designed to be easy to take apart by humans." And: "Just about everything nowadays is made with the intention that only the manufacturer, or somebody who has a formal business relationship with the manufacturer, will be able to repair it." So, class warfare against small repair business owners and crapification: It's a two-fer!
Following Walmart's lead, TJX Cos., owner of T.J. Maxx, Marshalls and Home Goods stores, will raise pay for U.S. workers to at least $9 per hour" [Talking Points Memo]. This doesn't even move the needle from savagely iniquitous to miserably inadequate. Even $15 per hour is too low, if you believe that productivity increases should be reflected in wages.
News of the Wired
* * *
Readers, feel free to contact me with (a) links, and even better (b) sources I should curate regularly, and (c) to find out how to send me images of plants. Vegetables are fine! Fungi are deemed to be honorary plants! See the previous Water Cooler (with plant) here. And here's today's plant, the fourth of Fungus Week (Rex):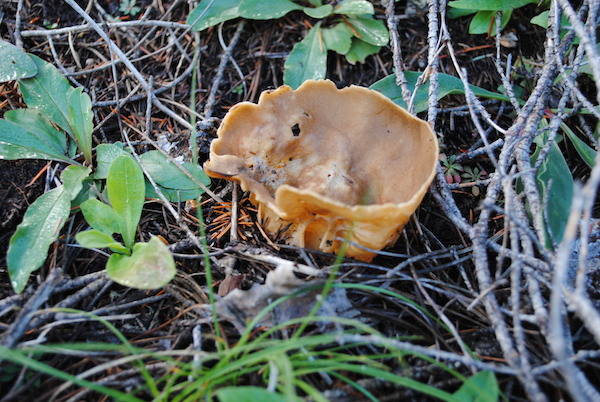 Those little green shoots remind us spring is coming!
Readers! How about sending me some plants under snow and/or ice? Seems appropriate?
If you enjoy Water Cooler, please consider tipping and click the hat. It's the heating season!
Yes, I've got to fix the hat! Thank you all for your generous help in the mini-fundraiser!
Talk amongst yourselves!