By Lambert Strether of Corrente.
2016
Bernie impressive in Iowa, "displaying an effective speech style and natural interactions with the event attendees.This was a better Bernie than I've seen before." [Iowa Starting Line]. In contrast to December, when he was "boring."
No answer lasted more than two minutes, a big contrast to Joe Biden's rambling and surprisingly terrible performance at Drake just a week ago (I asked a number of students about that, all of which agreed – Sanders came off much more relatable than Biden to them).
Ethics deal between the Clintons and the 2008 Obama transition team "imposed no vetting on donations to the Clinton Foundation by individuals or private companies in the U.S. or abroad" [Politico]. And these guys were lawyers?
Of Clinton donors: "Anytime there is a dynastic family, those connections can run very deep" [McClatchy]. Especially deep when you stack the bricks of cash vertically.
Hillary Clinton on Snowden: "[KARA SWISHER of Re/code:] Is Edward Snowden a traitor? HILLARY CLINTON: I could never condone what he did. He stole millions of documents." Many of those documents had nothing to do with civil liberties. [Re/Code]. Full video.
Gee, it sure is odd Obama couldn't drag Emmanuel over the 50% threshold needed to avoid a run-off [Chicago Tribune]. I mean, Obama's from Chicago. He's a community organizer. What's wrong with these voters?
That loveable goof, Joe Biden, should run to sharpen Clinton's campaigning skills [Slate].
Whoever's pushing this "reformicon"/"reform conservatives" line should really stop. There's no substance to it; just some "creative class" types with some media contacts, this time conservatives [Bloomberg].
Principled Insurgents
Quinnipiac poll: Walker leads Iowa poll at 25% of likely Republican caucus participants, taking "self-identified 'very conservative' and 'tea party" voters." Rand Paul second with 13%, then 11% each for Carson and Huckabee and 10 percent for Bush. No other candidate is above 5 percent and 9 percent are undecided" [Quad City Times].

Walker: "If I (am) a candidate, I'm not going to go out and attack my opponents" [Journal-Sentinel].

Walker: "I didn't inherit fame or fortune from my family" [WaPo]. Winces from Jebbie, The Mittster, and 'Droid.

Rubio: "There is only one nation capable of convening the freedom- and peace-loving people of the world to take action, and that's ours. But we won't as long as we're governed by a president who believes that America is often the cause of these problems, not the cure" [Bloomberg]. Because exceptionalism.
The Hill
The FCC is expected on Thursday to approve regulating Internet service like a public utility, prohibiting companies from paying for faster lanes on the Internet [New York Times]. We'll need to understand the fine print, but this does look like a win.
Stats Watch
MBA purchase applications, week of February 20, 2015: Ended 6 straight weeks of decline with a 5.0 percent rise, although negative year-on-year [Bloomberg].
New home sales, January 2015: Better-than-expected 481,000 annual pace, led by the South [Bloomberg].
ObamaCare
Treasury: "People who received incorrect tax information from ObamaCare will be allowed to keep the extra money in their refunds and will not have to refile their taxes" [The Hill]. Wow, it's like winning the lottery! So yes, one more proof ObamaCare is a crapshoot. Some people get lucky; others don't. To be fair, this is one way to boost aggregate demand…
Black Injustice Tipping Point
"To jail someone once for trespassing at their job is a miscarriage of justice. To do so repeatedly, over the objections of their employer, who owns the relevant store, is an absurdity" [The Atlantic]. So the employer complains. And the cops arrest the guy more.
Despite marijuana possession in Philly having been decriminalized, with arrests down, the majority of people arrested for pot are still overwhelmingly Black [Inquirer (PT)].
University of Queensland study: White privilege is real [New York Times].
"Black Girls Matter: Pushed Out, Overpoliced, and Underprotected" [Center for Intersectionality and Policy Studies, African-American Policy Forum (PDF)].
Corruption
Cuomo wants ethics reform bill to apply only to the legislature, not the governor's office [Albany Project].
Silver tries to get indictment quashed, on basis that Bhahara "excoriated" him [New York Times].
Police State Watch
A criminologist looks at the "disappeared" of Chicago's Homan Square "black and brown site" [The Atlantic]. I'm sure it's just a few bad apples. In just one city. And that DHS didn't know about it, especially the fusion centers. Or Rahm. Or Rahm's BFF, Obama.
Bratton: "Slavery, our country's original sin, sat on a foundation codified by laws and enforced by police, by slave catchers" [DNAinfo]. Note that Brattan ad libbed "slave catchers." And while we're at it, one reason to have a "well-regulated militia" was to put down slave revolts.
Class Warfare
Protests at Wisconsin state Capitol over so-called right to work legislation [Journal-Sentinel].
50 Shades of Grey: "[T]his fantasy requires a blindfold. …. You have to unlearn the rule of late-stage capitalism: Satisfaction is never guaranteed. Unless, of course, you happen to be on top" [Reuters]. Hmm. Capitalism is like a household dungeon? I'm not so sure.
BLS says "new" ("re-"?) entrants to the workforce are increasing. And keeping wages flat [Bloomberg].
News of the Wired
* * *
Readers, feel free to contact me with (a) links, and even better (b) sources I should curate regularly, and (c) to find out how to send me images of plants. Vegetables are fine! Fungi are deemed to be honorary plants! See the previous Water Cooler (with plant) here. And here's today's plant, the third of Fungus Week (RM):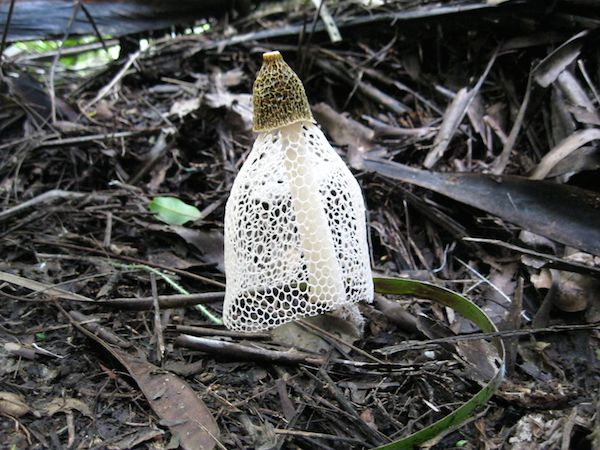 Readers! How about sending me some plants under snow and/or ice? Seems appropriate?
If you enjoy Water Cooler, please consider tipping and click the hat. It's the heating season!
Yes, I've got to fix the hat! Thank you all for your generous help in the mini-fundraiser!
Talk amongst yourselves!