By Lambert Strether of Corrente.
2016
Only the Clinton operation could milk a baby [Politico]. Even if the baby is named for the Bank of America's headquarters.
Pro-Warren group opens Manchester, New Hampshire office, hires state director and three field organizers (!) [Wall Street Journal, "Pro-Elizabeth Warren Group Opens New Hampshire Office "].
Grayson mulls Senate run [The Hill]. It would be fun to see Grayson take down Rubio. Only the horrid and unsuccessful Debbie Wasserman-Schultz stands in his way!
Iowa Poll: "Fifty-three percent of likely Republican caucus participants and 81 percent of likely Democratic caucus participants said they believe Islam is inherently peaceful" [Bloomberg].
Establishment
Jebbie the weak front runner: Leads in swing states, but even with Romney out, he only dominates in Florida [Quinnipiac]. Maybe when he figures out a better reason to run than "hope." That lightning won't strike twice.
Principled Insurgents
Walker's not a slam dunk because he could be soft on immigration and Common Core [Slate]. I don't agree. Walker stomps Democrats and busts unions. That trumps everything else. Out of curiosity, has anybody done any oppo fact-checking on Walker's book, Unintimidated?

Walker's budget address (transcript) [FOX6]. Having abandoned "social insurance" in favor of the pissant "safety net," Democrats now face the Republican talking point that a safety net shouldn't be a "hammock." Which is hard to argue against.
Clown Car
Christie refuses to grant audience to the press: "Is there something you don't understand about no questions?" [Bloomberg].

Ben Carson on source of measles outbreak: "These are things that we had under control. We have to account for the fact that we now have people coming into the country sometimes undocumented people who perhaps have diseases that we had under control" [Crooks & Liars]. At least Carson believes that vaccination works. But now I have to put him in the clown car. "According to the World Health Organization, about 93 percent of children in Honduras, Guatemala and El Salvador, from which a majority of undocumented children have emigrated from, have gotten a measles vaccination." Coverage in the US for one-year-olds is 91%. A small risk, already managed.
"Reformicons" (reform conservatives) are the new trend, apparently [Wall Street Journal]. "Their ideas are mainly marked by energy and youth and are getting a hearing among those considering presidential runs." First fresh idea: Cutting the minimum wage!
The Hill
About the "Freedom Caucus"… I believe the phrase you want to use instead is "glass bowls" [Roll Call]. Because this is a family blog.
Herd on the Street
Staples buying Office Depot [Business Insider].
Sony reports more than threefold increase in its quarterly profit, lifts its full-year outlook [Wall Street Journal, "Sony Results Give Hope for Electronics Business"]. Although results are provisional with hacking not taken into account.
Baltic Dry index at lowest level since 1986 [CBC]. Now 577.
Stats Watch
ADP Employment Report, January 2015: "slowing in job growth for January, to a lower-than-expected 213,000 for private payrolls" [Bloomberg].
Gallup US Job Creation Index, January 2015: "U.S. workers' perceptions of hiring at their places of employment are the most positive Gallup has recorded in any January since Gallup began tracking this in 2008. But the increase since last January came mostly in the first half of 2014. The index has since stalled, suggesting that the future of the jobs situation in the U.S. remains uncertain" [Bloomberg].
Mortgage Bankers Association Purchase Applications, week of January 30, 2015: "Low rates have yet to trigger much demand." "[D]emand for refinancing has been showing life" [Bloomberg].
Black Injustice Tipping Point
Ferguson PD trying "The Alternative," a "less lethal" device that docks on the gun barrel and melds with the bullet, slowing it [WaPo]. At least somebody's thinking.
How Grosse Point walled itself off from Detroit [Guardian]. With a Farmer's Market, among other things.
America the Petrostate
Bakken crude "bomb trains" along the Schuylkill, past apartment blocks, a children's hospital [6ABC]. What could go wrong?
Class Warfare
"The Big Lie: 5.6% Unemployment" [Gallup]. That's the President of Gallup writing, and if anybody knows what a Big Lie is, Jim Clifton does:
There's no other way to say this. The official unemployment rate, which cruelly overlooks the suffering of the long-term and often permanently unemployed as well as the depressingly underemployed, amounts to a Big Lie….

Gallup defines a good job as 30+ hours per week for an organization that provides a regular paycheck. Right now, the U.S. is delivering at a staggeringly low rate of 44%, which is the number of full-time jobs as a percent of the adult population, 18 years and older. We need that to be 50% and a bare minimum of 10 million new, good jobs to replenish America's middle class.

I hear all the time that "unemployment is greatly reduced, but the people aren't feeling it." When the media, talking heads, the White House and Wall Street start reporting the truth — the percent of Americans in good jobs; jobs that are full time and real — then we will quit wondering why Americans aren't "feeling" something that doesn't remotely reflect the reality in their lives. And we will also quit wondering what hollowed out the middle class.
"Instead, in every domain, over and over, the policies that prevail are those with business-models" [Cory Doctorow, Guardian]. "Policies that create a large pool of wealth for a small number of players, enough money in few enough hands that there's some left over to lobby for the continuation of that policy."
"[S]ome of the remedies for inequality involve the state doing more, not less" [John Micklethwait, The Economist]. Parting thoughts as editor. Ya think?
"Consumerism has broken its promise" [George Monbiot]. In common with other -isms.
News of the Wired
* * *
Readers, feel free to contact me with (a) links, and even better (b) sources I should curate regularly, and (c) to find out how to send me images of plants. Vegetables are fine! Fungi are deemed to be honorary plants! See the previous Water Cooler (with plant) here. And here's today's plant: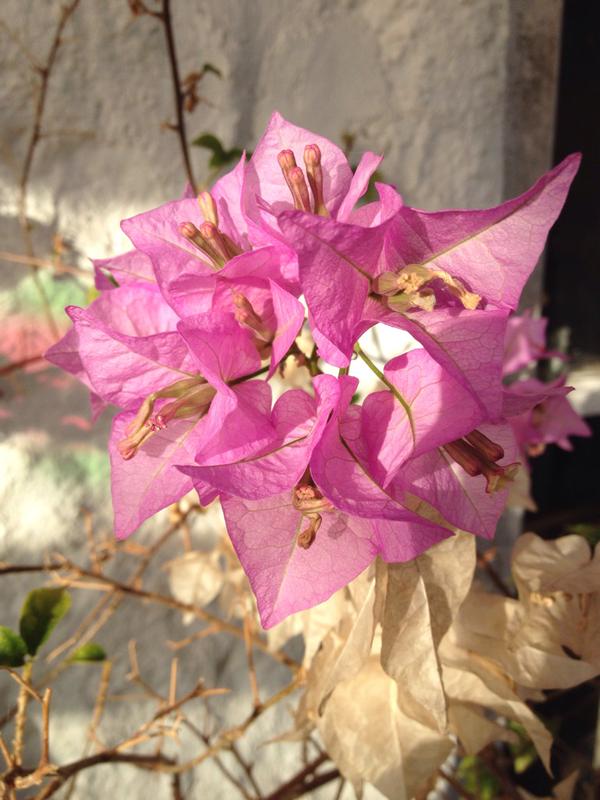 Bougainvillea — more tropical plants to fight off the winter!
If you enjoy Water Cooler, please consider tipping and click the hat. It's the heating season!
Talk amongst yourselves!