By Lambert Strether of Corrente.
2016
Clinton first choice for 56% of likely Iowa caucus-goers; Warren second at 16% [USA Today].
Iowa Democratic activists anxious for Hillary Clinton to actually campaign [Des Moines Register]. Early Obama supporter: "Arrogance will cost her."
White House communications director Jennifer Palmieri to leave for a comparable role with the Clinton campaign, no earlier than March [Wall Street Journal].
Kindly Uncle Joe Biden visits Vice office in Brooklyn [Capital New York]. Vice staffer David Roth: "I clapped, myself. I like Joe Biden, bankruptcy bill notwithstanding." Ouch.
Establishment
Jebbie's Detroit Economic Club speech rolls out new themage [WaPo]. And he's better off-the-cuff than with a teleprompter, some say.

"The recovery has been everywhere but in American paychecks. The American Dream has become a mirage for far too many. So the central question we face here in Detroit and across America is this: Can we restore that dream, that moral promise, that each generation can do better?"

Jebbie wants 4% economic growth. Groaf/jawbs discussion aside, conservative nostrums don't make that happen. Look at Wisconsinstan and Kansastan as testing labs.

But at least Jebbie didn't insult "the 47%," like Romney did [WaPo]. Bush "will present a conservative pro-economic-freedom [snort] case without committing the fatal political misstep of showing contempt for those who currently depend on government in any form."

Beat-sweetener on Bush's brain this time round, Sally Bradshaw [New York Times]. The photo of Bradshaw's husband, a Tallahassee lobbyist, in blue jeans, holding a chicken is so precious. Just folks….
Principled Insurgents
Walker leads NH Republicans with 21% [The Hill].

Walker "has a 50-state network of wealthy contributors and small donors far more expansive than might be expected" [WaPo].

My memories of the 2011 Wisconsin protests and the Capitol occupation are gradually returning. There are many gems, but here's a key incident (triggered by this backgrounder in The New Republic, of all places). The setting: Scott Walker was p0wned by satirist Ian Murphy, who got him on the phone under the pretext that he, Murphy, was David Koch (!). The transcript of the "prank call" reads in relevant part:

Walker: Hi; this is Scott Walker.

Murphy ["Koch"]: Scott! David Koch. How are you?

Walker: Hey, David! I'm good. And yourself?

That was the set-up. Now for the detail that caught my eye:

Murphy ["Koch"]: Right, right. We'll back you any way we can. But what we were thinking about the crowd was, uh, was planting some troublemakers.

Walker: You know, well, the only problem with that — because we thought about that. The problem with — my only gut reaction to that would be, right now the lawmakers I've talked to have just completely had it with them. The public is not really fond of this.

" problem." Look, even Nixon had the presence of mind to say "But that would be wrong," right? Anyhow, having noted that Walker has no issues with "planting" agent provocateurs, note further that (1) Walker seems a little Machiavellian for a P.K., and that (2) voters have every right to be skeptical about any poorly documented claims from Walker that he was harassed by protesters. I mean, how do we know the putative harasser wasn't a "planted" "troublemaker," given that Walker expresses no ethical qualms about such tactics given the opportunity to do so? Not that I'm foily. Anyhow, we'll hope the next prankster doesn't get Walker on the phone while his finger is next to the button.
Clown Car
The DOJ has launched a criminal investigation of Christie and members of his administration, "pursuing allegations the governor and his staff broke the law when they quashed grand jury indictments against Christie supporters" [David Sirota, International Business Times]. That's just silly. What's the point of having your guy in office if he can't quash an indictment?
Syraqistan: Ground troops to stop ISIS will be a 2016 issue; six Republican candidates "won't dismiss that option. Others, though, hedge" [McCatchy]. Another lick at the ice cream cone…
Ukraine: Arming Ukraine would get us into a war with Russia we can't win [Pat Buchanan]. When Buchanan is the sane one…
32 zip codes were Republican donor class lives [Bill Moyers].
The Hill
Pork inspectors: New USDA rules means American's will "eat sh*t" [Salon]. Film at 11!
Herd on the Street
Saudi prince bails; another shareholder revolt over News Corp's goverance structure? [ABC Australia].
Anthem hacked, loses 80 million records: "names, birthdays, addresses and Social Security numbers" [Mercury News].
Sony to break even on The Interview after online distribution gambit, free publicity [Bloomberg].
Tesco probe to consider "consider the existence and extent of practices which have resulted in delay in payments to suppliers" [FT, "Tesco to be investigated over dealings with suppliers"].
Pfizer to buy Hospira in $17 billion deal [Bloomberg].
Stats Watch
Jobless Claims, week of January 31, 2015: "[I]nitial claims, though up 11,000, came in at a much lower-than-expected" [Bloomberg]. Healthy.
Challenger Job-Cut Report, January 2015: Layoffs elevated from September. The energy sector represented roughly 40 percent of the cuts, at 20,193 [Bloomberg].
Bloomberg Consumer Comfort Index, week of February 1, 2015: Edged down, despite gas prices, on stocks [Bloomberg]. "Americans with annual incomes of $100,000 or more saw the biggest decrease in sentiment." Still healthy.
Productivity and Costs, Fourth Quarter 2014: "Nonfarm productivity growth for the fourth quarter declined an annualized 1.8 percent, following a 3.7 percent jump in the third quarter. Expectations were for a 0.2 percent rise" [Bloomberg]. Blame the weather. The Fed will think this means the labor market is soft.
Chain Store Sales, January 2015: Mostly stronger year-on-year; no polar vortex [Bloomberg].
Police State Watch
Staten Island DA Daniel Donovan fights to keep Eric Garner Grand Jury details transcripts sealed [Gothamist]. But why?
NPYD chief Bratton supports making resisting arrest into a felony [Vox]. "40 percent of resisting-arrest cases are brought in by 5 percent of police officers."
America the Petrostate
Obama in SOTU: "[C]limate change poses immediate risks to our national security." Obama after SOTU: Opens Atlantic for drilling [Grist].
Health Care
ObamaCare enrollment on track for lowball 10 million goal with 11 days to go [McClatchy].
Our Famously Free Press
"NBC Nightly News anchor Brian Williams admitted Wednesday he was not aboard a helicopter hit and forced down by RPG fire during the invasion of Iraq in 2003. Williams repeated the claim Friday" [Stars and Stripes]. Isn't that sort of thing hard to get mixed up about?
Class Warfare
Rich kids behaving very badly [Corrente]. "Dad paid $300,000 last time."
American Psychological Association: 72% of adults say they're stressed about money some of the time, and 22% experience extreme stress [Yahoo]. And I don't think that's people stressed about a million bucks; I think it's people stressed about a hundred. Or ten.
One in four Americans is employed to guard the wealth of the rich [Boing Boing]. From 2010, with broken link to original. "Guard labor" is an interesting concept; I wonder if it applies to lawyers and accountants?
News of the Wired
* * *
Readers, feel free to contact me with (a) links, and even better (b) sources I should curate regularly, and (c) to find out how to send me images of plants. Vegetables are fine! Fungi are deemed to be honorary plants! See the previous Water Cooler (with plant) here. And here's today's plant: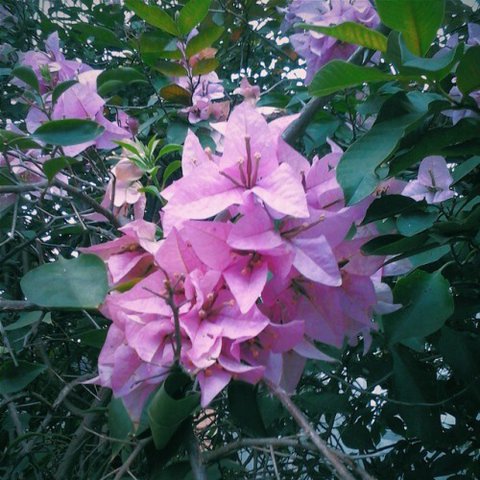 Another bougainvillea — apparently they don't even need good soil!
If you enjoy Water Cooler, please consider tipping and click the hat. It's the heating season!
Talk amongst yourselves!