Lambert mini-fundraiser update: Thank you, readers, once again, for the instant response, and for detecting the tiny little hat icon and on a Saturday night. At last count, 34 of you have chipped in for Water Cooler, and at $950, we are a bit more than a third of the way toward our modest goal of $2500. Here is another go at the modestly-sized hat. Click to contribute, and thank you for your interest and support!
☟
☟
☟
☝ ☝ ☝
By Lambert Strether of Corrente.
I really didn't want to post on the [this is a family blog] blankety-blank Democrats, but when I read this story, my head exploded, and after I wiped off the screen and the keyboard, I felt I must take up the sad, but necessary, duty.
First, I'll look at what the Democratic National Committee (DNC) report said about the state of the party; then, I'll look at their solution, and put it in context; finally, I'll look at what the Democrats should be doing if they didn't want to, ya know, keep [verb in the progessive aspect that a family blog would never, ever use], but how about we substitute "enter a death spiral of wankitude"? Or "go the way of the Whigs"?
The state of the party (WSJ, "Democrats' Review Finds Party Ignored Congressional and State Races at Dire Cost"):
In the Obama era, the Democratic Party successfully has won the White House but all too often has ignored down-ballot races that determine control of Congress and state legislatures
Yeah, oopsie. Never mind that state legislatures determine redistricting; both parties seem happy with that, despite all the moaning for the rubes. What matters is that Democrats have a thin bench already, and according to the DNC itself, they nuked their own farm team (Here's a fine sample of the iron law of institutions in action in the Pennsylvania Senate fight.) So after the Democrats slowly wheel Hillary's catafalque in and out of the Oval Office — or not! — what happens then? Sure, at the Presidential level, a black woman gay hispanic, but who? Where? Biden? Booker? O'Malley? And in the House and the Senate? The candidate:
Also urgent, the report said, is the need to recruit strong Democratic candidates over the next three elections to win back state legislatures, so the party can have more control over the redrawing of congressional seats following the next Census.

"We need to build our bench," Mr. Beshear said. The report recommends identifying and nurturing a new generation of Democratic candidates and advisers.
Sure, but why would anybody agree to run on the Democratic ticket? (Outright corruption, or having a seat handed to you, aside.) It's like stone soup. So where, I ask, are the Democratic stones?
Well, the DNC has a solution. Here it is:
The task force recommends creating a "National Narrative Project" that will work with party leaders, activists, and "messaging and narrative experts" to create a "strong values-based national narrative that will engage, inspire and motivate voters to identify with and support Democrats."
This is like AOL saying that their problem is no mission statement…. Ever been to one of those meetings? With the PowerPoints, the consultant, the airless room? The feels, they're all there…
The problem here, is that the [blankety-blank] Democrats tried this already, back when there was a massive fad for semantics or semiotics or whatever dude George Lakoff, who used to be interesting when he was a scholar, was pushing. I'm pressed for time and weak of stomach, so I won't go into the history, but here's a sample of the key deliverable. From Why Mommy is a Democrat: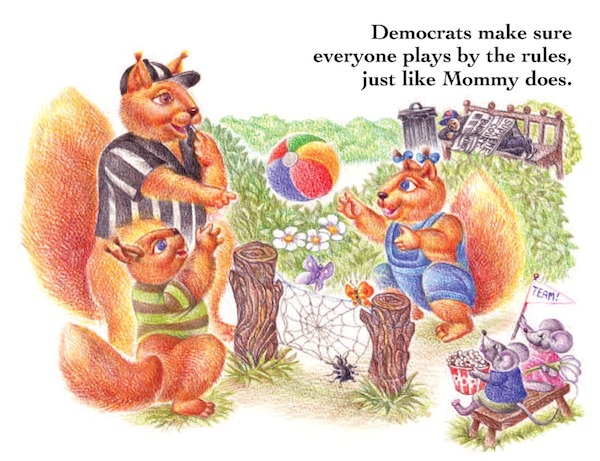 Oopsie. Sorry. I didn't warn you to put down your coffee. A touch of brainbleach and you'll be just fine! And yeah, Democrats "make sure everybody plays by the rules" EXCEPT BANKSTERS!!!!! (as Naked Capitalism readers know very well from Yves's extensive reporting on the foreclosure crisis, as well as Bill Black's paradigm of accounting control fraud.)
Call me crazy, but how about, instead of shoveling more walking around money at "Democratic strategists" to write a [blankety-blank] narrative, Democrats come up with a coherent set of policy proposals that would deliver concrete material benefits to the 80% who don't, and don't dream of, taking the Acela from South Station or Penn Station down to Union Station? And then go to war on with it. That's what the Republicans did. "Vote yourself a farm" worked for Lincoln; why not Democrats?
Now, to be fair, Southern Democrats may not all be loathesome (and losing) Blue Dogs. From 2014:
Southern Democrats are joining others in the party who say that a return to advocating to lift people out of economic hardship and emphasizing spending on education and public works will re-energize black voters and attract whites as well.

"It's time to draw a line in the sand and not surrender our brand," Rickey Cole, the party chairman in Mississippi, said. He believes candidates have distanced themselves from the past half-century of Democratic principles.

"We don't need a New Coke formula," Cole said. "The problem is we've been out there trying to peddle Tab and RC Cola."
So, just maybe there are some Democrats who see policy as the answer, not more funding for Beltway site builders and message crafters and pollsters and meeting facilitators and SEO weasels and "grass roots organizers" and "strategists." You never know! (And Steve Beshear, Democratic governor of Kentucky, an ObamaCare success story, to the extent that the pathetically weak giveaway to the insurance companies is a success, was on the panel. So perhaps there's a smidgeon of hope.)
Finally, all that said, what should the [blankety-blank] Democrats should be doing? Here's an example. Remember the Post Office bank? Great policy proposal, right? From the USPS report on post office banking:
[M]ore than a quarter of American households are left outside or on the fringes of the traditional financial system. Some have no bank account whatsoever. Others have a checking account, but do not qualify for traditional forms of credit, forcing them to use costly services like payday loans and car title loans — which can often do more harm than good. Many of the 34 million financially underserved households — representing 68 million adults — are treading water very close to the economic edge.1 Unexpected expenses can push them over the brink into homelessness or bankruptcy, which come with broad social and economic costs. In addition to this at-risk population, there are many other Americans who are simply looking for new financial options.

    Financial services are hugely profitable for postal organizations around the world. Whether using a fully chartered "postal bank" or partnering with private institutions, postal financial services account for a major portion of postal profits and revenue in many countries. For more on the financial services offerings of foreign posts, please see Appendix C.

To get a ballpark figure, one can look at revenues in terms of the size of the alternative financial services market in the United States. If 10 percent of the $89 billion spent on alternative financial services was instead spent at the Postal Service, it could bring in $8.9 billion a year. That amount would be in line with the results seen by other industrialized countries. In 2012, postal financial services made up an average of 14.5 percent of their total revenue. For the U.S. Postal Service, that percentage would translate to $9.5 billion in additional revenue.58 In addition, the alternative financial services market is expected to continue growing in the coming years, and is "ripe for innovation."
Such a great policy proposal that in fact, with a green light from Obama — heck, a nod and wink, no legislation or executive order or anything — we could have a Post Office Bank today. David Dayen:
The Postal Accountability and Enhancement Act (PAEA) of 2006 put restrictions on offering new "non-postal" services. However, the report points out, "given that the Postal Service is already providing money orders and other types of non-bank financial services, it could explore options within its existing authority."

This transforms postal banking from a nice idea that works in other countries but would never get through Congress to something the USPS could test right away. While the Inspector General does not represent the final legal word on the subject, precedent would be on the side of the Postal Service if it wanted to construe the PAEA this way. The 1984 Supreme Court ruling in Chevron v. NRDC generated what is known as the "Chevron deference," which gives fairly generous latitude to federal agencies in interpreting statutes. Congress could always act at the behest of payday lenders and other operators to ban the USPS from specifically offering financial services, but then gridlock would work in the Postal Service's favor, foiling Congress' effort to stop postal banking.
Well, Obama. Nobody expects anything from Obama at this point but verbiage and empty gestures. (Plus he's having a hard time retaining staff, I can't think why.) Anyhow, immigration gets an executive order, the Post Office bank doesn't even get a nod. I wonder why?
And then there's great "progressive" hope and True Democrat Elizabeth Warren blessed it, in 2014:
If the Postal Service offered basic banking services — nothing fancy, just basic bill paying, check cashing and small dollar loans — then it could provide affordable financial services for underserved families, and, at the same time, shore up its own financial footing. (The postal services in many other countries, it turns out, have taken steps in this direction and seen their earnings increase dramatically.)…

The Postal Service is huge — employing more than a half million people — and its history is long and complicated. Any change will take time. We need innovative ways to create pathways for struggling families to build economic security, and this is an idea that falls in that category.
Heard anything from Warren on this lately? No? Gosh.
So I've gotcher narrative right here: No matter what Democrats tell you, they never deliver. They will always betray. But they're better than the other guys! See, I just saved the DNC a packet.
tl;dr: The Democrats don't need a "narrative." They need to go to war on policy. Then the war will be the narrative.
* * *
Ya know what I think? I think all the kool kidz are turning socialist, going Green, or starting movements like #BlackLivesMatter. One thing I do know: Hoovering up DNC (<-donor )<-squillionaire)) ka-ching for a "National Narrative Project" is the very reverse of cool. UPDATE Assuming Hillary runs, and also assuming there's no opposition, how much you wanna bet there's a national "listening tour"? You know, so everybody can "join the conversation"?
UPDATE The "listening tour" would be framed as a substitute for the debates.