As we indicated, we were doubtful that a deal with Greece on its bailout could get done, since if nothing else the two sides had irreconcilable positions on structural reforms. That was one of the biggest reasons for Greece rejecting the idea of extending the current bailout, that they did not want the strings attached, such as continued privatizations and further "progress" on labor-crushing market reform. The only way an agreement could have been reached would have been for Greece to capitulate on these issues, which seemed unlikely given how Syriza had risen to 80% approval ratings in the polls based on its Troika-defying stance.
So it is not surprising to learn that the bailout talks are over, with no agreement reached. From Bloomberg:
Talks between Greece and its official creditors in Brussels broke up on Monday after the country's new government said it could not accept euro-area proposals for it to stick to the terms of its bailout.

The Greek government labeled the eurogroup's demands a "absurd" and "unacceptable," in an e-mailed statement shortly before the meeting ended.
The Financial Times has more detail:
A crucial meeting of eurozone finance ministers over the future of Greece's bailout broke down in acrimony after Athens angrily objected to the bloc's insistence that it extend its current €172bn rescue, calling it "absurd" and "unacceptable"….

Some eurozone officials have suggested that without an extension, Greece could instead begin talks on an entirely new bailout, but such talks are likely to take months, meaning Greece could be without financing well into the spring.

Athens has insisted that it has enough funding to keep the government running for several months, but some eurozone officials believe it could run short of cash next month.
The pink paper also notes that it might be possible to still get the necessary governmental approvals if an agreement could be reached this week (a climbdown from the earlier "absolutely gotta have a deal today at the very latest" stance), the talks were described as collapsing in "acrimony" which is no foundation for getting things back on track. Ethakimerini has confirmed that on Twitter:
#Eurogroup chief Dijsselbloem: "Given timelines, we have this week but that's about it. Maybe new #Eurogroup on Friday" #Greece

— Kathimerini English (@ekathimerini) February 16, 2015
Athens had stressed in a document released in Greece that it regarded the technical discussions of the last few days as a forum for mapping out differences only and not for resolving them. That also did not go over well with the Eurogroup ministers. The draft language was harsher than that of the memo leaked from last week's meeting, indicating that the Eurogroup ministers had become more hostile to Greece's position. Again from the Financial Times:
Monday's talks collapsed when Yanis Varoufakis, Greek finance minister, strongly objected to a draft statement according to which Athens would drop its fierce opposition to prolonging its bailout.

The draft statement, obtained by the Financial Times, said that Greece would agree to a six-month "technical extension".

"This would bridge the time for Greece authorites and the Eurogroup to work on a follow-up arrangement," reads the statement.

"The Greek authorities gave their firm commitment to refrain from unilateral action and will work in close agreement with its European and international partners, especially in the field of tax policy, privatisation, labour market reforms, financial sector and pensions," it added….

German finance minister Wolfgang Schäuble accused Athens of "behaving rather irresponsibly" over its talks with its eurozone creditors.

According to Greek officials, the eurogroup meeting itself got off to a rough start. A Greek government official said a text presented for discussion at the meeting violated an agreement between Alexis Tsipras, Greece's new prime minister, and Jeroen Dijsselbloem, the eurogroup chairman, made last week to resume talks on a way forward for Greece's rescue programme.

The Greek official said the text required them to continue with the current bailout and called the insistence "absurd" and "unacceptable". The official added that those who persisted in pushing for a continuation of the current programme were "wasting their time", and predicted no deal was reachable if discussions continued down that path.

Without an extension of the current programme, focus appears to be turning to allowing the current bailout to expire and to quickly turn to negotiating a new rescue more amenable to the new Greek government.

"The second alternative would be the negotiation of a new programme but . . . time begins to run out," said Mr Noonan.

Jean-Claude Juncker, the European Commission president, suggested to his fellow EU leaders at last week's EU summit that a special gathering of eurozone heads of government might be needed this week, but officials said this is increasingly unlikely. One official suggested it could be held at the end of the month, but "only if the eurogroup meetings before had failed".
It is also key to recognize that this is not some crafty plan by Varoufakis to precipitate a Grexit, a course of action he has consistently rejected and sees as a terrible outcome for Greece and the EU. From his op-ed today in the New York Times, No Time for Games in Europe (hat tip Santiago). Key sections:
….my game-theory background convinced me that it would be pure folly to think of the current deliberations between Greece and our partners as a bargaining game to be won or lost via bluffs and tactical subterfuge.

The trouble with game theory, as I used to tell my students, is that it takes for granted the players' motives. In poker or blackjack this assumption is unproblematic. But in the current deliberations between our European partners and Greece's new government, the whole point is to forge new motives. To fashion a fresh mind-set that transcends national divides, dissolves the creditor-debtor distinction in favor of a pan-European perspective, and places the common European good above petty politics, dogma that proves toxic if universalized, and an us-versus-them mind-set.

As finance minister of a small, fiscally stressed nation lacking its own central bank and seen by many of our partners as a problem debtor, I am convinced that we have one option only: to shun any temptation to treat this pivotal moment as an experiment in strategizing and, instead, to present honestly the facts concerning Greece's social economy, table our proposals for regrowing Greece, explain why these are in Europe's interest, and reveal the red lines beyond which logic and duty prevent us from going…..

I am often asked: What if the only way you can secure funding is to cross your red lines and accept measures that you consider to be part of the problem, rather than of its solution? Faithful to the principle that I have no right to bluff, my answer is: The lines that we have presented as red will not be crossed. Otherwise, they would not be truly red, but merely a bluff.

But what if this brings your people much pain? I am asked. Surely you must be bluffing.

The problem with this line of argument is that it presumes, along with game theory, that we live in a tyranny of consequences. That there are no circumstances when we must do what is right not as a strategy but simply because it is … right.

Against such cynicism the new Greek government will innovate. We shall desist, whatever the consequences, from deals that are wrong for Greece and wrong for Europe. The "extend and pretend" game that began after Greece's public debt became unserviceable in 2010 will end. No more loans — not until we have a credible plan for growing the economy in order to repay those loans, help the middle class get back on its feet and address the hideous humanitarian crisis. No more "reform" programs that target poor pensioners and family-owned pharmacies while leaving large-scale corruption untouched.

Our government is not asking our partners for a way out of repaying our debts. We are asking for a few months of financial stability that will allow us to embark upon the task of reforms that the broad Greek population can own and support, so we can bring back growth and end our inability to pay our dues.
Edward Conway has tweeted the draft communique that Greece rejected, with penmarks by Varoufakis:
Here is the full leaked draft eurogroup communique. Greeks have just rejected it as "totally unacceptable" pic.twitter.com/0wXcJaamE3

— Ed Conway (@EdConwaySky) February 16, 2015
[Inserted later for legibility] The Financial Times has added the memo image to its article: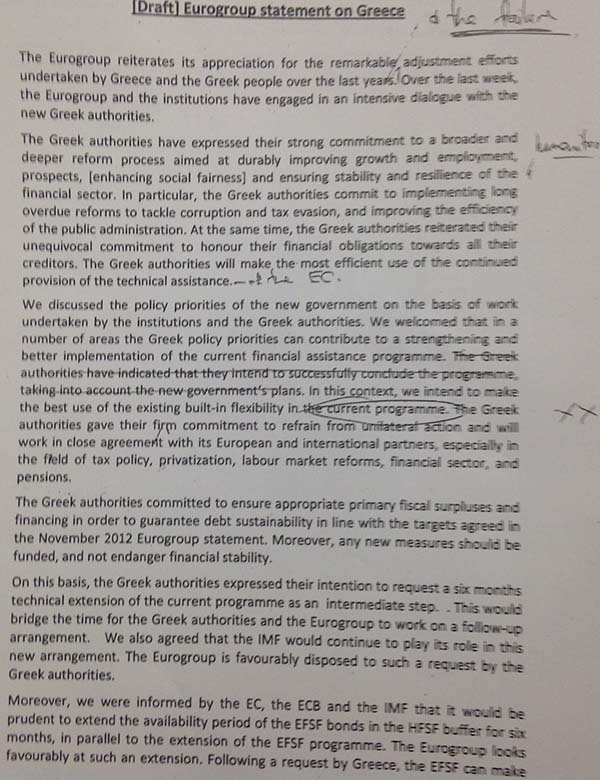 As has happened before, there seem to be more than one leaked version of the draft floating about. See this, more marked up version on Facebook (hat tip Lambert):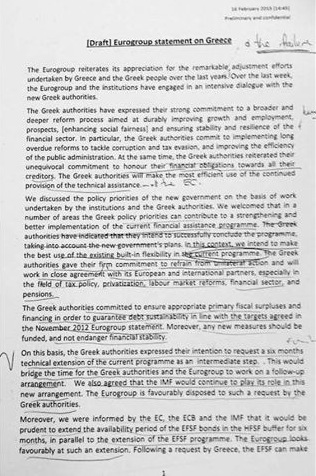 Either way, both appear to have assumed a Greek capitulation. Now we get to see what the Troika's Plan B is now that Greece has demonstrated its resolve.
Update. The notion of a special EU meeting of the heads of Eurozone governments, mentioned in the Financial Times, has apparently been nixed. Hat tip Lambert:
Dijsselbloem: I spoke to President Tusk, he has no intention to call an EU summit on #Greece | #Eurogroup

— Yannis Koutsomitis (@YanniKouts) February 16, 2015
And this provides more confirmation of how testy the discussions were:
I've been told #Eurogroup broke up even before finance ministers got a chance to discuss draft #Greece statement

— Peter Spiegel (@SpiegelPeter) February 16, 2015