By Lambert Strether of Corrente.
2016
If Clinton really wants to run a populist campaign focused on wage earners, as opposed to creative class professionals and the political class, she has a model to follow: The now-forgotten post-caucus-debacle Clinton primary campaign of 2008 [Daily Beast].
MoDo: "[L'affaire Brock] is a bad harbinger for those who had hoped that Hillary would 'kill off the wild dogs,' as one Obama loyalist put it [New York Times]. If you ask me, letting the wild dogs loose — presumbly, on Republicans — is exactly what the Democrats should have done in 2009 and signally failed to do. But it's good to see the Obama administration already trashing the Clintons.
Some Democratic activists miffed that they're getting fundraising mail from Hillary when she hasn't declared [Politico].
Hillary Clinton and Bill Frist on the Children's Health Insurance Program (CHIP): Reauthorize it [New York Times]. Because of the "family glitch" in ObamaCare, CHIP may be the only coverage some children can get.
Private equity fan boi Cory Booker has no Presidential aspirations [The Hill]. BWA-HA-HA-HA!!!! Sorry I didn't warn you to put down your coffee. Anyhow, click through to check out the lamest scripted exchange between host and guest EVAH.
NBC News/Marist poll: Seven different Republican candidates get double-digit support in Iowa, New Hampshire, South Caroline: The early voting states. Only Bush and Walker are in double digits in all three [NBC]. Of course, 37 weeks is a long time in politics.
Establishment
Bush on Iraq: "I won't talk about the past. I'll talk about the future. If I'm in the process of considering the possibility of running, it's not about re-litigating anything in the past. It's about trying to create a set of ideas and principles that will help us move forward" [Bloomberg]. Relitigate Iraq? Na ga happen. And the beauty part of a Bush v. Clinton race is that neither candidate would want to!

Bush aide Thomas Collamore: The Bush "family business" is "extending the political network" [New York Times]. Rather like the other dynasties in play, the Clintons and the Romneys.

Three Iowa hires from Perry [Des Moines Register].
Principled Insurgents
Ted Cruz has the Tea Party vote [WaPo].
Clown Car
Huckabee tops Iowa NBC News/Marist poll [Bloomberg].

Huckabee on Israel-US relationship: "It matters because there is an organic relationship, as well as an organizational relationship, that our countries mirror each other in our form of government, in the way we operate and in even the reason we operate" [Christian Broadcasting Network]. Speaking from Jerusalem, where he's on a ten-day trip.
The Hill
James Fallows on the Netanyahoo fracas: "I am deadset against my country drifting into further needless unwinnable wars" [The Atlantic]. Drifting?
"Exploring the U.S. National Security Strategy Reports" [Dart Throwing Chimp]. Interactive term counts for the US National Security Strategy Reports. Type in "terror" and watch the graph jump! Interestingly, Ukraine starts moving up in 2010.
Republicans yet to come up with the symbolic H.R. 1 [Bloomberg]. Although H.R.s 3, 5, and 7 have been assigned. Odd.
Herd on the Street
Rolls-Royce has been accused of involvement in a multibillion-dollar bribery and kickback scheme at Petrobras [FT, "Rolls-Royce accused in Petrobras scandal"]. Gas turbines.
Apple mulls iCar [Reuters]. No, really. Google isn't the only tech company with more money than they know what to do with.
Canadian National oil train derails, catches fire in Ontario [McClatchy].
University Watch
A study of nearly 19,000 faculty in the United States and Canada finds that top universities "form a kind of insular academic club, hiring most of their faculty from others in a small, elite network" [Boston Globe]. Shocker! The study: "Systematic inequality and hierarchy in faculty hiring networks" [Science Advances].
The richest universities have aggressive investment strategies, "punting large sums on risky ventures such as private equity and hedge funds" [The Economist].
"What's Wrong With Public Intellectuals?" [Chronicle of Higher Education]. Long-form, interesting. "If there is a task, it might be to participate in making "the public" more brilliant, more skeptical, more disobedient, more capable of self-defense, and more dangerous again—dangerous to elites, and dangerous to stability."
Black Injustice Tipping Point
Alex Landau's 2009 beating by Denver cops gets renewed attention after Ferguson [Westword].
Mississippi Federal District Judge Carlton Reeves remarks at the sentencing hearing for three perps of a lynching [Breach of Peace].
The names of black women killed by police continue to be less known [HuffPo].
Corruption
If Bharara indicts Cuomo, will New York Democrats throw him under the bus as fast as Oregon Democrats threw Kitzhaber? [Albany Project].
HSBC whisleblower says bank is also involved in bribing politicians: https://t.co/frXeaFK1u2

Translation via Reddit: pic.twitter.com/EISbnYpB73

— Tom Grundy (@tomgrundy) February 13, 2015
North Carolina: Sex between lobbyists and government officials "does not constitute a gift that must be listed in disclosure reports" [News-Observer]. For some definition of sex, obviously.
Class Warfare
Robert Reich [Facebook (sorry)]:
I spoke yesterday with one of the Democratic Party's movers and shakers who said "Democrats should be talking more about economic growth and less about inequality." I told him he couldn't be more wrong. Growth isn't the issue. The economy has been growing nicely. It's more than twice as large as it was three decades ago. The problem is almost all the growth has gone to the top. If Democrats stand for anything, it should be the wellbeing of the bottom 90 percent whose incomes have been dropping for thirty years, adjusted for inflation. Stop worshipping the GDP and start talking once again about the public good and the common welfare – phrases that have all but disappeared. Economic growth doesn't matter when the social compact has been shredded, and the basic bargain that once knitted us together has come apart.

He seemed not to have the foggiest idea what I was saying. Maybe that's because he's a major fundraiser whose personal wealth puts him in the top one-hundredth of 1 percent. That's a huge problem for the Democrats (and, of course, the Republicans). The money they need to be elected comes from people who don't understand or care what's happening to most Americans, and think it's all about economic growth.
"[L]eading citizens … have struggled to maintain their grip on reality" [FT, "The dream worlds of the rich and famous"]. Maintain? Oh, Dominique Strauss-Kahn and Brian Williams. I thought the problem was broader than that. To be fair: "All the rest of us can do is bear these cases in mind when we watch the rich and the powerful pontificate on television or from behind the podiums at gatherings of the great and the good." All?
News of the Wired
* * *
Readers, feel free to contact me with (a) links, and even better (b) sources I should curate regularly, and (c) to find out how to send me images of plants. Vegetables are fine! Fungi are deemed to be honorary plants! See the previous Water Cooler (with plant) here. And here's today's plant (TF):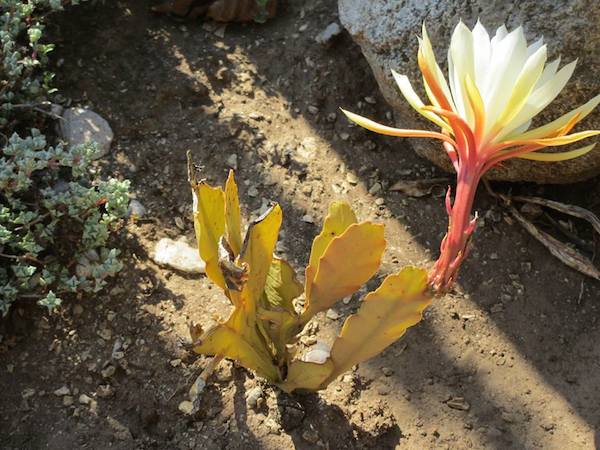 Cactus in Chile. Thanks, readers, for the cacti. I could use a few more!
If you enjoy Water Cooler, please consider tipping and click the hat. It's the heating season!
Talk amongst yourselves!