As we indicated earlier today, the Eurogroup appears to still have its hand in the mix of determining whether the reform list submitted by Greece is adequate. A meeting is set to review the proposed Greek reforms tomorrow. The journalists who are in the mix are sending tweets that suggest that they are not yet clear on some key issues in the state of play. As of this posting, only some high level details of the reform list have leaked out.
Plan for tomorrow… List to be submitted to EZ FinMins in the morning, Eurogroup will convene via teleconference in the afternoon #Greece

— Jonathan Ferro (@FerroTV) February 23, 2015
BBC claims the reforms proposal is "late"…
Greece to send reform plan to eurozone finance ministers on Tuesday morning, missing Monday deadline, officials say http://t.co/oyjorLdOTt

— BBC Breaking News (@BBCBreaking) February 23, 2015
….but Greece begs to differ:
#Varoufakis tells live on #CNN that GR delivered reform letter today & it was Eurozone finance ministers who asked delay. #Greece #Eurogroup

— Siegfried Muresan (@SMuresan) February 23, 2015
That is in keeping with Ambrose Evans-Pritchard's puzzlement about the delay:
Baffled by reports that Greek proposal will not be presented till Tuesday. Athens sent it to Declan Costello at EC mid-day Monday

— A Evans-Pritchard (@AmbroseEP) February 23, 2015
However, as you'll see later in this post, the Eurogroup did insist on reviewing and discussing the reform package on Tuesday, hence that reason for the meeting timing. But it is possible to square the circle, since Greece could be taking advantage of the Eurogroup schedule and is making some final tweaks.
Note that the markets seem to regard this meeting as a matter of form; Bloomberg doesn't have a story on it on its first page. Its featured Greece stories are analyses: Who Won the Greek Showdown in Europe? Economists say Greece lost and Morgan Stanley: The Odds of Greece Staying in the Euro Zone Haven't Gotten Any Better. That may be because Greek government says the package is in line with what was discussed Friday. However, the reason for kicking the matter over to the Eurogroup may be concerns that the proposals are not specific enough. Or it could confirm what we'd suggested from our first readings of the memo: that the requirement that the Eurogroup approve any disburement of funds means that they will continue to be involved, just not on the front lines as before.
#Greece gov't official says Tuesday submission of list of reform promises agreed with #Eurogroup ~RTRS

— Yannis Koutsomitis (@YanniKouts) February 23, 2015
@SofiaDimtsa:, via Yannis Koutsomitis has the most detailed report on the content of the reform package, and it is still a high level summary (click to enlarge or view here):

Notice this contradicts a Guardian story yesterday that said the reform list did include estimates of impact of some of the measures to improve tax collection. And "EU best practices" on labor is very disconcerting, since it implies a forced embrace of "labor flexibility" as in further reduction of labor protections and bargaining rights. That would seem to be inconsistent with earlier reports, including a government announcement, that Greece was seeking an increase in the minimum wage. Perhaps that section is more of a mixed bag than the headline for that section suggests.
The Financial Times' Brussels reporter says the proposal includes Pillar One from the Syriza campaign platform, the humanitarian goals:
For what it's worth, "pillar one" of Thessaloniki plan #Greece govt says is in reform list totals €1.9bn in spending: http://t.co/svzbCFgq29

— Peter Spiegel (@SpiegelPeter) February 23, 2015
For what it's worth, "pillar one" of Thessaloniki plan #Greece govt says is in reform list totals €1.9bn in spending: http://t.co/svzbCFgq29

— Peter Spiegel (@SpiegelPeter) February 23, 2015
That is not a surprise, since at the press conference after the Friday meeting, Yanis Varoufakis stated that he would be focusing on matters Greece and its "partners" agreed upon, and said that included humanitarian relief. As we noted in our post earlier today, Ambrose Evans-Pritchard had tweeted that Greece had also included Here are details from the campaign platform: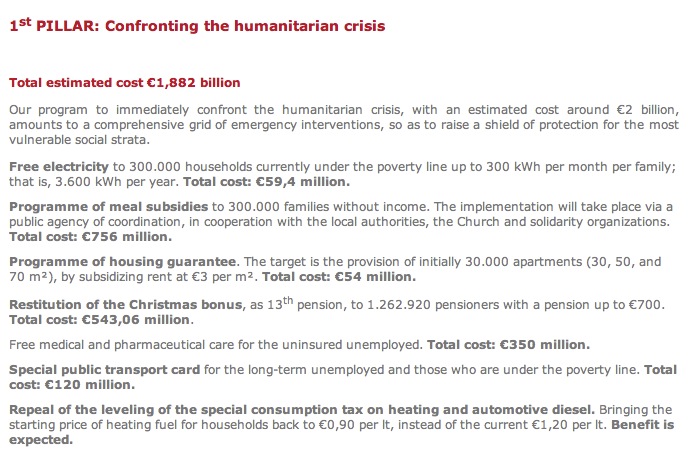 Finally, the fact that Schauble appears to have been reined in by Merkel may not give Greece as much relief from Eurogroup extremism as hoped. Bloomberg reports (hat tip Santiago) that Spain has become the new heavy:
As euro-region finance ministers turned the screw on Greece in Friday's talks, the group's usual enforcer, Wolfgang Schaeuble of Germany, was eclipsed by Spain's Luis de Guindos, according to two people with direct knowledge of the talks.

De Guindos took the toughest line with Greek Finance Minister Yanis Varoufakis as the bloc forced him to adhere to the terms of the country's existing bailout to retain access to official financing, the people said, asking not to be named because the conversations were private. When the group rejected Schaeuble's call for a Tuesday meeting to scrutinize Greece's plans to meet those conditions, De Guindos insisted, winning agreement for a teleconference, they said….

De Guindos has been in the running to replace Jeroen Dijsselbloem of the Netherlands as head of the euro-region finance ministers' group when the Dutchman's term expires this year.
Presumably reporters will ferret out more about the reform list and the Troika's feedback on it. Stay tuned.
Update 3:20 PM: I felt compelled to include this Paul Mason interview with the German deputy finance minister, at least in part because you never see reporters in the US ask tough questions like these: