By Lambert Strether of Corrente.
Readers, this Water Cooler will be heavy on electoral politics, and a little bit lighter on everything else, because it took me longer to struggle into, and then out of, my yellow waders than I expected, when I looked at the Democratic Victory Task Force report. I'll be less unbalanced tomorrow (for some definition of balanced).
2016
Sanders: "I just think that out there, there are so many people who are hurting, so many people who are disillusioned, so many people who are really viscerally upset that they're working longer hours for low wages and the billionaires are getting richer, and they need a voice" [ABC].
When Clinton was "inevitable" in 2008, she was at 40% in the polls. In 2015, she's at 60% [New York Times]. So this "inevitable" is a lot more inevitable than that "inevitable."
The 1968 Nixon campaign went dark for six months, so Hillary Clinton is in good company [CNN].
Remaking the Hillary Clinton brand: "'It's exactly the same as selling an iPhone or a soft drink or a cereal,' said Peter Sealey, a longtime corporate marketing strategist" [WaPo].
Clinton's words suggest that her 2016 campaign will stress economic fairness — the level playing field for the middle class implied by her Twitter message last month praising Obama's State of the Union address.
I wish somebody would put a stake in the heart of that "level playing field" cliche. "Fairness" just means tweaking the rigged rules. I want results, outcomes, not "fairness."
More on the "New Politics" [Matt Bai, Yahoo News]. "My problem with the Clinton Death Star":
[A]t some point, if your goal is to rig this thing for Clinton, you have to look in the mirror and ask yourself if this is the kind of Democratic politics you really intended to create — the kind where the establishment decides who the nominee will be 18 months before the convention, without a single idea on the table or a single choice yet defined.
TINA…
Establishment
Jebbie publicly advocated for fracking while privately investing in it [Miami Herald]. In private equity. Naturally.

Jebbie: NSA bulk telephone records collection "hugely Important" [Wall Street Journal]. So Obama normalized what Bush II did; and Bush III would normalize what Obama did. And so it goes.

Modo: "I had been keeping an open mind on Jeb Bush. I mean, sure, as Florida governor, he helped his brother snatch the 2000 election" [New York Times]. Ouch!

Jebbie hires a Clinton oppo guy [Politico]. Reads like a beat sweetener to me.

"Bush hasn't hooked the biggest fish of all: Multimillionaires and billionaires who have shown their willingness to write $1 million checks if they take a shine to a particular candidate" [Bloomberg].
Principled insurgents
Walker: "I don't know' whether Obama is a Christian" flap [WaPo]. Walker says: "To me, this is a classic example of why people hate Washington and, increasingly, they dislike the press" [Bloomberg]. I actually sympathize with Walker on this because Rudy Guiliani touched off the flap, and anybody can be wrong-footed when Giuliani has a public meltdown; and if Walker was both trying to do nuance when the scorps asked him a gotcha question (my second reading) and dog-whistling (my first reading), that's a pretty neat trick. True, the scorps doesn't seem to like Walker, which is why they're doing this, but that's probably because he isn't credentialled, not because he's a union-busting squillionaire toadie who's been running for President since he was in diapers. Maybe the whole flap does mean Walker's not ready [Talking Points Memo]. Then again, Walker's base could care less what Josh Marshall thinks.
Clown Car
Huckabee: The possibility of a Southern super-primary "a gift from God" [AP]. Oh.

Jindal helps Chinese tycoon and politician park assets in a multibillion dollar methanol plant in a Louisiana town [Al Jazeera]. Wang Jinshu's natural gas company's environmental and labor rights record recently got hit in the Chinese press, so he should do just fine in Louisiana, where the authorities are more complaisant.
Women are more effective in getting legislation passed [Bloomberg].
The 2016 Democratic convention will be held in Philly; D. R. Tucker wrote that Philly isn't diverse, retracts, and apologizes to Philly blogger Atrios, proving again that blogging is not dead [Washington Monthly]. That said, no, D.R. Tucker doesn't have to eat a fershuggeneh cheesesteak when he visits. For pity's sake. I would suggest any one of the many BYOBs that make Philly's lively culinary scene so delightful. Best of all: No Brooklyn hipsters!
Herd on the Street
"The four biggest U.S. banks more than doubled holdings of Treasuries to $251.8 billion last year" [Bloomberg].
"The proposed rules will require brokers and advisers to abide by a 'fiduciary' standard" [FT, "US launches crackdown on pension adviser conflicts"]. Lipstick on the privatized pension pig.
"Goldman Sachs Raises Top End of Legal Loss Range to $3 Billion" [Wall Street Journal]. C'mon. How much are those C-class executives really worth?
Poor results at Rolls-Royce [The Economist].
Corruption
Twenty acres of Hyde Park park land to be transferred to Obama Presidential Library if the private University of Chicago wins the bid; Rahm greased the skids [Chicago Tribune].
Stats Watch
Existing home sales, January 2014: Demand for housing remains flat. "Sales of existing homes in January fell a very steep 4.9 percent" [Bloomberg]. "The NAR says it's "puzzled" that homeowners are now staying in their homes 10 years on average vs the long term average of 7 years." Maybe in the new normal, you'd be nuts to do anything other than hunker down? One might also wonder if chain of title issues have had any effect?
North American Hydrocarbon States
29 cars of 100-car crude oil train derail in Ontario, seven cars on fire [Timmins Times]. -30°F up there right now.
Duke Energy Faces Criminal Charges And Millions In Fines For Dumping Coal Waste [Think Progress].
Syraqistan
French aircraft carrier begins Iraq operations [Reuters].
Class Warfare
Wisconsin workers to call for a general strike at state Capitol Tuesday [Daily Kos].
Debunking "skills mismatch" and education [Paul Krugman, New York Times].
News of the Wired
* * *
Readers, feel free to contact me with (a) links, and even better (b) sources I should curate regularly, and (c) to find out how to send me images of plants. Vegetables are fine! Fungi are deemed to be honorary plants! See the previous Water Cooler (with plant) here. And here's today's plant, the first of Fungus Week (Rex):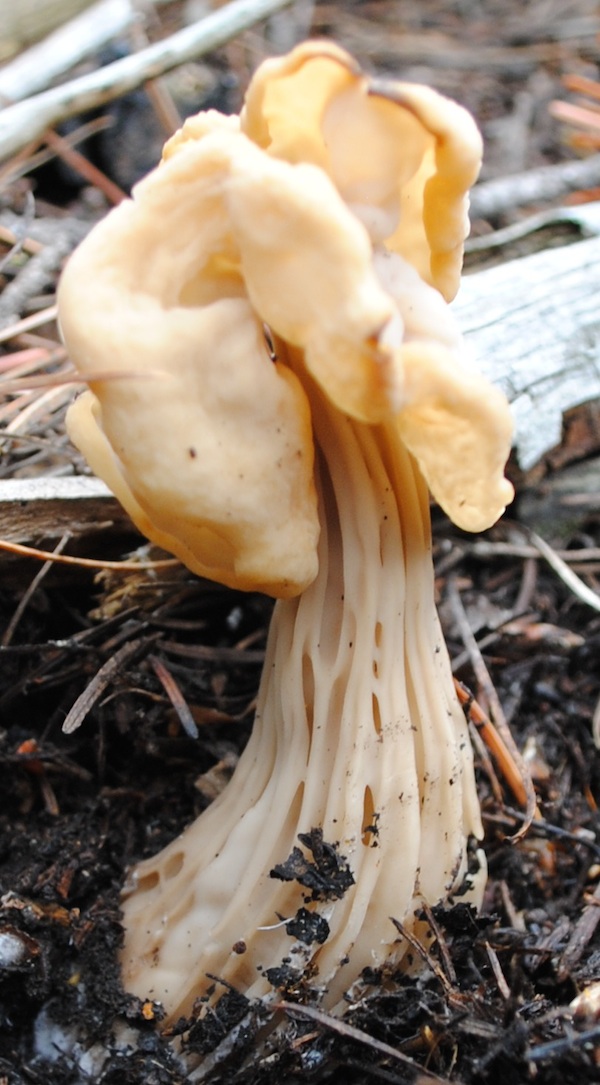 If you've got some excellent fungi, please send them in!
If you enjoy Water Cooler, please consider tipping and click the hat. It's the heating season!
Yes, I've got to fix the hat! Thank you all for your generous help in the mini-fundraiser!
Talk amongst yourselves!