Big Data Is The New Phrenology Cathy O'Neil
Next Stop Atlantic: How Old New York Subway Cars Became Artificial Reefs CityLab (furzy mouse)
How Mice Turned Their Private Paradise Into A Terrifying Dystopia io9 (furzy mouse)
How Much Crude Oil Do You Consume On A Daily Basis? OilPrice
The big melt: Antarctica's retreating ice may re-shape Earth Associated Press
Alaska Farmer Turns Icy Patch Of Tundra Into A Breadbasket NPR (David L)
Truly amazing: Frozen life comes to life as ice melts Gizmodo (Nikki)
KFC Plans to Roll Out Edible Coffee Cups in the U.K. Time (furzy mouse)
When Drones Aren't Enough, Amazon Envisions Trucks with 3D Printers Wall Street Journal
Incredibly, YouTube isn't making any money Wall Street Journal (furzy mouse)
India Spending $956 Million on Waste Plants Along Ganges Bloomberg
Euro-area governance: what to reform and how to do it Bruegel (Swedish Lex)
HMRC investigates second list of HSBC offshore accounts Channel 4
Grexit?
Bundestag's approval of Greek bailout extension passed by largest margin of any eurozone crisis related vote to date @OpenEurope

The fact that Germans approved this deal 542 votes v 32 and syriza cant even agree on whether there shd be a vote in Gr tells you who "won" @lyerC

Varoufakis says that "the VAT tax will increase in an unimportant good" in order to show good will to our partners. (Woot!) @GreekAnalyst. Note change from promise of no increase in VAT.

Should other Eurozone programme countries worry about a reduced Greek primary surplus target? Bruegel. Notice how post assumes the primary surplus target will be in the 2%-4% range, above what is it now and therefore even more austere than current conditions.

V for Varoufakis YouTube. Swedish Lex points out that this got over 400,000 views in the first 24 hours.

News Analysis: Time for Greek gov't to face reality Xinhua

In Greece, Bailout May Hinge on Pursuing Tycoons New York Times

Merkel's Truths Lead Greece to Unavoidable Deal on Euro Bailout Bloomberg. "In office for a month, Tsipras and his finance minister, Yanis Varoufakis, have largely shelved the promises that got them elected, irritated key euro-area collaborators and stoked doubt about their intentions."

Greek FinMin sees problems in repaying IMF and ECB Reuters

What Greeks Want Most Is `Dignity,' Varoufakis Says Bloomberg. Note that Varoufakis says Greece will never return to primary deficits. That assures that austerity will continue unless Varoufakis can get what is tantamount to spending in Greece at the Eurozone level, which seems unlikely.

Greek debt crisis: Violence in Athens ahead of Germany vote BBC

A Greek primary issue Bruegel. Greece not likely to meet its 1.5% primary surplus target due to the fall in tax collections. Not a surprise per se, but this post goes through the data and the prospects.

Don't mention the war! er the Troika … Bill Mitchell. Key scary factoid: deflation is Greece is now running at 1.2% per month
Ukraine/Russia
Syraqistan
Imperial Collapse Watch
The Road from Westphalia New York Review of Books
Big Brother is Watching You Watch
Everyone Wants You To Have Security, But Not from Them Bruce Schneier. I have trouble with his core assumption that "We want strong security, but we also want companies to have access to our computers, smart devices, and data." I don't have a smart device in part because I don't want them to have more access than they already have (too much). And what about paying for software and running it locally?
Do Not Use TurboTax This Tax Season Gawker
Border agency threat exposes US migration rift New York Times
Net Neutrality
How Google's Silence Helped Net Neutrality Win Wired (furzy mouse)

Net Neutrality Is Here — Thanks To an Unprecedented Guerrilla Activism Campaign Lee Fang, Intercept
The FCC has set a new, faster definition for broadband Washington Post
Should Californians Resurrect a Plan to Pipe in Water From Alaska? Wired (furzy mouse)
Embattled Standard Chartered CEO to Exit Wall Street Journal. Benjamin Lawsky takes a scalp.
Oil
OPEC's Strategy Is Working Claims Saudi Oil Minister OilPrice. A bit one sided (as in ignores that most shale gas players are increasing production with fewer rigs), but has some useful data.

US shale town 'hurting bad' in oil slump Financial Times. As predicted.

KKR's Struggling Energy Firm Weighs Debt Options Wall Street Journal
Shoppers Return to Chain Stores Wall Street Journal. Does not consider that some of the pickup might be due to trading down.
How a Teenager Who Didn't Kill Anyone Landed in Jail for 55 Years Guardian
Tweet: "Most empirical research in finance is false, as are half of all financial products being sold" Economist
Reforming the Fed: Who's Right; Who's Wrong? Pam Martens and Russ Martens (Jesse)
Class Warfare
What Happened to Unions in the Midwest? Wall Street Journal

New York Couple Accused of Torturing Housekeeper Over Missing Jewelry Gawker
Making Do With More Brad DeLong, Project Syndicate (David L). Important.
Antidote du jour. Twitter claim @AnnoyedWasp: "put a wig on the dog and frightened the crap out of the postman."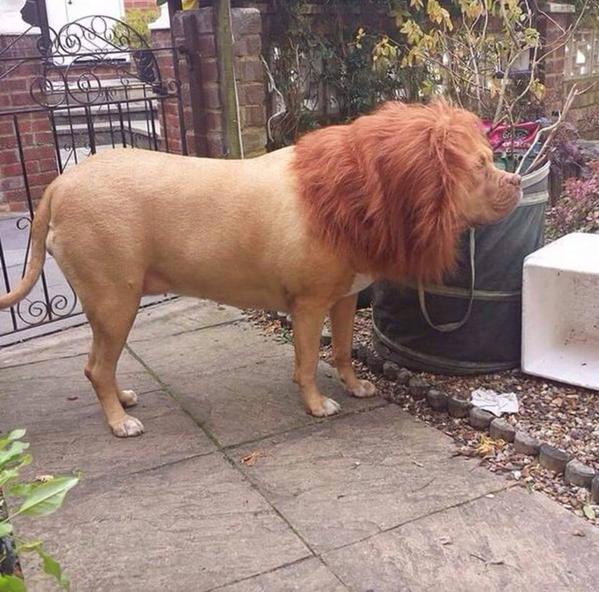 See yesterday's Links and Antidote du Jour here.