Zombie outbreak? Statistical mechanics reveal the ideal hideout PhysOrg. Chuck L: "Someone up in Ithaca is going after an igNobel Prize."
Himalayan ice shows chemicals ban is working PhysOrg (Chuck L)
Eat at Your Own Risk: Flawed FDA Risk Assessments Strengthen Arguments for Labeling GMOs Truthout
How regulators and legislators make it harder for you to use solar power Computer World (Chuck L)
Multinationals cry foul on China cyber law Financial Times
Eurozone's Future Remains at Risk, Mario Draghi Warns New York Times
Grexit?
Ukraine/Russia
Emails From Kiev: Free Speech Vanishes, Total Media Thought Control; US Radar System Falls Into Rebel Hands? Michael Shedlock (EM)
The Cold War And Ukraine Counterpunch
Ukraine's Central Bank Limits Access to Foreign Currency Wall Street Journal
Russia just signed a deal with an EU member state that gives its military ships access to Mediterranean ports Reuters (Richard Smith). Less to see here than you think, since it formalizes an existing arrangement. But this is a poke in the eye of sorts.
Syraqistan
Saudis Said to Aid Israeli Plan to Bomb Iran Consortiumnews (Chuck L)

Not a Bug Splat, Not Chattel David Swanson, Firedoglake
As Cuba Shifts Toward Capitalism Inequality Grows More Visible New York Times (Ryan R)
Big Brother is Watching You Watch
US government and private sector developing 'precrime' system to anticipate cyber-attacks Lauren Weinstein (Chuck L)
What is Neo-Liberalism? A Revolutionary Analysis of the Final Stage of Imperialism Black Agenda Report (Rich C)
Major insurers are finally revealing one of health-care's greatest mysteries Washington Post. Not sure how much good this does, since most doctors and hospitals won't give prices in advance, save for things like a routine office visit for an established patient.
Cracks Starting to Appear in Public Pensions' Armor New York Times
'Occupy made it possible': JPMorgan Whistleblower Fleischmann to Max Keiser George Washington
House Republicans Attack Fed Chief on Stimulus and Speeches New York Times
Morgan Stanley in $2.6bn mortgage deal Financial Times
The Price Paradox Robert Skidelsky, Project Syndicate
Distrust in finance lingers: Jewish persecution and investments VoxEU
Class Warfare
Why rising wages might be bad news Washington Post

Student Debt Strikers Take On Corinthian College Cathy O'Neil

This Billionaire Governor Taxed the Rich and Increased the Minimum Wage — Now, His State's Economy Is One of the Best in the Country Huffington Post (EM)
Antidote du jour (George P). In Maine, wild turkeys have gone from being remarkably skittish and rarely seen to almost as oft-seen as suburban deer.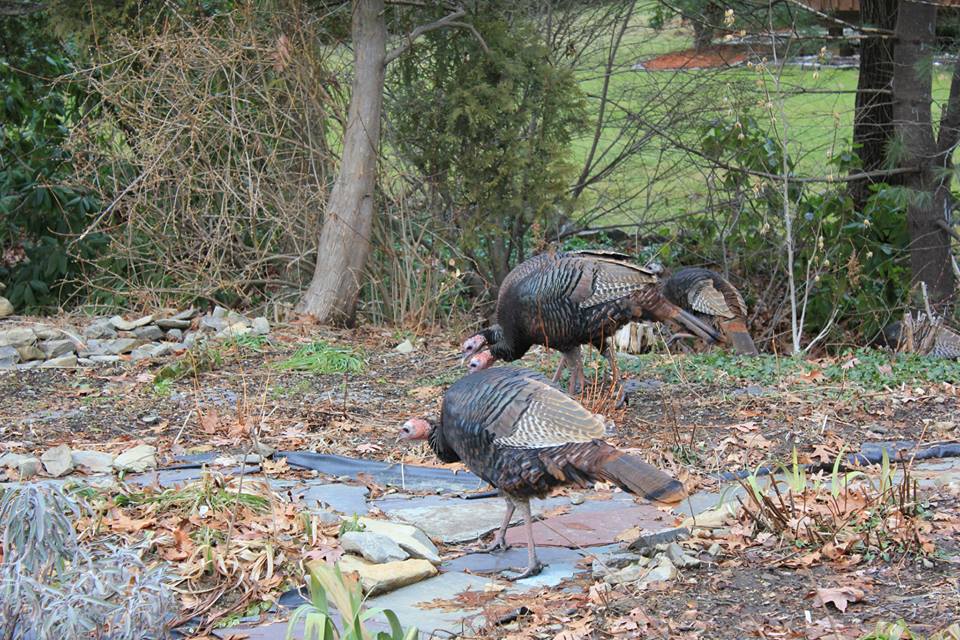 See yesterday's Links and Antidote du Jour here.