By Lambert Strether of Corrente.
2016
Sanders: "The worst thing I could do is run a poor campaign without the organizational support, without the money — and then have people say that the ideas themselves are ideas that people don't support" [HuffPo].
"Hillary Clinton could drop 20 points in the polls and still have a massive lead" [WaPo].
Clinton Email
One of the (ostensible) reasons Ambassador to Kenya Scott Gration was axed by the Clinton State Department after a "withering report" was his use of Gmail for official business [The Hill].

"A senior State Department official tells ABC News that under rules in place while Clinton was secretary of state, employees could only use private email accounts for official business if they turned those emails over to be entered into government computers" [ABC].

An example of email known to have been sent by Hillary Clinton that the State Department did not have, in response to a FOIA request [The Atlantic].

Questions that Clinton could answer now "as a show of good faith." For the process where Clinton's advisors reviewed her email and released 55,000 to State: "Were the advisers paid for their work? How much were they paid, and how many hours did the review take? Who paid them? Did they work for the Bill, Hillary and Chelsea Clinton Foundation or the Clinton Family Foundation?" [Sunlight Foundation]. And: "Are they familiar with the provisions of the Federal Records Act, and the responsibilities of officials covered under the act?"


* * *


"Pwning Hillary: Inside the Innerati's Clinton Obsession" [Peter Daou]. Love "innerati," with reservations I'll get to. Here's Daou's definition:

The "innerati" are a motley group of high achievers scattered along the Acela corridor — reporters, pundits, bloggers, politicians, strategists, opinion makers, operatives and insiders who frame the national debate. By luck, effort or circumstance, they are in a position to determine what America thinks and talks about. And more than anything, they want to talk about Hillary Clinton.

And:

For decades, the innerati have indulged in one Hillary Clinton feeding frenzy after another, methodically constructing mountains, only to see them crumble like molehills. With each episode, there's the breathless hope that she's finally been taken down, cut down to size, put in "her place." A "woman's place."

Yes, especially during the 2008 primary. The problem here — and as a Clinton supporter in 2008, I empathize with Daou — is, I suggest, with the term "innerati," which I'd urge is an illicit synecdoche — the part representing the whole — for "political class." I mean, really: Which of Mark Penn, Karl Rove, and David Axelrod is "inner" and which "outer"? It's just the wrong axis of evaluation. They are all members of different factions of the political class. Now, it's certainly true that Hillary Clinton is hated by some factions of the political class far more than any facts could warrant, but that doesn't make any faction inner or outer, and it's not a reason to vote for or against her.

And:

For the innerati, it's all about process. Not the what but the how. Not the substance of emails, but the servers. Not the facts but the optics.

No. The Clinton email fracas is about converting public property to private use. That's what corruption is all about, and that's also what neo-liberalism is all about. If Daou thinks that's "optics," and not substance, then he should think again.

Finally, Daou's piece foreshadows one possible future for the 2016 primary: Just as everybody who didn't want to vote for Obama in 2008 was a racist, everybody who doesn't want to vote for Clinton in 2016 will be a misogynist. I so hope I'm wrong.


* * *


For the record, here's a link to Dan Froomkin's 2008 story on Bush's gwb43.com scandal, identical in substance to the current Clinton fracas, for which his editors slapped him around [WaPo]. But just because Bush got a free pass doesn't make it right.

Republican schadenfreude [The Hill]. Say what you like about Republicans, they give good quotes.
Establishment
Iowa Republicans complained matter-of-factly about fatigue with the Bush family — especially after the presidency of George W. Bush, whom they blamed for a misguided war and big deficits [New York Times].
Principled Insurgents
Walker's operatives are criticizing Clinton for using a private email account as secretary of state even though a top Walker aide set up a private router in Walker's office when he was Milwaukee county executive for email that mixed government and campaign business" [Journal-Sentinel]. Chutzpah!

"Scott Walker's performance in 2010 and 2014 was exactly what we would have expected from a Republican candidate for governor in Wisconsin." With handy scatterplot [The Upshot, New York Times].

"Based on Walker's ideology and the ideology of the incumbents running in 2014, you'd expect him to have been a governor of a state that Romney won by about 13 percentage points (Montana, for example) instead of one he lost by about 7 percentage points" [FiveThirtyEight].
Clown Car
Christie to shift environment settlement money out of remediation into corporate tax cuts [International Business Times].
Democratic oppo from American Bridge [Bloomberg].
The Hill
Reid on fast track: "I'm not sure it's going to get done that easily this time" [Wall Street Journal].
Fast track authority will hurt Maine's small farms [Bangor Daily News]. "Here in Maine we are fortunate to have a young, vibrant group of farmers who are working to grow food, rebuild the local food infrastructure and feed the people of Maine." It ain't broke. Let's not fix it.
Herd on the Street
Apple's gold watch costs as much as 1983's Lisa computer [FT, "$10,000 watch tests Apple's luxury appeal"].
Apple to replace AT&T in Dow Industrials [Reuters].
Manufacturing snow on California ski slopes [Bloomberg]. Snowpack was 25 percent of the historical average this winter.
Family-owned Ashley Furniture trying for global expansion — of products and sales, not only manufacturing [Wall Street Journal].
Stats Watch
Employment situation, February 2015: Payroll increases 295,000; expectations were for 230,000. Unemployment to 5.5% from 5.7%. Labor force participation down to 62.8% from 62.9%. Average hourly earnings rose 0.1 percent, compared to 0.5 percent in January [Bloomberg]. "Overall, the latest employment situation suggests the labor market is gradually gaining strength." The contrast between the numbers and the hosannas in the business press is pretty remarkable.
Ritholtz: "Private sector job growth has expanded for almost 60 months. That is an impressive streak" [Bloomberg]. The average economic expansion in the post-war period lasts 63 months. Also Ritholtz: "5.5 percent is almost full employment." I'm so old I remember when it was 4%!
Stocks drop on jobs as Wall Street anticipates a rate hike [Reuters].
Emanueldämmerung
Thanks to Chicagoans for sending me links on the mayoral race.
"By standing up to his own party's vested interests, Chicago's mayor is a model for national politics" [The Economist]. Heaven help us.
"Mr. Emanuel is not the only Democrat who, faced with choices in governing, has opted for the general welfare over special interests and as a result incurred their wrath. New York Gov. Andrew Cuomo and Rhode Island Gov. Gina Raimondo, for example, faced similar pushback" [Editorial, WaPo]. Raimondo (private equity) and Cuomo (Moreland Commission) wouldn't be on the top of my list of Democrats who put the general welfare first.
Rahm shouts at mental health activists: "You're going to respect me!" (!) [In These Times].
Checklist for members of the Chicago diaspora — especially in Illinois — to get out the vote in the mayoral election [Truthout].
Rahm Emanuel would "really, really" like to have an endorsement from former challenger Willie Wilson, the Bible-quoting millionaire businessman who pulled enough votes out of Chicago's black wards to help force him into the runoff [Chicago Reader].
SEIU contributions to Chuy Garcia despite conflict between union locals [Chicago Sun-Times].
Black Injustice Tipping Point
Annotated version of the Justice Department report on Ferguson [Washington Post].
Highlights from the Justice Department report on Ferguson [WaPo].
Summarizing the Justice Department report [Ta-Nahesi Coates, The Atlantic].
The Justice Department conducted two investigations—one looking into the shooting of Michael Brown, and another into the Ferguson Police Department. The first report made clear that there was no prosecutable case against one individual officer. The second report made clear that there was a damning case to be made against the system in which that officer operated.
In St Louis, the story was the first report (which I should admit shows confirmation bias on my part). Nationally, the story was the second part.
Ferguson is uncomfortably like a feudal system, when gangster governments collect "tribute" [WaPo] or, as Ta-Nahesi Coates calls it, "plunder" [The Atlantic].
Demonstrators protesting the lack of trauma care on the South Side briefly blocked northbound traffic on Michigan Avenue [Chicago Tribune].
Police State Watch
Whittier police officers are suing the city, saying they faced retaliation when they complained and refused to meet alleged ticket and arrest quotas [Los Angeles Times]. Another gangster government?
After a riot late last month at Texas's privatized Willacy County Correctional Center that left the prison officially "uninhabitable," nothing has changed, especially the relationship between the Federal Bureau of Prisons and Management and Training Corporation (MTC), which runs it [The Marshall Project].
Class Warfare
Wisconsin legislature sends "right to work" bill to Walker's desk [Reuters].
Tier 1 vs. Tier 2 wage workers, where (for example) existing UAW members get $28 an hour and new hires get $14 with worse benefits [New York Times]. Wrong, wrong, wrong. We do the same more gradually with Social Security benefits, which should be birth date-neutral.
"Turnover in the retail sector has been steadily rising and now stands 5 percent a month" [Bloomberg]. Added up, Walmart's raise equals the cost of retraining.
Younger Americans die earlier and have worse health than their counterparts in other developed countries [New York Times]. "Something at the core is causing the U.S. to slip behind these other high-income countries. And it's getting worse."
Walgreens and CVS challenging tax assessments nationwide [Bloomberg].
Corruption
"Chile's top prosecutor has filed tax fraud, money laundering and bribery charges against senior former officials and financiers of a rightwing political party created to perpetuate the economic legacy of dictator Augusto Pinochet" [Guardian].
News of the Wired
* * *
Readers, feel free to contact me with (a) links, and even better (b) sources I should curate regularly, and (c) to find out how to send me images of plants. Vegetables are fine! Fungi are deemed to be honorary plants! See the previous Water Cooler (with plant) here. And here's today's plant, the last of Plants in Snow Week (MR):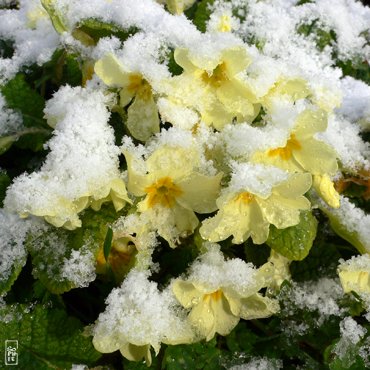 Next week: How about some humorous vegetables?* Or plant oddities generally.
If you enjoy Water Cooler, please consider tipping and click the hat. It's the heating season!
* Terry Pratchett reference.
Talk amongst yourselves!